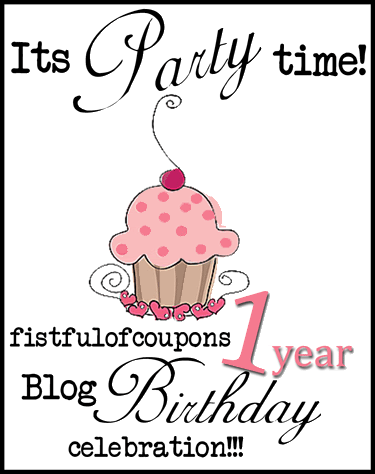 Can you believe its been one year since I started my website?  Crazy I know!
I present the evolution of Fistful of Coupons!!!!!
Day One – I told my hubby that I should start a blogspot site so I could post some deals for my many sisters and friends. He shrugged his shoulders and continued to watch TV, little did he know how many deodorants, toothbrushes,  and cereal boxes would invade and fill all his closets. So innocent. I call this period the Cromagnon era (notice the original header I created).

Day Five – Someone actually looked at my blogspot.
Day 30 – A few more people began to take notice, had to start watching my sentences and speling spelling on my blog. Went through an important evolution process that every couponer must achieve. I realized that just because I can get stuff for free doesn't mean I have to get it. Husband happier because he now has only one full closet of shampoo, deodorant, and toothbrushes.
NOTE: Husband is not greasy, smelly, or has yellowing teeth. They were free… so us couponers just can't help ourselves.
The next era is called the Bronze Age. By luck or fate I won a giveaway to have my blogspot professional redone.  The fistfull of coupon lady icon was born. The header you all know and I love was born.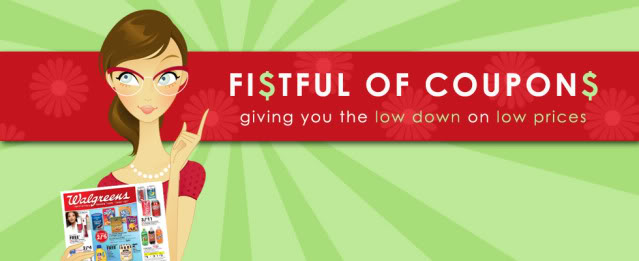 Day 90 – Husband has been noticing that I'm spending more time on the computer. More people are looking at the cute new blog design and I decided that I should take the website to a dot com instead of my blogspot.  I also came in contact with Grocery Smarts and decided that that was the best way for me to coupon shop. I was now entering the Renaissance age.
Day 180 –  I have officially moved everything over to wordpress or my dot com site with a ton of help from Restored 316 designs. My logo girl is now holding coupons! As the site grows my husband begins to take more credit for the name fistful of coupons (he liked the Clint Eastwood movie Fistful of Dollars). Tells me to buy the domain name for both Fistful of Coupons and Fistfull of Coupons with two ll's. I didn't and some unknown blankety blank buys the other site name and has been piggy backing off me ever since. Husband likes to remind me of this error and I give him dirty looks. I'm now entering the Modern Era.

Day 300 – Teaching more classes and beginning to develop great friendships with other sites, readers, and people in the community. Spending more time answering emails and trying to bring fun things to the website (Golden Scissors Club, ect..).  I'm beginning to get recognized at the grocery stores with the greeting "You're the coupon lady, right?" This means I can no longer wear pajama's and other scrubby clothes out to the store. Husband notices I'm dressed a little nicer when I go out (a little make-up and hair in a pony tail) and approves. I also get highlighted on the news and in the newspaper and class requests explode. I involve two great friends who help me teach so I can fulfill all the teaching requests. They do a great job and I also bring in my sister Ashleigh to help increase the number of posts to my site every day.
Day 352 – My Fistful of Coupons birthday.  Thank you to all my readers and supporters who have inspired me with your kind words and stories about how couponing has saved you some time and money. I hope to have another great year and be able to offer more giveaways, deals, and other fun things. Husband complains I spend to0 much time on the computer but still loves me.

Now its time to talk about my Birthday Party!!!
Growing up my mom always had a "birthday week". Oh no, she would not just get spoiled on her birthday like everybody else.  Whenever she needed anything from any of us..she would say, "But its my birthday week!" and she would get what she wanted.  So in honor of my mother, Fistful of Coupons is having a Birthday WEEK where everyday this week there will be Giveaways to all of YOU!!  All these fun giveaways will start on Monday. You will soon be able to look at my sidebar to see all the different sponsors that are generously giving away amazing products.  Thanks to all my amazing readers out there…I love you all!