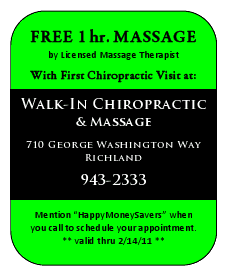 Here  is an exclusive deal for Happymoneysaver readers from the Tri-cities, WA area.
Walk-In Chiropractic & Massage in Richland will give a FREE 1 HOUR Massage when you have your first Chiropracic visit at their office. Just mention that you want the "happymoneysaver.com" deal when you call to set up your first appointment.
I might just have to go in and do this deal myself…I would love a great 1 Hour Massage.
Here is the address + phone number:
Walk-InChiropractic
710 George Washington Way #N, Richland, WA 99352
(509) 943-2333
This deal offer expires 2/14/11.