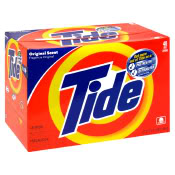 If your family is a Tide laundry detergent user, then you will want to look for the specialty marked boxes of tide that say there are $10 worth of coupons inside. The "mystery coupons" inside are:
$2 off prilosec
$2 off downy
$2 off tide stain release
$2 off bounce dryer sheets
$2 off pantene
Most of these coupons are for any size, and they had expiration dates of 2012, so lots of time to use them.  If you are buying tide anyway, might as well look for the specially marked boxes! Thanks for the email Lois!