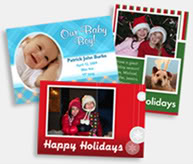 So, guess what? Now there are now 2 ways to get Free photocards from Seehere. This is seriously one of my favorite deals for quite some time! Free photocards, no strings attached. No using your CC to order because..yep, FREE! You can order 50 FREE 4X8 photo cards.
Go to SeeHere.com – Photo Sharing & More
Then choose your cards, upload your photo and check out. At check out enter the  promo codes to get your order FREE.
So last weeks free photocards promo code that is good until 11/21 is: freebies4mom-1109
And now there is another new code that should allow you to do 50 more cards free : newbaby