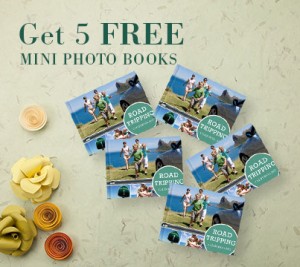 Are you NEW to MyPublisher? Listen up!
This week only, you can get 5 FREE mini photo books from My Publisher – pay just $.28 shipping per book! Even with shipping, this is still an incredible deal and one that hasn't been offered in about a year.
To get your 5 FREE Mini Books:
Visit My Publisher and enter your email address
You'll receive a unique promo code via email. (This code is valid for 7 days only!)
Upload your photos and create your mini books
Pay about $1.38 shipping (or $0.28 per book)

Fine Print: This promotion entitles new MyPublisher customers to five FREE My Mini photo books (does not include Paperback Pocketbook, or hardcover photo books, Cards, Calendars, Scrapbook Pages. Canvas, Gift Certificates, or any other products). Shipping fees are not included in this promotion. Coupon valid for one time use only. This offer will expire 7 days after issuance. Only one valid promotional code may be used per order.