Introducing the NEW & Improved 2011 version of My Savings & Shopping Tracker!!
Last January my amazingly wonderful accountant husband created the first My Savings & Shopping tracker to help us all keep track of our shopping and savings amounts. I have had so much fun watching all my savings and spending amounts. 
Here are some of the new features added in the 2011 Savings & Shopping Tracker:
* Now you can include TAX in your money spent
* Savings charts (these are just fun..)

* New drop-down list for quick Navigation

* Page links for faster navigation
* Motivational message to keep you on goal

This Savings & Shopping Tracker is really easy to use! Basically when you get back from a shopping trip you can just go in and enter the info from your receipts. Then the program does the rest. It summarizes your total by yearly saved/spent as well as monthly! You can enter in a budget on each page and it will tell you how much you have left to spend. I love it!!! The program does all the work for you!
To get this free download and get to using it, download and save a copy of this spreadsheet to your computer. Then, open the Summary tab at the bottom of the program. This is where you can see all your year-to-date savings and spending totals! The only thing you will need to change on there is your monthly spending goal. Click on the $200 I have in there now and put your own monthly spending goal in.
Next, click on the current months tab at the bottom of the program (example January) and it will take you to the page where you can enter your receipts information every time you shop. Once again you can change your monthly spending goal by clicking on that area at the top and changing the amount.
The information you will need to enter every time you get back from shopping is :
Date: just type it in the empty space under date column.This is optional of course.
Store: I am so in love with this brand new drop-down feature. Just choose a store and voila…there it is.
Savings Type & Amount: you now have the choice of rebates, club card/sale savings and coupon savings. Choose upt to two then enter the amount on the next line.
Total Spent + Tax: Enter how much you spent. You can optionally keep track of tax too if you want to this year.
New this Year: You must hit CTRL + U to update your summary page.
New Updates: You can now change out the stores names for the stores you shop at. This is how you do it: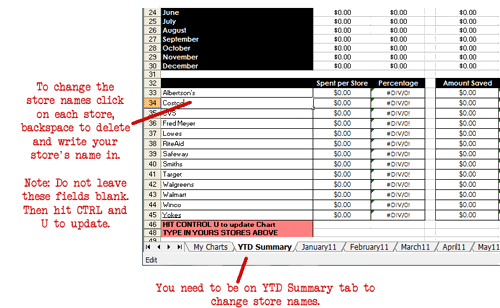 Click on the box on the summary page of the name of the store you want to change. Backspace to delete the name and add your store's name. After you have finished changing the names to all the stores you use (do not leave any of them blank) hit CTRL + U to update.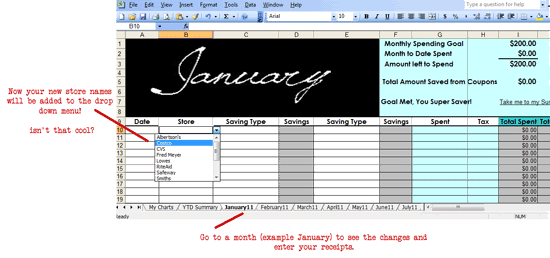 Then now when you go to your month's (example January) you will be able to have your stores in the drop down menu!
And thats it! The program will calculate everything else! Do not enter the amount saved as the program will not allow you to. It totals how much you saved by adding up your savings from your receipt. (if you accidently click it and see strange numbers just hit escape. If you accidently mess this up, go ahead and shoot me an email and I will let you know how to fix it.)
Note about this My Savings & Shopping Tracker: this spreadsheet download is for personal use only. It is not intended to be used for monetary gain in any way and is copyright by happymoneysaver.com. If you are a blogger and want to share it with your readers that is wonderful (thank you!)..but I would prefer that you link to this post directly and not place my Savings & Shopper Tracker on your websites/blogs for download.
Enjoy keeping track of your savings and shopping!
FREE Download 2011 My Shopping & Savings Tracker 2.0 (excel)