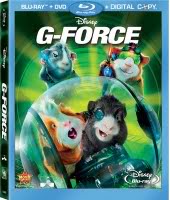 Cool – a great new coupon is out for $10/1 Disney G-Force Blu-ray!  Print it twice per computer. Here are the best places to use this great coupon.
I read online that Walmart next week it will be on sale for $19.96- use the $10/1 coupon = $9.96!  
I am also hoping that  Target has it on sale for $20 bucks too, and if so you can use that $10/1 printable AND the  $5/1 Target Blu-ray coupon.  That is $15 off!!! Hopefully if its around $20 we will only pay $5. Keep your eyes open!
(Thanks, PrintableCouponsAndDeals!)