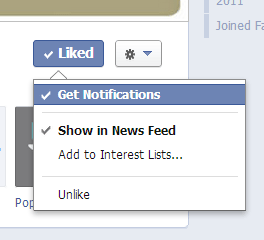 If you have not been getting my Happy Money Saver hot deals on Facebook updated in your newsfeed here is a super quick and easy fix! (woo hoo!)
1.) Hover over the Liked button and you will see the drop down like in the picture above.
2.) Click on BOTH "Get Notifications" as well as "Show in News Feed"  and you should see a check by them. Make sure they are both checked.
And that's it!! You should start being able to see my Facebook hot deals that I post. Make sure and do this so that you will be able to get in on all these HOT deals I have been posting. You don't want to miss out!
Follow Happy Money Saver on Facebook here.