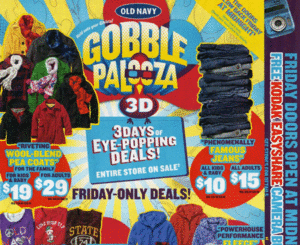 The Old Navy Black Friday 2011 ad is available!   (These are a few of the top deals they have shared,  to see a full list check out LuvaBargain.com or to view the Ad Scan here. )  Old Navy is open on Thursday, 11/24 from 9 am – 8 pm.  There is an in-ad coupon for THURSDAY only for $10 off any $50 purchase.
Then they will close the store until Midnight.  When they open a limited amount of people will get a  Free Kodak EasyShare Sport Waterproof Digital Camera w/$40 Purchase . They will hand out wristbands that you can take to the registers.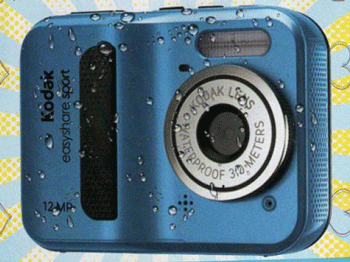 Also, if you are an Old Navy Card Holder you can get the Black Friday deals on Wednesday or Thursday when you use your Old Navy Card! ( Score!)
Black Friday Highlights:
Famous Adult Jeans – $15.00
Famous Babies' Jeans – $10.00
Famous Kids' Jeans – $10.00
Extremely Graphic Tees For The Family – $5.00
Powerhouse Performance Babies' Fleece – $5.00
Powerhouse Performance Kids' Fleece – $5.00
Entire Stock Of All Family Outerwear – 50% Off
Women's Performance Fleece Scarf – $1.00
Women's Performance Fleece Gloves – $4.00
Women's Performance Fleece Hats – $4.00
Women's Stretchy Gloves – $2.00
Women's Cozy Socks – $3.00
Saturday ONLY Deals
Entire Stock Of Jingle Jammies – $8.00
Packaged Toddler Sleep Sets – $10.00
Powerhouse Performance Fleece Adult Tops – $8.00
Men's Powerhouse Performance Fleece Pants – $8.00
Collectabilitees – $6.00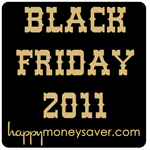 Check out more Black Friday 2011 Deals here.
Be sure to follow Happy Money Saver on facebook to get updates on all the hottest deals!