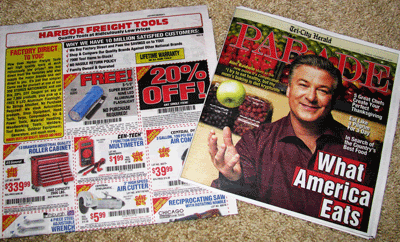 Just wanted to make sure you saw that in the Parade magazine their were 3 great coupons in there.
Glade Fragrance Collection product $2/1
-use this at Walmart where they are $2.49= .49 for a candle!
Nivea Body Wash for women 16.9 oz size $1/1
Ore-Ida Steam n Mash potatoes OR Ore-Ida HASHBROWNS $1/2
Also in my local paper was a sales ad for Harbor Freight Tools. In it is a coupon for a FREE 3  1/2 inch FLASHLIGHT, no purchase required! Coupon good until 12/31/09. This might make a great stocking stuffer or 72 hour kit item. Locations for Harbor Freight Tools are Spokane, Richland, Lacey, Tacoma, Everett, Kent, and Bellevue.