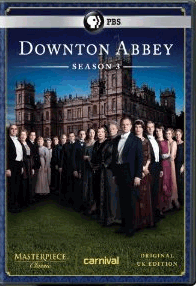 Woohoo! Head on over to Amazon and pre-order Masterpiece Classic: Downton Abbey Season 3 DVD (Original U.K. Version)
for only $32.99 or the Blu-Ray Edition
for only $36.39.
Both editions are scheduled for release January 29th, and FYI – this is the domestic U.S. release of the original, uncut U.K. broadcast version of Downton Abbey and is formatted for playback in North America. (So no worries about format/compatibility issues.) 😉

Bonus Features Include:
Downton Abbey Behind the Drama
Shirley MacLaine at Downton
The Men of Downton
Downton in 1920
Season 3 Christmas Special bonus episode "A Journey to the Highlands"
and much more!
Thanks, Common Sense with Money
Disclaimer: Amazon prices can change quickly. This price was current at the time of this posting.