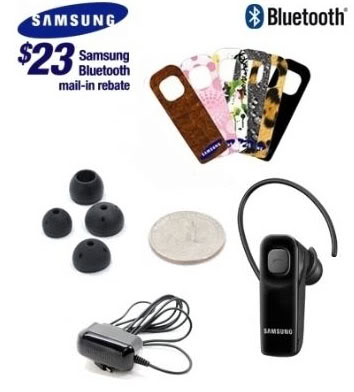 1 sale a day has an awesome deal going on today until midnight eastern time or until they are sold out. Their deal of the day is a Samsung WEP301 Compact Fashion Bluetooth Headset which comes with 6 Customizable Skins, Noise Canceling Technology, Superb Sound, and Voice Recognition. This normally sales for $79.99 but they have it on sale today for $19.99!  Samsung currently has a $23 rebate which would mean you would make $3 on this!! Who ever said that you cant beat free??!!
Limit 3 Bluetooths per household.
Go here to learn more and scroll to the bottom part of the page to read more about it.  I have ordered from this site before and it is totally legit. I bought a watch and received it a week later. I was very happy with it.