You know what I love more than saving money? It's sharing my money saving tips with all of you! After all, what good is all this knowledge if I can't share it with thousands of my closest friends? 🙂
Okay, so here's a tip for all my fellow contact lens wearers: Check out 1-800 Contacts.


At 1-800 Contacts, you get the same name brand-name contact lenses you can buy from your eye doctor, but at a fraction of the retail price. Their online ordering process is simple and takes the intimidation out of ordering prescription lenses online. They also have a team of trained customer service agents standing by to answer any questions you might have.
20/20 Guarantee and Free Shipping
With 1-800 Contacts, you can always trust that you're getting the BEST deal. That's why they offer their 20/20 Guarantee – If for some reason you happen to find a better price elsewhere online, they'll beat that price by 2%. To make things even sweeter, they also offer quantity discounts and free shipping on all orders of $50 or more.
Plus, if your lenses are anything like mine (read: difficult to find), 1-800 Contacts is definitely the place to go. They carry a wide range of hard-to-find lenses, including toric, bifocal, multifocal, disposable – even colored ones.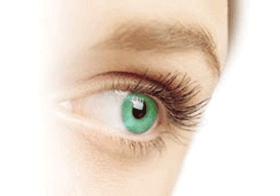 For the record, I'm rather partial to wearing colored lenses from time to time. I think they're great for special occasions, or anytime when you want your eyes to look particularly dazzling. (Ooo la la!) In fact, I bought a pair of emerald green Acuvue 2 lenses several months ago and got a real kick out of my hubby's reaction. Ha! Priceless… 😉
So, if you're looking to save some moolah on your contacts, be sure to visit 1-800 Contacts and "see" (buh-dum-dum) how much fun saving money can be. 🙂
Disclosure: This is a sponsored post from 1-800 Contacts for which I received compensation. Please note however, that the thoughts, views and opinions expressed within this post are strictly my own based on my personal experiences with the company.