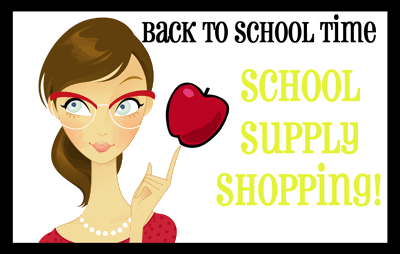 Its another fun week of School Supply Deals!
Target:
12-ct. PaperMate Eagle pens .50
8-ct. RoseArt washable watercolors .50
Jumbo or standard size Book Cover .50
Pencil Pouch .50
Pencil Box .50
Mead 1-subject poly notebooks $1
2-ct. Sharpie fine or ultra-fine tip markers $1
6-pk. Elmers washable glue sticks $1
Staples:
.25 items
Bic Matic Grip Assorted Mechanical Pencils (5 packs) .25 each
Buy 4 for a total of $1
Use the $1/2 Bic Stationary coupon from Coupons.com
Final cost 4 packages for FREE!
Elmer's Non-Toxic School Glue (4 oz.) .25
Staples Manual Pencil Sharpener .25
12-Pack Staples Cap Erasers .25
100-Pack Staples 3″x5″ White Ruled Index Cards .25
$1.50 items
3-Pack Expo Click Low Order Retractable Markers (use $1/1 printable coupon to get them for $0.50 each)
3-Pack Avery Glue Sticks
Staples Rubber Grip 1-Hole Punch
24-Pack Ticonderoga #2 Pencils
3-Pack Staples Invisible Tape, 3/4″ x 50 yards
3-Pack Pilot Frixion Erasable Highlighters
2-Pack Westcott 5″ Scissors
Assorted Staples Mini Stapler
Other Deals:
Staples Vanga Fabric Task Chair $39.99
– $20 instant savings
– $10 Easy Rebate
Final Price: $9.99 (limit two)
Walgreens:
Buy 1 Get 2 Free deals
2 pocket folder with prongs 3/.59
1 Subject notebook 60 to 70 sheets 3/.99
Comp book 80 sheets 3/1.99
Filler Paper 3/1.59
5 inch scissors 3/1.99
Sheet protectors 10 pack or dividers 5 pack 3/.99
Limit 6 on all these .39 items
Elmers Glue .39 with in ad coupon
Posterboard .39 with in ad coupon
Scotch bubble mailer .39 -use .50/1 coupon from 7/26 =free!
Protractor .39
Pencil Case .39
Pencil Sharpener .39
index card case .39
Office Max:
24 pack Schoolio Von Hollio Crayons .01 (limit 3)
Wescott Junior 5″ Scissors .20 (limit 3)
Assorted Erasers and grips pack .25 (limit 3)
Schoolio Von Hollio 2 or 4 poacket poly folders with or without prongs .25 (limit 6)
Office Depot:
Student Compass with refillable pencil .05 (limit 3)
Scholastic Glue Stick 4-pack .20 (limit 3)
1 inch Binder .75 (limit 3)
Walmart:
Elmers Glue sticks 2 pack .25
Elmers 4 ounce washable glue .25
Crayola Crayons 24 pack .25
70 sheet notebook .15
2-pocket folder .15
Trapper 70 sheet notebook or folder .50
Dixon 24 pencils $1
Crayola colored pencils 12 ct $1
Bic Cristal 10 pack pens $1
Puffs 4-pack tissues $3.24
Shopko:
.10 items
70 ct notebook .10 (limit 18)
2 pkt portfolio .10 (limit 18)
Crayola crayons 24 ct .20 (limit 4)
4 oz glue .20 (limit 4)
.50 items
fashion portfolios
scotch 2 pk glue sticks
12 ct papermate pens (limit 4)
150 ct filler paper (limit 6)
100 ct Composition book (limit 6)
soho school box (limit 4)
.99 items
10 ct crayola markers (limit 2)
fiskars 5 inch scissors (limit 4)
poly portfolio
avery 1 inch binder
schotch single glue stick
select rulers and protractors