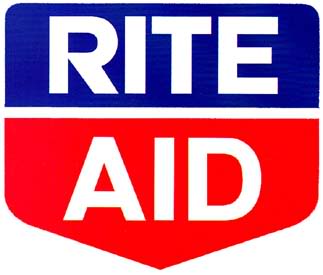 Rite Aid is a great store to coupon shop! There are so many great deals to be had there with smart shopping and a fistful of coupons.  Below is all the Basic Rite Aid 101 information for beginners. Have fun!
Rite Aid Corporate Coupon Policy
Rite Aid has a corporate coupon policy that they posted online for all to enjoy. I love this  because it clears up many of the coupon questions we all have, including the use of internet coupons and more.  You may want to print it and keep a copy with you, just in case you have trouble with a cashier that doesn't know the policy.View and print theRite Aid Corporate Coupon Policy here.
Video Values Coupons
You can score Rite Aid coupons by going over here and watching video clips to earn coupons. Basically, once you have signed up you can watch videos to earn points + coupons. The videos are normally worth between 1-2 points each. Every month when you have earned a certain number of points (normally 20) you will be able to print a $5 off any $20 Rite Aid Purchase.  You can choose to print your coupons all at once or only when you need them. These Rite Aid coupons can be used with a manufacturer coup0n to sweeten your deals. The videos are normally between 30 seconds – 2 minutes and are basically commercials advertising products.
Wellness+ Program
The Wellness+ Program is a program where Rite Aid customers get a wellness+ card that they can use to get extra savings and rewards. There will be wellness+ card in-store special savings, and you will get 10% on EVERY RiteAid brand product you buy with the card. You earn points every time you shop too: You get 1 point for every $1 you spend (non-prescription) or 25 points for a prescription purchase. These points accrue each calendar year. Here is what you get with the points:
For every 125 points, you will get 10% off one shopping purchase pass.
When you get to 500 points, you will get 10% off all non-prescription purchases + a free health screening.
When you get to 1000 points, you will get 20% off all non-prescription purchases.
When you sign up for your Wellness+ card you will have access to a $5 off any $25 printable coupon plus other Wellness+ coupons. These Wellness+ coupons can be used with a manufacturer coupon for added savings. You cannot however use a Wellness+ coupon with +UP reward coupon. I have been able to use a Rite Aid Video Values coupon witha wellness+ coupon however.
+UP Rewards
+UP rewards are coupons that print on the bottom of your reciept for big savings. *Note: Rite Aid has not come out with an official policy regarding +UP rewards yet, this is just information I have gathered by online searching through forums. Rite Aid could change their policies on +UP rewards any time, and probably will. I did some online forum seaching to find out what I could about the +UP Rewards, so here is what I have gathered:
+Up rewards print on your reciept.
You will need to scan your Wellness+ card to get the +UP rewards.
They will "roll". So you can buy one, get the +UP rewards and buy the same item, earning another +UP rewards. No limit.
Rite Aid will not adjust your +UP rewards down, so you will need a filler if your rewards exceeds your item. No overage.
Coupons do not affect the rewards, they have been printing with coupons.
When redemming your +UP rewards, you would be able to combine your +UP rewards with manufacturers coupons. You should also in theory be able to use them with Video Values coupons and RA In-Ad coupons. However you would not be able to use a Wellness+ coupon with the +up rewards. Of course I am sure in the beginning of this program its going to be a "Your-Cashier-May-Vary" kind of thing.
+UP rewards expire 2 weeks from when the +UP reward deal ends. If its 6/01 but the reward deal ends on 6/14..then your +UP rewards would have an expiration date of 6/21. But if its 5/1 and your reward ends 5/1 then your expiration date would be 5/15.
+Up rewards will accumulate. For example if the +UP reward says Buy 2 get $4 +UP reward then when you purchased one item nothing would print, but if you purchased the second one later the $4 +UP reward would print on that reciept.
Be aware that there seem to be some glitches in Rite Aids registers sometimes and some people are having issues redemming them and some are not having any trouble. I am sure Rite Aid is getting all the bugs out.
Shopping at Riteaid Can get you a TON of free stuff every month! Have fun and happy shopping!