If you are new to Snapfish and have never ordered before here is a great deal for you! Sign up here and get a $10 Credit to your account for ANYTHING! Plus you will also qualify for 30 free 4×6 photo prints too! You will need to click through this link or the picture above to get the deal. The discount will show up when you are ready to check out.
Register to Snapfish and Receive a $10 Credit to your Account!
I have my sister in laws baby shower coming up so I created her announcements and paid only around $8.23 for (25) 5X7 photo cards including the shipping! Plus got 30 free prints too!  You could totally make your christmas cards as a postcard and save yourself shipping too! But some cool ideas that would be super thrifty would be:
Mouse Pad $9.99 – (just add a photo or two to get your total to $10)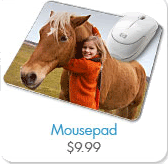 A Wall Calendar – I know my mom loves getting these personized calendars with all the birthdates entered so she doesnt forget. They start at $18.99 – minus $10 = $8.99 plus shipping. That is a super thrifty gift to give.


Plus there are tons of great items right around $10! Photo Mugs, Ornaments plus much more. But remember, this is for first time Snapfish users only. Have fun choosing and spending your $10 bucks! (Note: I am not sure when this offer will end)