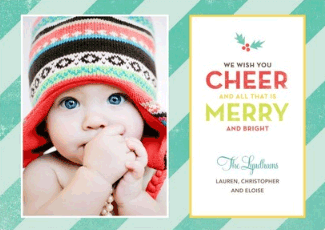 Have all the Christmas photo card deals got your head spinning? Here is a round up of all the available photo card deals I can see right now.
My favorite place for holiday card deals: Cardstore.com!!

Cards as low as $0.33 SHIPPED TO THE RECIPIENT!!!

  The biggest reason why Cardstore is my favorite is because when they offer FREE shipping you can have it sent directly to the recipients for FREE, thus saving you the cost of STAMPS. There are two offers happening right now.
TODAY ONLY (11/29) Cardstore is offering $35 off $50+ purchase or $75 off $100+ purchase, valid on holiday cards and invites, plus FREE shipping! Use code CCN2355 at checkout for this discount.
OR you can still get 70% off all Holiday Cards & Invites + FREE Shipping by using promo code CCN2770 at checkout. Valid through Sunday 12/2/12 at 11:59pm PST. Free Shipping only valid in the US.  Offer valid on Hanukkah, Christmas, Kwanzaa, New Years, Season's Greetings, and select Holiday Invitations.
I am not 100% sure, I think it depends on how many cards you are ordering, but I like the 70% off offer better!!
With the 70% off you could get cards as low as $0.33 shipped to the recipent! WOWSERS!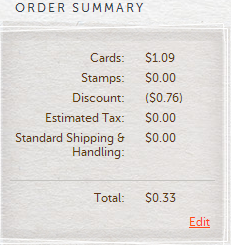 ———————————————————————————
Today is the last day to get 30% off + FREE shipping on Holiday cards at Tinyprints.com by using promo code CB12 at checkout. Expires 11/29/12.
And then starting tomorrow (Friday, November 30 – Sunday, December 2) you can get 25% off everything at the Tinyprints.com website by using promo code WKDSALE1112 at checkout.
———————————————————
Update: you can also use HOLIDAY15 at checkout to save 15% off sitewide for 11/29/12 only!!
Mamapedia is offering a $40 Voucher to Tolmpress Holiday Cards for just $15. Shipping is not included and will be $8.00 flat rate shipping.
You can get 30 cards for $36.30 + $8.00 shipping (so if you bought the voucher your total would be 30 cards for $23.00 +tax.
——————————————————————————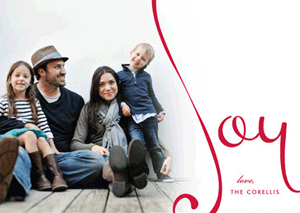 Minted.com is offering $25 off your purchase of $50 or more.
—————————————————————————
Shutterfly: Through 12/2/12, get 50% off all Holiday Cards (and everything on the site) by entering promo code SAVE50 at checkout.  Or get FREE shipping on orders over $30 by using promo code SHIP30 .
Did the math on this one and you can get 20 cards for around $32 shipped. 
—————————————————————————-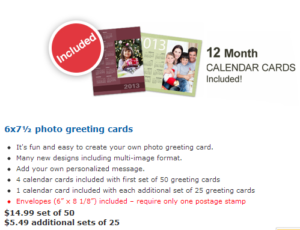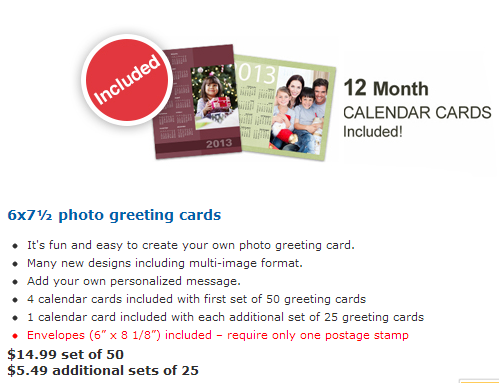 Costco – if you have a membership you can order your 6 x7 1/2 photo greeting cards with envelopes for $14.99 for a set of 50! That is still a fantastic deal if you are a member.
————————————————————————–
Vistaprint has a good deal happening now: Get 50 flat or folded custom holiday cards for just $15. FYI – you'll need to pay shipping, which starts at just $7.09.
Head over to Vistaprint now to get started. Offer ends 11/30/12.
———————————————————————————————–
Snapfish is offering through Dec.. 2, 2012 a 55% off discount on the entire site when you use code JINGLE at checkout.  As low as $0.44 per card + shipping.
——————
Update: just added MyPublisher.com. Using the code 'BEMERRY' until December 3rd gives you 30% off your holiday cards! All of MyPublisher's holiday cards, including the exclusive Cambria designs, are printed on extra heavy, thick cardstock and are offered in five style options including rounded corners, square, panoramic, flat and folded. Available in semi-gloss or matte finishes, prices for the cards and stationery range from $1.39-$2.79.
————————————————————————————
And three other places I have ordered Christmas Cards in the past from, but I cannot see any current specials.
Please share any other deals you might know of out there on Holiday/Christmas cards, and "Happy Savings"!