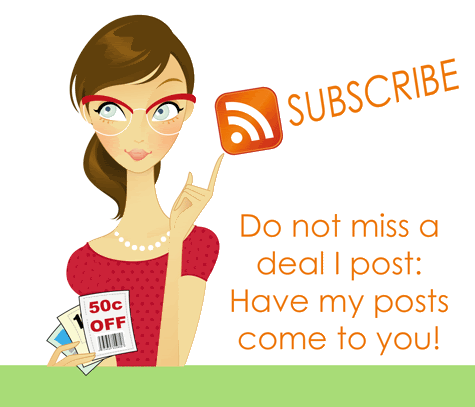 Dont want to miss a great deal I post?  Then subscribing is for you. 
You can  subscribe via Email or Feed to recieve your daily updates!
What is subscribing you might ask ?  Basically if you have a lot of blogs/sites that you read..instead of having to go to each one everyday (which takes sooo much time) you can have all the blogs/sites come to you – all in one place! This is what subscribing is.
(Best choice) Google Reader Feed Subscribing : To get started go to http://www.reader.google.com/ and sign up.   Then, once you are logged in you can add all the sites you visit every day orw eek by clicking on "add a subscription". All of a sudden their posts will appear.
It is the.
coolest.
thing.
ever.
seriously.
The full posts including pictures and words will show up for you to read. And what is really neat is that after you read your posts, the program will show that you have read it already and hide it. That way every day or week when you come to check all the sites you love again it will only show posts you havent read yet! What a great time saver.
(#2 best) For Email Subscribing: sign up and my posts will come to your email box every day!
Give subscribing a try, you wont be sorry!