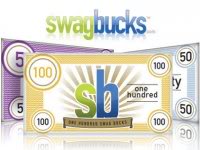 Today is Mega Swagbuck Friday! This means that when you search on Fridays with Swagbucks you have the change to win big! You can win anywhere from 5-500 points in one search. (And the cool thing is that it only take 450 to earn a $5 Amazon gift card!)
This is just SO easy to do. Search, and earn points. Earn points – get prizes, like Amazon gift cards. You can buy just about ANYTHING at Amazon…."Happy" Searching!"
New to Swagbucks? All ya gotta do is sign up for a Swagbucks account (its FREE!). You can sign up by clicking here. (Newbies get 30 pts just for signing up!)
— Then download the search toolbar or a plug-in for your browser…so that you can use their search bar to earn points.
— Now you can just search away! Every time you search, you earn!