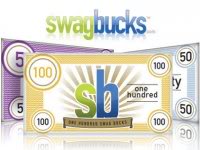 Today is MegaSwagbuck Friday! This means that when you search on Fridays with Swagbucks you have the change to win big! You can win anywhere from 5-500 points in one search. (And the cool thing is that it only take 450 to earn a $5 Amazon gift card!) This is a great way to save on Christmas gifts…I plan on using all my points towards Amazon gift cards and trying to pay for Christmas next year.
So go and get your "Search" on today!!
New to Swagbucks?All ya gotta do is sign up for a Swagbucks account (its FREE!). You can sign up by clicking here. (Newbies get 30 pts just for signing up!)
— Then download the search toolbar or a plug-in for your browser…so that you can use their search bar to earn points.
— Now you can just search away! Every time you search, you earn!