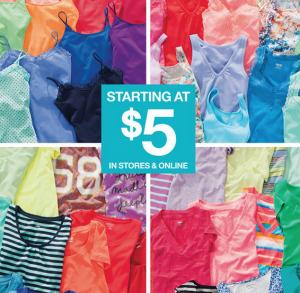 At Target this week they are having a great sale on Women's Merona + Mossimo T-shirts and tank tops.  They are priced at $5.00 each, but with a printable coupon you can get them for $3.75 each. Here is how you do it:
Women's Merona or Mossimo T-shirts and Tanks $5.00 each (Buy 4)
-use $5.00 off $20 Target coupon for women's clothing printable ore the $5.00/$20 Target mobile coupon
Pay $15.00 for 4 tops, or $3.75 each!
What a great price, perfect for stocking up for summer. See more Target deals here.