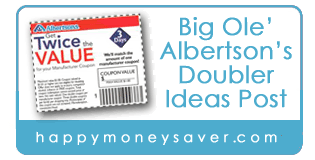 Woo hoo!  We are getting a sheet of 3 Twice the Value coupons in the Sunday paper and they don't expire until 11/24. So 5 days to use them! Thank you Albertsons!
Here is the big ole Albertsons Doubler Ideas post – prices were gathered in store and many deals here are unadvertised. Prices may vary from store to store on these deals.  New to Albertsons "Twice The Value Coupons? Click here for my Basic  101 post.
My favorite deals I have marked with a star
Here are all the UNADVERTISED DEALS 
[%printable-list:AlbertsonsDoublers111011%]
To view all the ADVERTISED DEALS this week – many of which have HOT doubler ideas included click the link below.
Albertsons Advertised Deals this week including doubler ideas and promos.
I hope this list helps you out – "Happy" Shopping and Saving!!