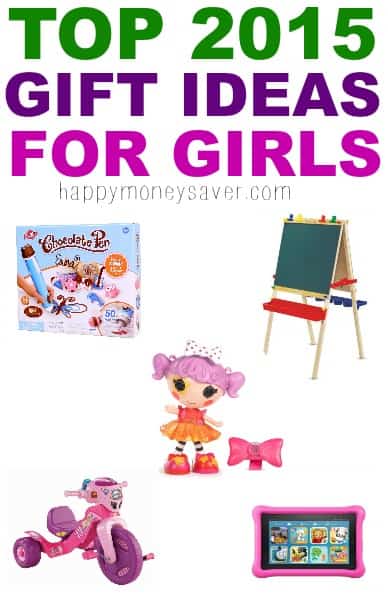 I absolutely love this time of year and I can't believe that Christmas is less than 2 weeks away. Do you have everything ready to go? Are you still looking for Christmas gifts? How about for a girl ages 2-7? I have found some of the top Christmas gift ideas for 2015 for girls. Come check them out!
Christmas Gift Ideas for 2015 for Girls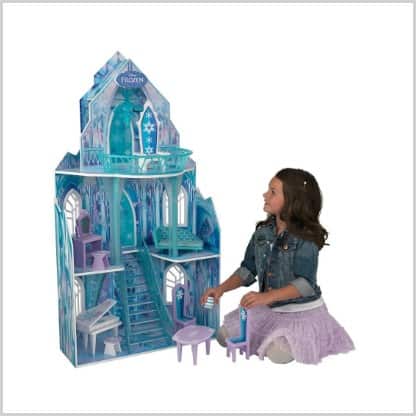 What girl wouldn't want to have this KidKraft Disney Frozen Ice Castle Dollhouse. Frozen is still so big this year for gifts and this castle would definitely not disappoint. It has great reviews and would definitely be a hit with a girl 3 or older. Go grab this for your little girl at a price of $99.99.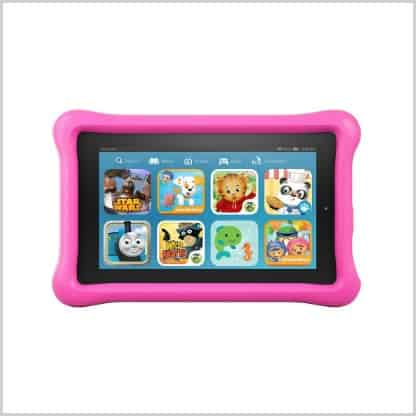 This Fire Kids Edition, 7″ Display, Wi-Fi, 8 GB, Pink Kid-Proof Case is definitely a hot item this Christmas. This tablet has unlimited, free access to 10,000 kid-friendly books, movies, TV shows, educational apps, and games with 1 year of Amazon FreeTime Unlimited included. This will definitely be something your daughter would enjoy. Pick up this tablet at a price of $89.99.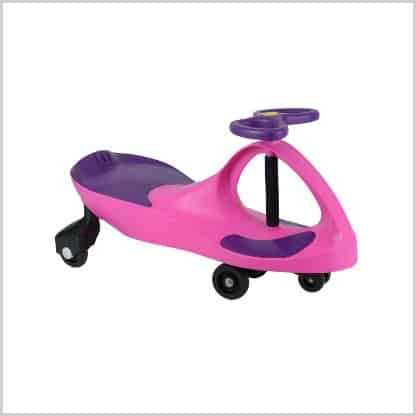 These PlasmaCar Ride On cars are so popular and a great toy for kids of many ages starting at age 3. They are highly recommended by lots of people and they all say their kids absolutely love these cars. I'd definitely pick one of these up for your kids this year. They come in so many fun colors and this pink/purple one is $59.99.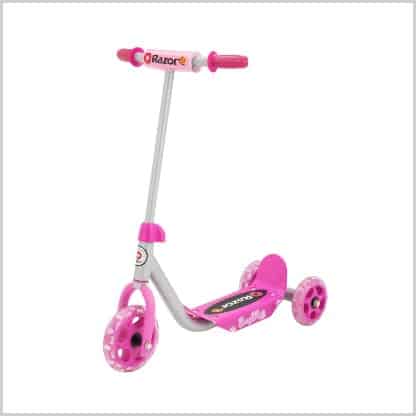 Every kid needs a scooter so go check out this Razor Jr. Lil' Kick Scooter in pink for $23.74. This is the perfect scooter for a girl age 6 and under. This scooter has great reviews and would be something a little girl would love to have for Christmas.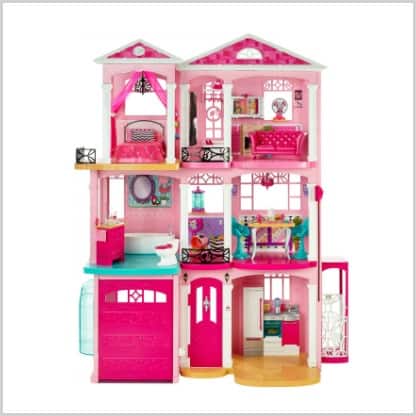 Have a barbie lover in your house? This Barbie Dreamhouse would be the perfect Christmas gift for them this year. It truly is a dream house and has so many cute, fun accessories to play with. Your little girl would be in heaven. Grab this barbie dream house for $167.00.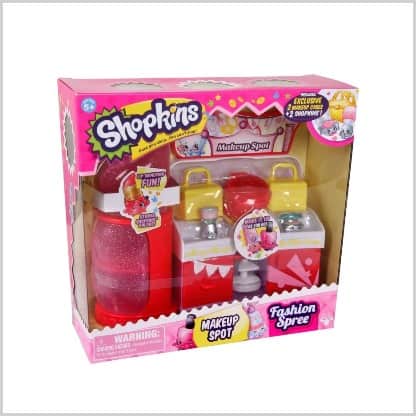 How cute is this Shopkins Fashion Spree Makeup Spot. Your little girl 4 and older would love this gift for Christmas. It is rated pretty highly by moms and kids and would definitely make a shopkins fan happy. You can find this for $16.00.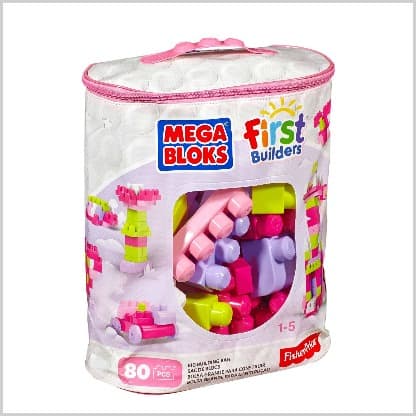 These Mega Bloks First Builders Big Building Bag, 80-Piece (Pink) are the perfect gift for a girl 2 and up. I love the fun girly colors of this classic toy. There are so many fun things they can build and this will keep them entertained for a while. Go grab these blocks at a great price of only $10.71.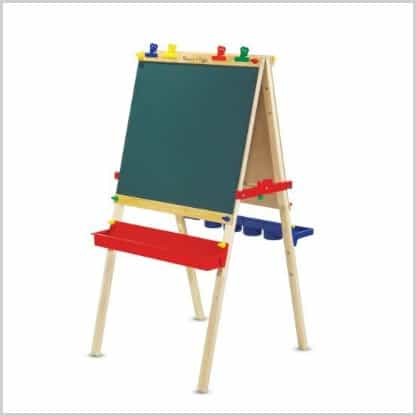 Do you have a little girl who loves to draw? This Melissa & Doug Deluxe Standing Easel would be the perfect gift for them. Melissa and Doug makes great high quality products that will last a long time. This comes with 2 different sides for drawing and would provide hours of fun. This easel is priced at $52.99.
How cool is this Fisher-Price Bright Beats Smart Touch Play Space. I know my almost 2 years old daughter would go crazy over this toy and I can imagine it keeping her busy and entertained for a long time. This toy has so many features to it that makes it great for babies up to toddlers. This would definitely be a hit this Christmas and it is priced at $49.99.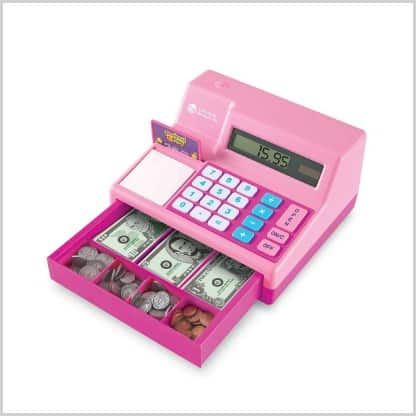 This Learning Resources Pretend & Play Cash Register will provide hours of imaginative play for your kids and is an educational toy as well. Can't beat that. It doesn't require batteries which is awesome so you spend less money to replace batteries. Priced at $39.99 this toy will be a hit among your kids this Christmas.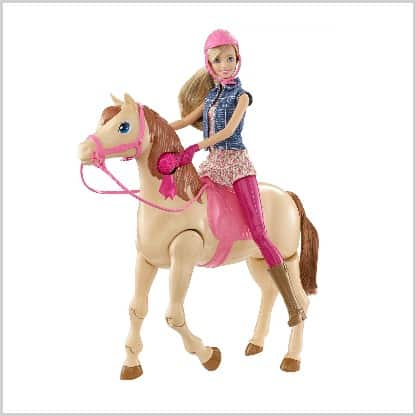 This Barbie Saddle 'N Ride Horse is a really hot toy for this holiday season. The barbie lover in your family would love this gift. My daughter has seen the commercials for this and she wants it. At a price of $38.88 your daughter would definitely be jumping for joy to receive this gift this year.
Have a Lego and Frozen fan in your family? This LEGO Disney Princess Elsa's Sparkling Ice Castle would be something they would love. It features a castle with icicle tree, sleigh, secret staircase, ice cream bar, bed and an ice hill. Your little girl age 6 and up would absolutely love this gift and it is priced at $39.97.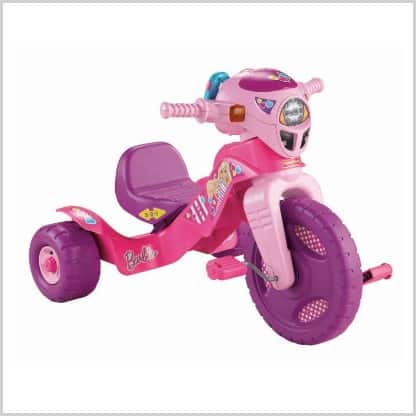 This Fisher-Price Barbie Lights and Sounds Trike is adorable and your young toddler would love this. We have one similar for my almost 2 year old and she loves it. It provides a 3 position grow with me seat and plays lots of sounds and role play phrases. There are other characters available as well. This barbie trike is priced at $47.17.
I think this Fisher-Price – Disney Minnie – Rainbow Dazzle Minnie is so cute. This is another one that my daughter saw the commercial for and wanted. It has a magical light up color changing outfit and sings a song as well as other features. The recommended age is 2-5 and it is priced at $19.00.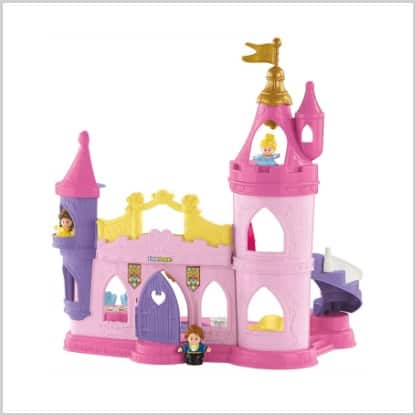 How adorable is this Fisher-Price Little People Disney Princess Musical Dancing Palace. I love that this is perfect for little girls with the big chunky little people. It has so many cute features that will make this very entertaining for your daughter. Grab this at $39.99.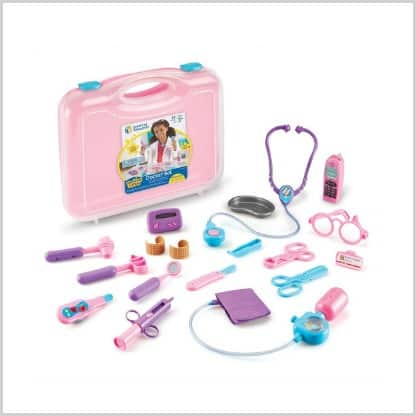 Do you have a little girl that loves to play doctor and do check ups? This Learning Resources Pretend & Play Assorted Pink Doctor Playset is perfect for them. It comes with everything they need to pretend they are a doctor. This will provide lots of fun for a girl and her friends. Grab this set for $29.10.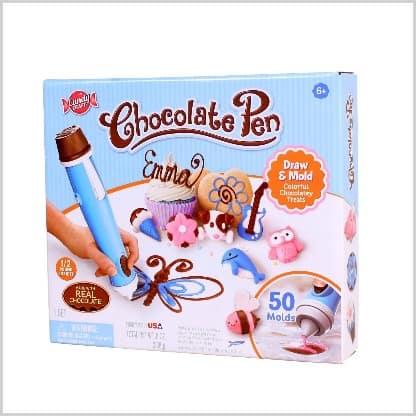 This Candy Craft Chocolate Pen is a very hot item this year. Your little girl and even boy would love to play with this and create things. It comes with everything you need and then you can buy refill kits after if needed. I know your little girl would absolutely love this gift so grab it for them this Christmas.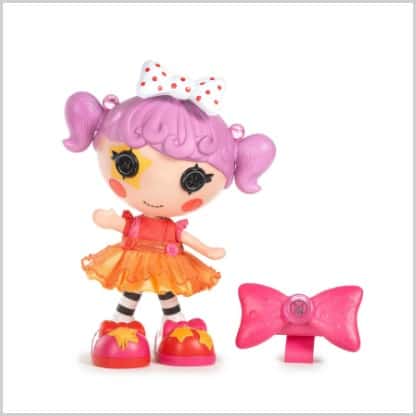 Do you have a lalaloopsy fan? If yes, then they will love this Lalaloopsy Dance With Me Interactive Doll – Peanut Big Top. Peanut Big Top is a fun, super silly doll who magically dances along with you. Your daughter will definitely love this toy. It is recommend for 4 and up and you can purchase this for $29. 98.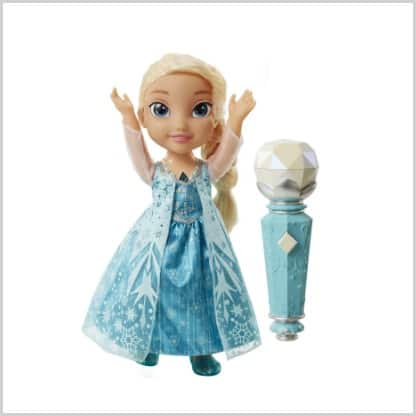 This Disney Frozen Sing-A-Long Elsa Doll is another one of those perfect gifts for a little girl that loves frozen. This is a hot item this year and will definitely be one that your little girl will love. I have seen the commercials for this and it looks adorable. Run and grab this doll for your little girl for Christmas.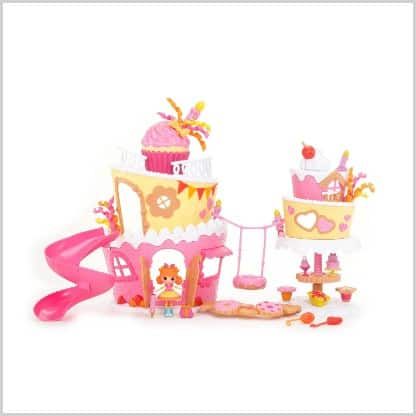 How cute is this Mini Lalaloopsy Super Silly Party Cake Playset. My daughter asked for this for Christmas and I got it for her. It is so cute and you can buy other mini lalaloopsy dolls to go with it. This is perfect for any lalaloopsy loving girl out there. You'll be sure to put a smile on her face this year if you buy her this gift for Christmas.
Did you find something you like? I hope this list will help you grab something perfect for a family member or any little girl on your Christmas list this year. There are so many fun toys this year so I hope you were able to find something to suit your needs. Happy Holidays!