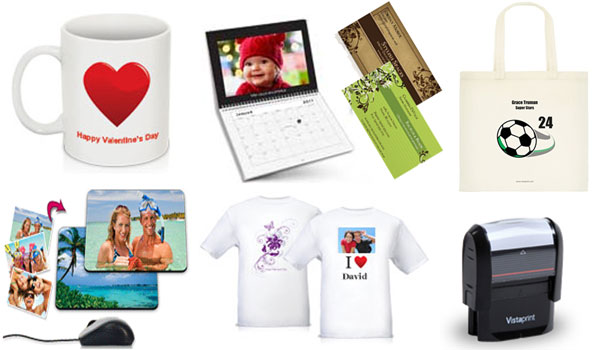 Vistaprint is offering up a really sweet deal though 2/28/13 – you can get up to 7 FREE personalized items including a T-shirt, Calendar, Totebag, Mug, Business Cards, and Self Inking Stamp. Plus I noticed a FREE Mousepad offer as well!  All you need to pay is shipping, which for me ended up being $11.06 for all 7 items.  These items make great gifts – in fact I was able to make a tote bag for my daughter for her summer library books, a cute heart mug for me :), a calendar for my husbands office, a mousepad as a teacher gift for the end of the school year and more. But this offer would be perfect for Mother's or Fathers Day gifts, a birthday or even a wedding gift too!
Just customize and add all the free items to your cart. Choose the Standard shipping which can take up to 14 days (but usually doesnt take that long for me..) The cool part is that it was a better deal to get all the freebies since I had a reduced shipping charge when I added them all in. If you just get one item the shipping will be around $4.00-$5.00. I only had to pay $11.09 for combined shipping for all 7. Awesome!
Here is how to get all these FREEBIES:
Click on this link where you will see all the different FREE item choices. Choose one.
Personalize it – and skip all the add-ons.   (Note: I noticed they charge you $2.50 to upload your own custom logo or images to anything, so stick to the ones they have already if you want it for free. )
Add the item to your cart.
Then.. Click back on this link again and choose another FREE item to customize.
Customize and add to your cart.
Come back and click on this link again and repeat this process until you have all your FREEBIES in your cart.
Go to Checkout.
Vistaprint will offer you a lot of offers, just make sure to skip all of them if you want this deal. (Leave boxes unchecked to skip)
Choose standard 14 day shipping (price depends on how many items you have in your cart)
Finish and pay – my total came to just $11.06 for all 7 items shipped! Woo hoo!
I love this deal! Happy Savings!