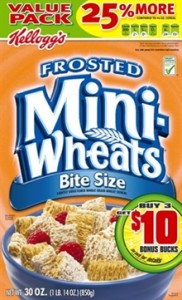 I dont know if you remember when I talked about the Kelloggs $10 Bonus Bucks Cereal Deal a few months ago..but I finally saw these boxes over at the Pasco Walmart yesterday! (Update: They still have some but they moved the display over to the other side of the store with the promotional items…strange) I am guessing that they are going to be showing up everywhere now, so if you see them in your store please share.
The 30 oz mini wheats are only $2.88 each!!!
So if you buy 3 your total without coupons would be $8.64. Then find the promotional codes in the boxes and enter them online, where you will be able to get a $10 bonus check. That is like a $1.36 money maker even without coupons! What are these bonus checks? Read the details here. There is no limit to how many of these you can do.
Coupons available out there to sweeten your deals:
$5/4 printable Target coupons if you printed a few weeks ago – no longer available
$1/2 Froot Loops or Frosted Flakes coupons from 12/13 Red Plum inserts
While you are there here are a couple of other sweet Walmart deals you might be interested in:
MojoSavings.com is saying that at Walmart the Dove Visibly Smooth deodorant/anti-perspirant is on sale for just $2.47 each. GO HERE to print a coupon for $2.00 off making them just $.47 ea. You should be able to print 2.

Also there is a new $1/1 printable coupon for Johnson & Johnsons Baby Shampoo, any size. So you can pick up a trial size for Free at Walmart too!