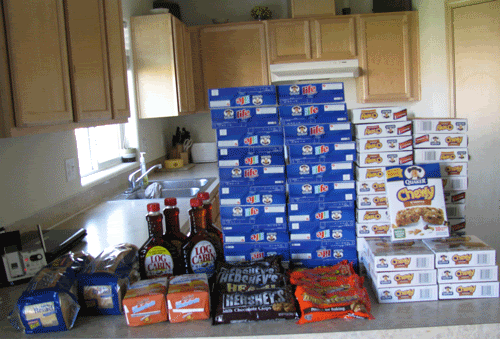 I am thrilled you found me by reading "Counting on Coupons" in the Tri-Cities Herald today because I am here to help you learn how to save money on the products you use daily! Plus help you keep some of your hard earned money in your pocket by coupon shopping the right way. I do this by offering Free Coupon Classes, sharing some of the hottest freebie deals out there, frugal food recipies, giveaways and all other sorts of thrifty living ideas.
In the article you probably noticed the reference to how I was able to buy $129.00 worth of cereal and groceries for less than $15.  Above is a photo of  a purchase I made recently where I spent $32 and saved $218! I was able to get that much savings by taking advantage of a great sale and using coupons on top of that.  I buy food in bulk to stock up my pantry full of  the items I need so I dont have to pay full price later.  If you would like to see a lot of my shopping trips this year click on the My Shopping Trips TAB above or click here.
A few fun posts you might be interested in are:
Freebies: Get a free mini bottle of Palmolive Dish Soap! 
Frugal Food Recipe: Honey Lime Chicken
Organizing : Organizing my Junk Drawer
Sweet Grocery Deal: Fred Meyer Playschool Toys $5.99 with coupons!
Contest: The Golden Scissors Club–enter your best shopping trips!
 Feel Free to subscribe via  Feed or Email  so you do not miss any of my daily posted deals!! If you would like to consider having a free coupon class please see this post here.  Thanks and welcome to my blog!