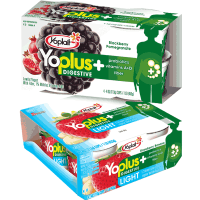 At the Richland Winco location all the 4-packs of Yoplus Yogurt are on sale for $1.36!  We have $1/1 coupons which makes the 4 pack .36! Sweet!!!!! The checker thought the sale would go on through Easter (but she wasn't sure). There were TONS of packs- some with the yogurt and some on the endcap of the cooler on the ice cream end. Your Winco store may or may not have the same deal going on, as Wincos prices vary from store to store.
Yoplus Yogurt $1.36
-use $1/1 printable coupon or $1/1 insert coupon from 2/07 SS
= .36!
Thanks for the email Karen!