Zaycon Foods is an Eastern Washington based company that offers premium cases of fresh boneless, skinless chicken breasts and *new* high-quality, super lean 93/7 ground beef for great stock up prices.
Last October Zaycon offered Chicken Breast at the low price of $1.48 a pound – and we even gave away five cases of it to lucky Happy Money Saver readers. I was able to review the chicken myself and even purchased some the last time they came around. I LOVE it…the quality is wonderful.
Zaycon Foods negotiates with farms to get the lowest price possible (usually $1.39 – $1.59 for boneless, skinless chicken breasts). They then sell the meat directly to you by the 40 lb case. All you have to do is just register and pay online. On the day of the event, you drive to your pick-up location and pick up your case of meat!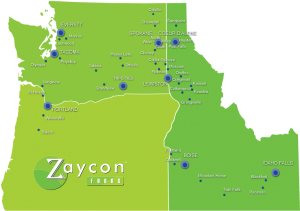 Zaycon Foods has delivered to various locations through-out the Northwest and now has added ARIZONA, TEXAS and OKLAHOMA too!
Most likely in the next month or two Zaycon will email those on his email list and allow them to place orders if they want to. I would suggest registering an account NOW so you will get that email when he comes to your city!