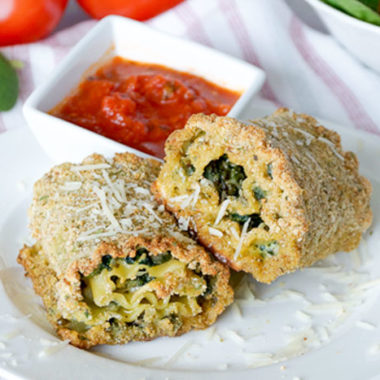 Print Recipe
Pesto Spinach Lasagna Roll Ups {Freezer Meal}
These freezer friendly pesto spinach lasagna roll ups are quick and easy to make ahead of time! Stock up so you'll be ready for those busy week nights!
Ingredients for Basic Lasagna Roll Ups:
Additional Ingredients for Breaded Crunchified Lasagna Roll Ups:
1

cup

Bread Crumbs

1/2

cup

Flour

divided in half

1

tsp

. Salt

divided in half

1/4

tsp

Oregano

1/4

tsp

Basil

1/2

tsp

Pepper

1

Egg

beaten

1

Tbsp

Milk
Prepping for the Freezer:
In a large stockpot bring water to a boil, add noodles, boil until al dente. Strain, rinse with cold water and return to pot with lid on so they don't dry out while rolling.

In a medium sized bowl, mix together spinach (remember to squeeze the blanched spinach before and after mincing. Excess water will ruin this recipe) parmesan, mozzarella, pesto, and 1 egg.

On a cutting board, lay out a noodle and scoop 3 heaping tsp. of spinach pesto mixture onto the noodle, one in the middle and one on either end, spread around evenly, and then roll up from one end of the other. Tight enough that it stays rolled but not so tight that you squish out the filling. This may take a couple tries. Then place on a parchment lines cookie sheet.

Once your cookie sheet is filled with roll up, make sure they aren't touching. Flash freeze for 20 minutes.

*Now you have two options. You can 1: remove partially frozen roll-ups from the fridge and place into a freezer bag as is and freezer until ready to use. These can be heated up individually in the microwave for 1 ½ minutes each, or you can cook according to the instructions below, or 2: Go on to the breading stage for yummy, crunchy roll ups.
Breading Freezer Prep:
While you are flash freezing the roll ups; get three bowls for dredging and breading.

In one bowl place 1 egg and 1 Tbsp. milk, beat well.

In Second bowl place 1/4 cup flour and 1/2 tsp. of salt, mix.

In third bowl, mix bread crumbs, 1/4 cup flour, basil, oregano, pepper, and 1/2 tsp. salt.

Remove partially frozen roll ups from freezer. Working one at a time, placing back on the same cookie sheet when done with each one, lightly coat roll up with flour, then dip in egg wash, and then coat with bread crumbs. Once all are coated, place back in the freezer for at least 30 minutes.

Place in a freezer bag and store in freezer until ready to eat.
Breaded Cooking Instructions (from frozen)
Unbreaded Cooking Instructions (from frozen)
Serving:
1
Roll
|
Calories:
300
kcal
|
Carbohydrates:
28
g
|
Protein:
11
g
|
Fat:
15
g
|
Saturated Fat:
3
g
|
Cholesterol:
63
mg
|
Sodium:
940
mg
|
Potassium:
340
mg
|
Fiber:
2
g
|
Sugar:
2
g
|
Vitamin A:
5145
IU
|
Vitamin C:
13.3
mg
|
Calcium:
209
mg
|
Iron:
3.2
mg