How to Order doTERRA Essential Oils
---
A step-by-step guide
1. CLICK HERE to order doTerra essential oils online (if you only plan on getting one or two oils in the next year).  Choose "retail" option and you can just buy a few oils after signing in. 
2. OR for extra savings consider choosing the wholesale option which will save you 25% off every order.  
-> CLICK HERE to get started with Wholesale prices
** BEST DEAL!!   You don't have to sell anything but if ever do want to you can and start to earn some money too. In fact I signed up as one even though I had no intentions of selling or making a business out of it. I just did it for the discounts alone which are amazing.
4. Pick your preferred language.

5. Decide how you want to join DoTerra.
If there's even a tiny possibility of you sharing the oils with your friends, choose the Wellness Advocate option. It makes for a great day when you get a check in the mail just for answering your bff about what that amazing smell is coming from your diffuser and she orders some too.
6. Fill in your information.
Note: the sponsor id part should already be pre-filled with my number and name but if not add the number 388449 in both the enroller and sponsor id section.
7. Choose a Kit to start with. I could start by suggesting that you jump with in with the most expensive kit (Diamond Kit, or every oil kit) but that's not how I do things 'round here. I want you to pick the kit that really fits the needs for you and your family.
With that in mind, here are a few of my favorites.....

8. Add any other oils or kits you want to your order.
9. Choose how quickly you want your oils delivered.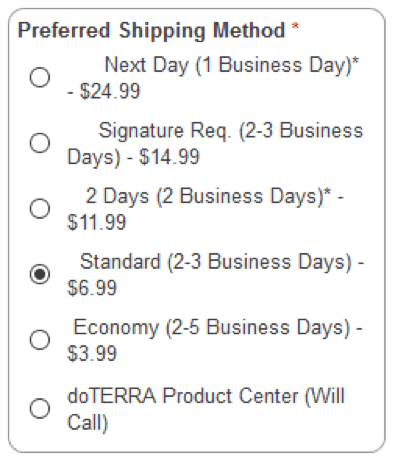 10.  Put in your payment information.
11. Click "Process Order and Continue".
12.  Set up your Loyalty Rewards program. (OPTIONAL)
This is perfect if you want to get new oils every month. Plus you can get more free products as a reward on top of that.
BONUS:
If you create your Loyalty Rewards program AND you put in an order of $100 or more for 2 straight months, I'll send you a FREE Modern Essentials book (normally $27.95).

This is the ultimate resource guide where you'll find out…
• Which essential oils are best for you – helping you find different ways of addressing all sorts of problems, everything from acne to diabetes plus info on EACH essential oil and how to use them properly.
• How to make sure you're getting the best and purest essential oils
• Which essential oils blend best together, so you can make your own blends based on your specific needs
13. Wait for your oils to get dropped off at your door.  And you're all set! If you have any questions, shoot me an email, and I'll be happy to help.
So if you haven't already, get started with your own essential oils here.
I like to give my little disclaimer here because I always want to be honest with you. I do get a kick-back if you join from the links on this page – BUT it actually saves you money and helps support the work I do on Happy Money Saver. Win-win. AND thank you!!!!