How to Order doTERRA Essential Oils
---
A step-by-step guide
1. CLICK HERE to order doTerra essential oils online by becoming a wholesale customer. I like to compare doTerra essential oil ordering to kind of like a Costco or Sams club..if you want the awesome lower wholesale prices you pay a small joining fee (with doterra it's just $35) and then you get 25% off every order! It's awesome.
Oh! And with wholesale you don't have to sell anything but if ever do want to you can and start to earn some money too. In fact, I signed up as wholesale when I did my first essential oil purchase even though I had no intentions of selling or making a business out of it. I just did it for the discounts alone which are amazing.
Only want to buy one or two oils this year?
You do have the option to buy them at the full retail price by clicking this link here.
Click that link then find the "SHOP" button on the top of the page to find your oils. 
2. Pick your preferred language and country.

3. Fill out your information.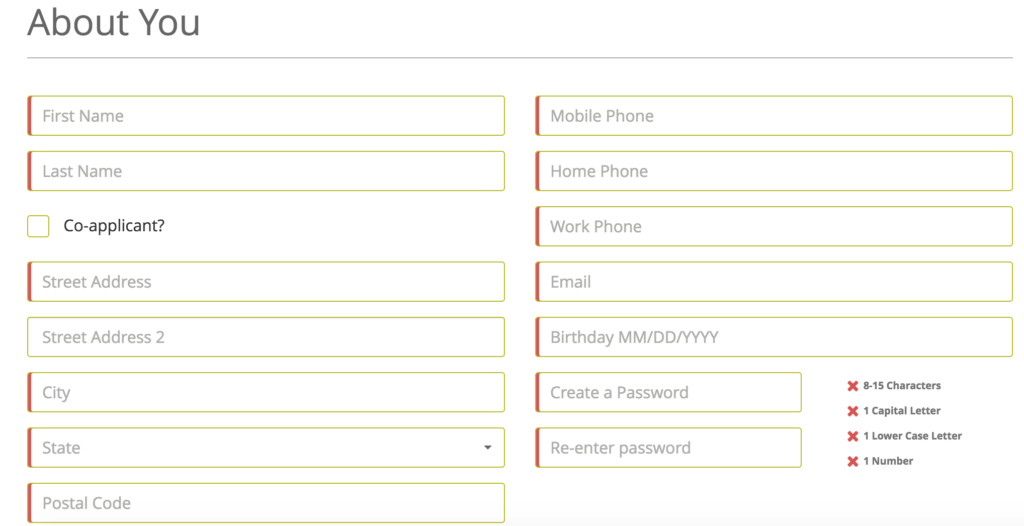 4. Decide how you want to join DoTerra.
WELLNESS ADVOCATE OPTION: If there's even a tiny possibility of you sharing the oils with your friends, choose the Wellness Advocate option. It makes for a great day when you get a check in the mail just for answering your bff about what that amazing smell is coming from your diffuser and she orders some too. This option is for someone who wants to do regular monthly orders with doterra and you get tons of free product points back, bonuses,  get the 25% wholesale price plus the opportunity to make a commission when your friends buy some oils too.
WHOLESALE OPTION: save 25% off the regular prices of the oils every time you buy them. There is a one time fee here for wholesale membership, but it pays for itself if you are getting more than 4-5 oils.
5. Make sure my cheesy grin is down in the referral section. And if it's not, make sure and type in my name Karrie Truman or my id number which is 388449)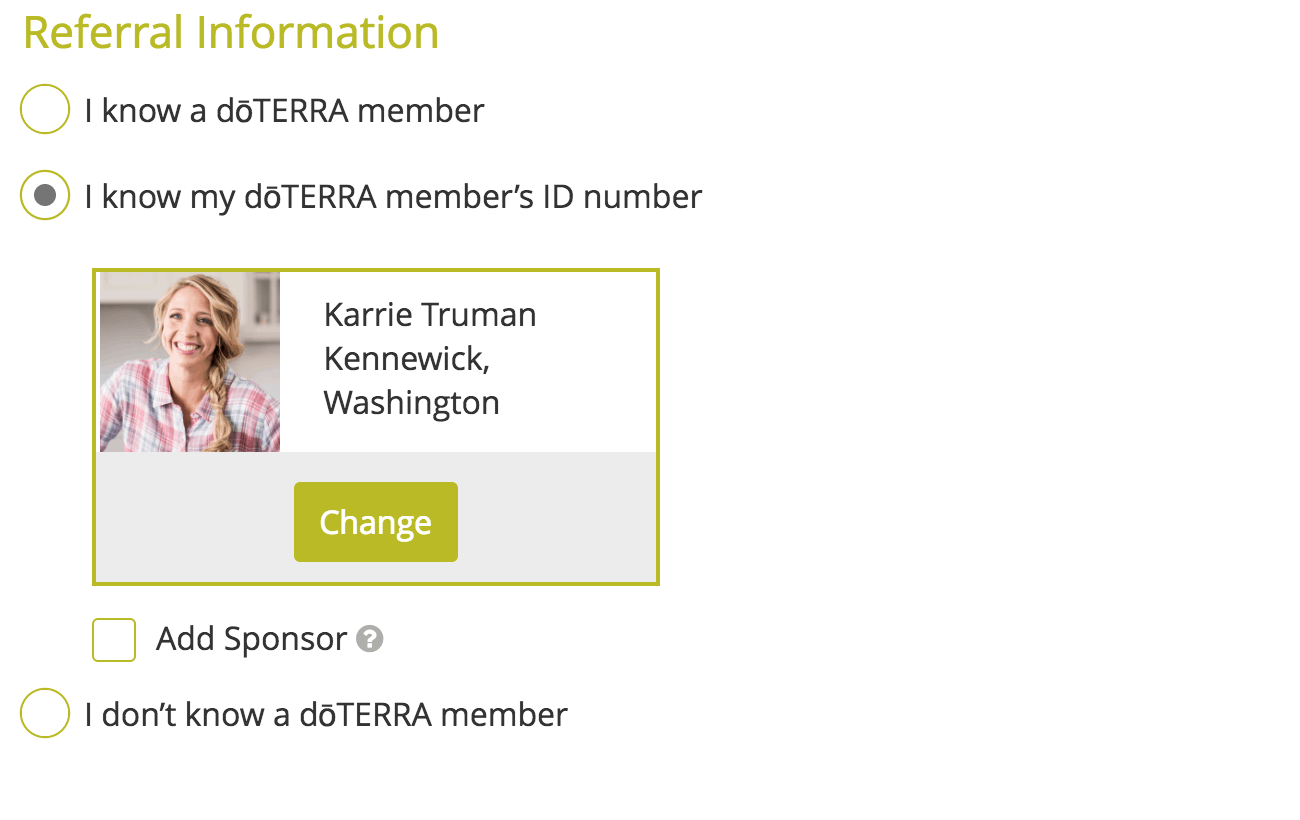 6. Choose the membership fee or a kit to start with. I personally started with the Family Essentials kit since it was the kit that had the oils I was really the most interested in for health and wellness (plus it was the most inexpensive...ya'll know I'm a happy money saver...right?). But if I had to do it again now I would choose the Home Essentials kit since you get double the amounts of oils AND a diffuser. I love love love diffusing my oils.  But every one of us is different and I want you to pick a kit that really fits the needs for you and your family. Some kits are best for wellness, others for emotional aromatherapy, and some kits have a bit of everything! 

7. Add any other oils or kits you want to your order. One of my all-time favorite oil blends for diffusing to make me happy is Citrus Bliss...it's such a happy orange creamsicle type of smell.  And I also love to diffuse Serenity too for relaxing and calm. So wonderful.
8. Choose how quickly you want your oils delivered.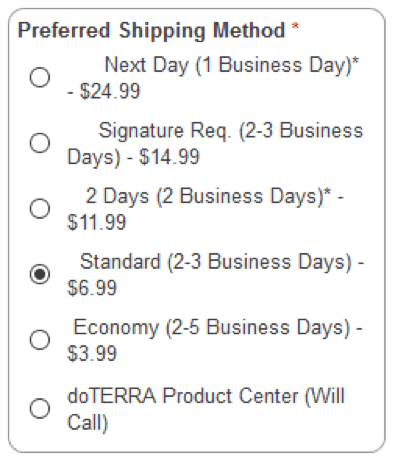 9.  Put in your payment information.
10. Click "Process Order and Continue".
11. Wait for your oils to get dropped off at your door.  And you're all set! If you have any questions, shoot me an email, and I'll be happy to help.
12. Looking for a guide book for using the oils? If you just ordered up a kit of oils and want to learn to how best to use them, I'd suggest ordering this book from Amazon.com.
It tells you about each oil, and how to use each one for different health and wellness issues. Whenever I have an issue I turn to this book, look at the symptom and which oil I should use to help. It's the best!
--> CLICK HERE TO ORDER SOME ESSENTIAL OILS NOW!! <--
Looking to buy the oils at full retail price instead? CLICK HERE for my online retail doTerra store - then just click on "shop" at the top of the page.
I like to give my little disclaimer here because I always want to be honest with you. I do get a kick-back if you join from the links on this page – BUT it actually saves you money and helps support the work I do on Happy Money Saver. Win-win. AND thank you!!!!