This is a sponsored conversation written by me on behalf of SCHLAGE. The opinions and text are all mine.
You all know I love a good makeover, but now that my own home is complete, I'm running out of rooms to re-do! It's a good thing I have no shortage of friends who are willing to let me bring my funky farmhouse style into their own homes. What do my pal, Tracy and I do with a day to hang out… refresh her bathroom of course! We did this DIY bathroom makeover in one day, for under $300! Just in time for her company to arrive.
Many people shy away from home renovations because it seems too daunting, or they don't have the experience. Never fear… most of the biggest impacts in home decor, are small, easy and inexpensive fixes.
Tracy's main floor bathroom is like many, on the smaller side and a bit dark. There was nothing "wrong" with it as is, but the paint was dark and dull, the light barely enough to light the room, and the hardware was a mix of gold, bronze, and white. She was really seeking to brighten it up and give it a fresh new look before her out of town family came for a visit.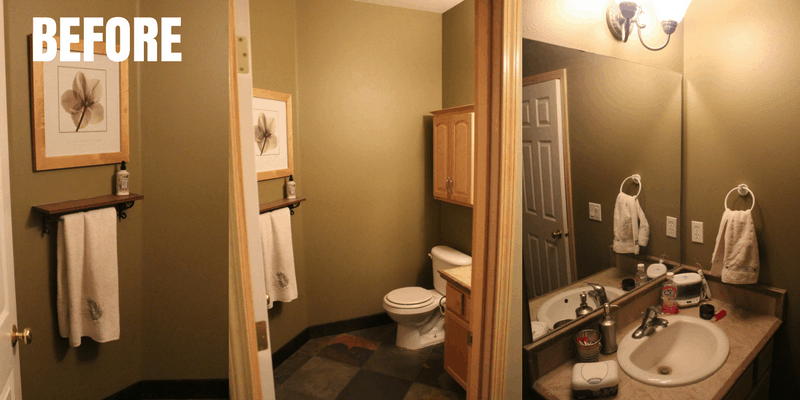 We made a pretty hefty list of things we wanted to get accomplished for one day, but with the two of us and her two daughters being home from school (another snow day), we had plenty of helping hands and we set our goals high. We started by addressing the obvious things that were easy fixes.
Hardware & Fixtures: We needed to replace the ugly worn plain gold door handle, update the light fixture to something brighter, and replace the white plastic towel hanger. Upgrading door hardware is a quick, affordable and impactful way to express personal style.
Paint: Dark green… hmmm… not the best for a small space. My farmhouse chic style tells me we need to update with a fresh light modern gray and accent with some clean whites! For the white, we will paint the existing Maple cabinets to give them a new look and brighten the space. Don't get me wrong. I LOVE maple, but in this small space, it was giving a yellow hue that made the space dreary.
Decor: One of the easiest and one of the most fun to shop for updates. There was an old broken shelf and dated photo on the wall that we would replace with fun decorative items in our accent colors and a super fun update to a plain old mirror by adding glass tiles.
What do you think?
Can we get this DIY Bathroom Makeover ALL done in ONE day?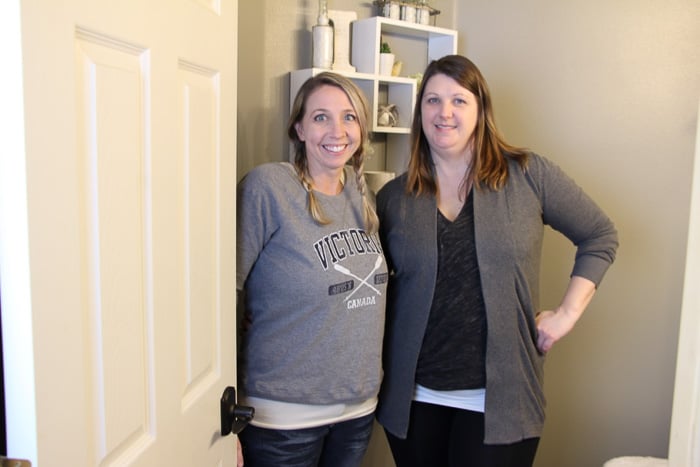 Off to Lowes we go! We had an idea of what we wanted to do, but we needed to find all the hardware, fixtures, tools, paint and accessories to make it happen.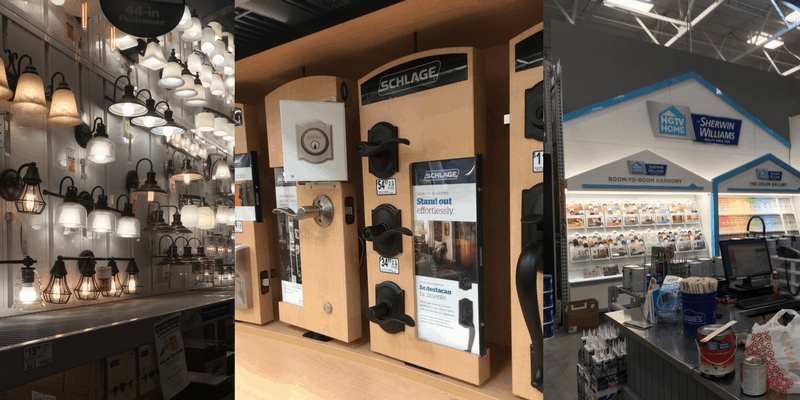 Well, who would have thought our whole design inspiration would come from new door hardware! We started looking for the new hardware first since it was literally the first thing we walked by in the store. Dollar for dollar, updating your door hardware makes a bigger impact on your home than many other afternoon projects and can match the other finishes in your home to complement your home's unique style and décor.
Tracy was instantly drawn to the accent aged dark bronzed sleek style of the quality brand, Schlage. Schlage believes that style lives in the details because the details bring everything together in a home. Isn't this Accent Lever beautiful! Best of all, right now you can get 20% off these amazing door handles at Lowes… SCORE!
Off we went to find the new light fixture, we used the color of the door hardware to guide us on the rest of the hardware for the room. We both instantly knew we had to have the farmhouse style light in the same finish with those amazing Edison Bulbs. BONUS… it has 4 lights compared to the existing 2-light fixture, so it's sure to give the room a bright new look, AND was clearance priced!
Some paint, small glass tiles, a new shelf, some fun decor items, and we were set to get this DIY bathroom makeover started!
We decided the best strategy was to divide and conquer. While Tracy and I painted the bathroom in the new shades of gray, the girls took on painting the base and wall cabinet (white chalk paint), assembling the wall shelf, and putting together the new flower arrangements.
While the paint dried, we tried our hand at the hardware and fixtures. GIRL POWER! The four of us girls were left to install the Schlage door hardware, the new towel ring and the new light fixture. We both had a little experience in a few areas but had never done any of these things on our own. With each other for moral support, WE DID IT! and guess what… it was soooo much easier than I ever thought possible.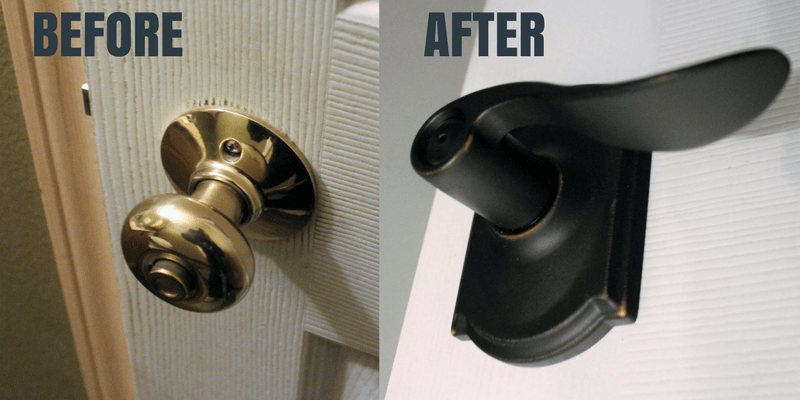 It literally took me 2 minutes to change the door hardware by myself and what a BIG impact getting rid of that ugly old gold thing!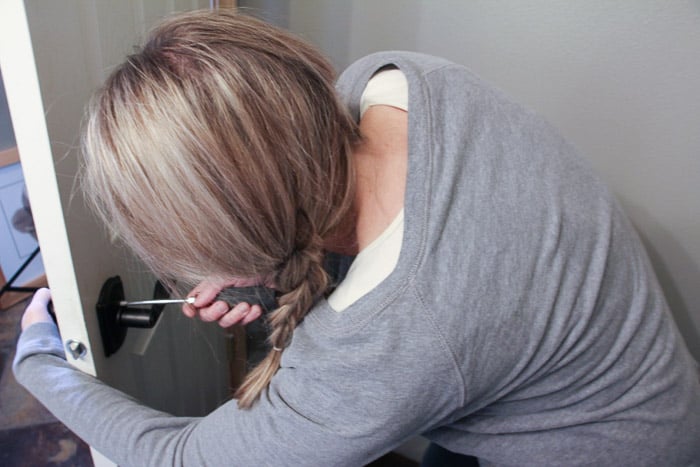 We finished painting the cabinets, hung and decorated the shelf and then sat back and enjoyed a glass of lemonade.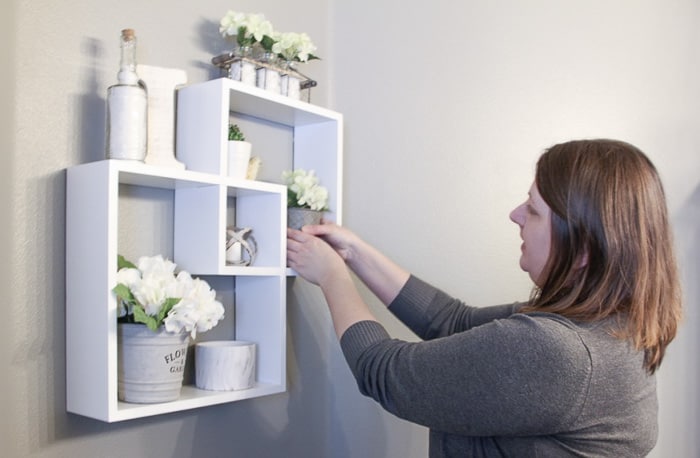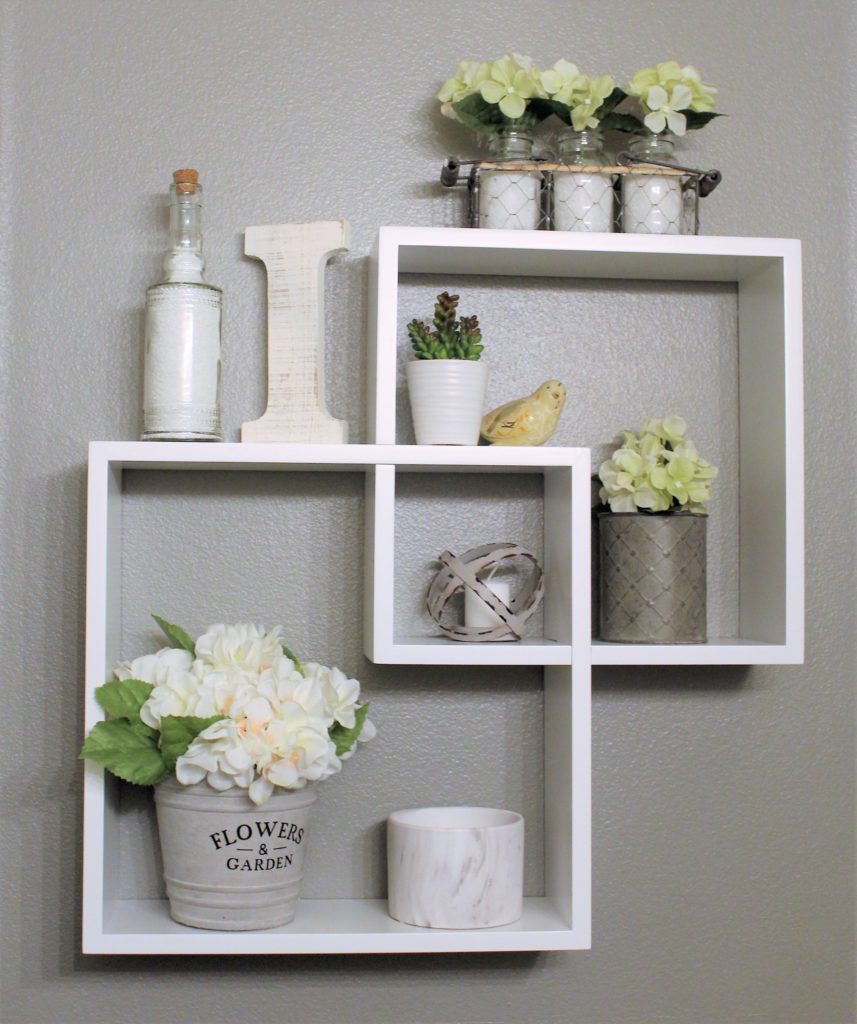 The kids took over giving the mirror a new look with glass tiles and sticky tape while we relaxed. YES… it's that easy!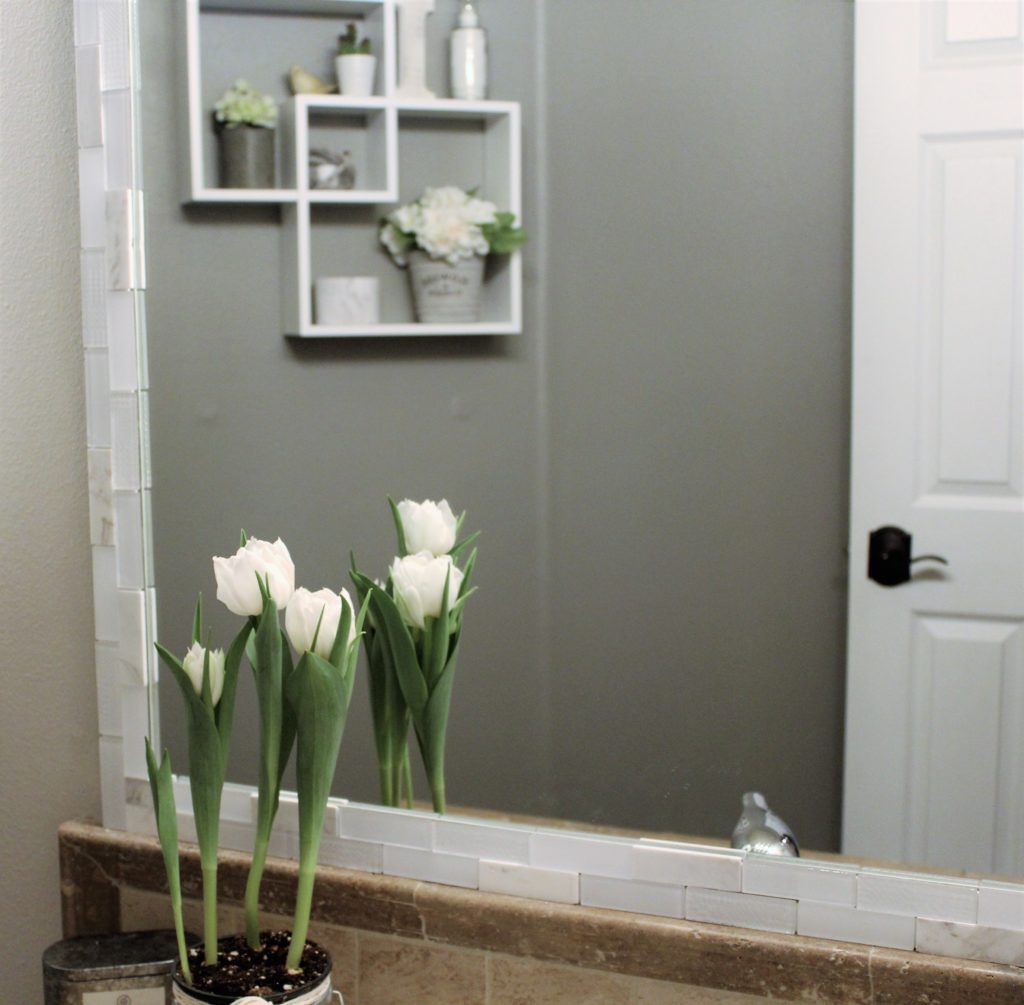 Is it weird I want to just hang out in the bathroom all day? I just can't stop looking at it and what a difference a handful of small, easy projects can do to make a really BIG impact.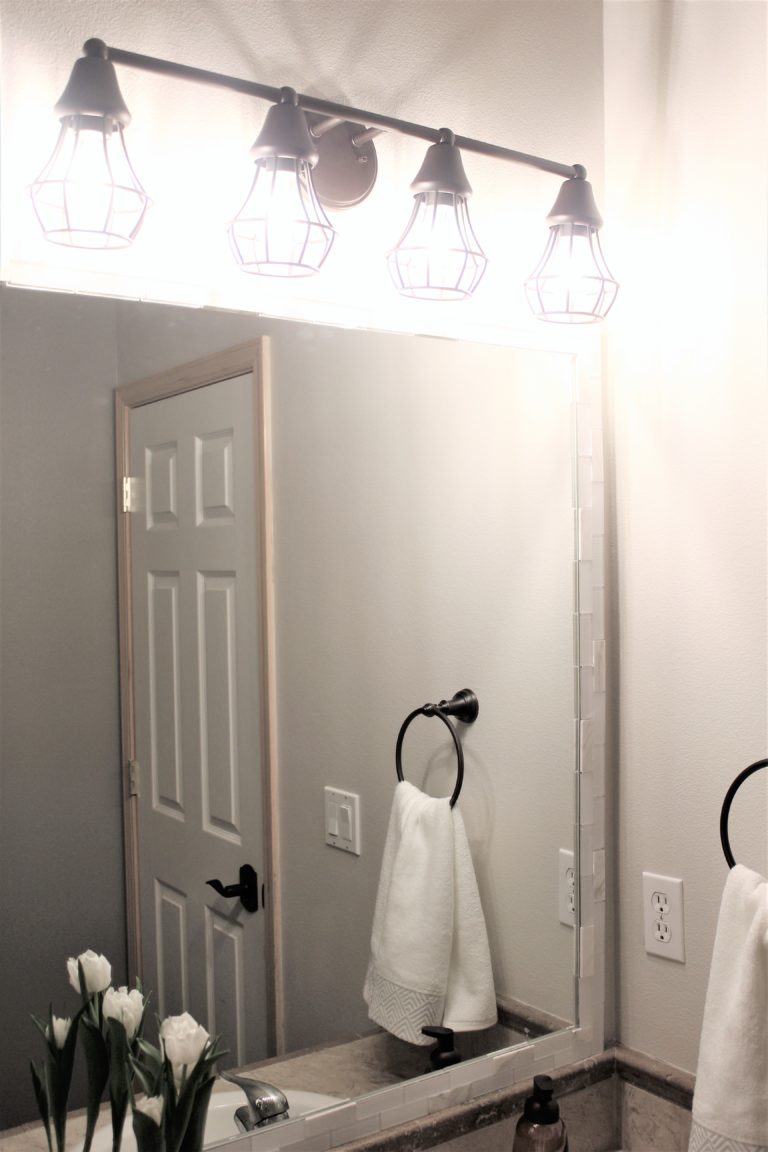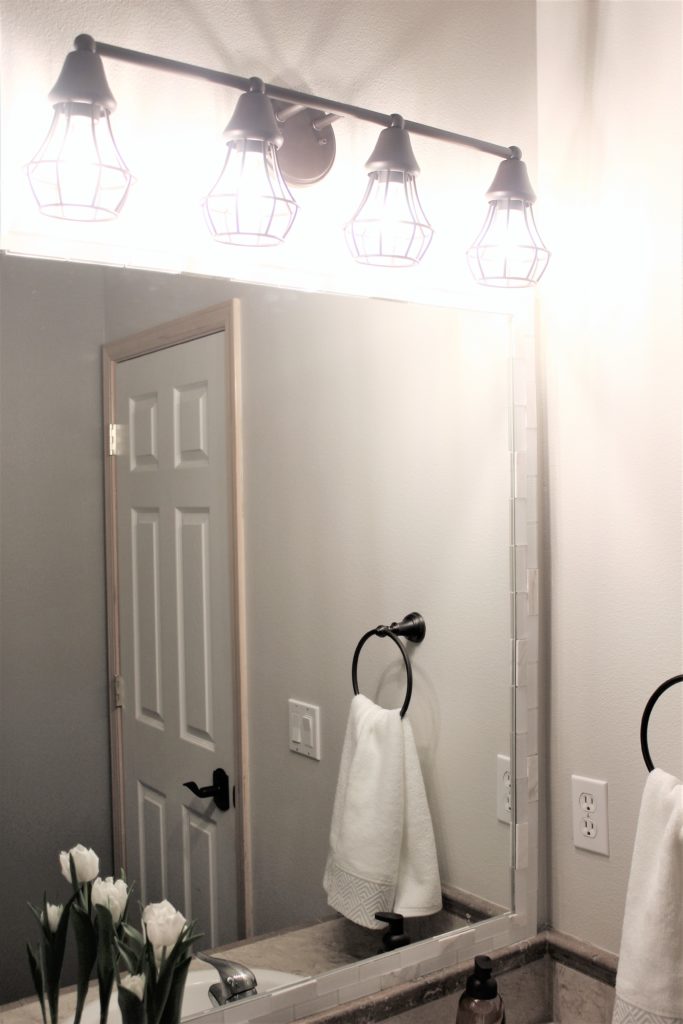 Tracy is already asking me when I'm coming back over and bribing me with sweet treats so we can finish the whole downstairs. She's even bought two matching sets of Schlage door hardware for the closet doors and has paint ready! (Pssst….. From 2/15/17-3/13/17, get 20% off your Schlage interior hardware purchase at Lowes online or in store!) Guess I better get into full DIY mode and have my screwdriver handy!
Follow Schlage on social media for more easy and affordable inspirations for your home:
Comments submitted may be displayed on other websites owned by the sponsoring brand.
This is a sponsored conversation written by me on behalf of SCHLAGE. The opinions and text are all mine.