Disclaimer: this post has been updated with new images and ideas with special thanks to my sponsor, Frigidaire Gallery®. I love this post and continue to make ahead my kids cold lunches to save time and money!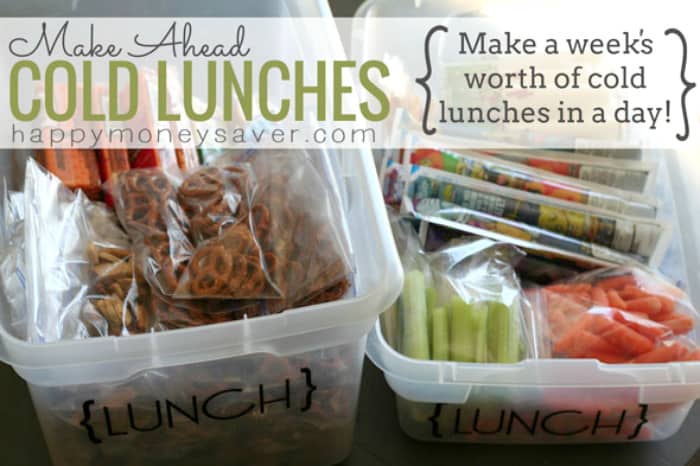 It's morning. You're tired, and moving slow. Your brain is trying its best to remember all the morning tasks and get the kids off to school on time. About 5 minutes before the kids head out the door you remember you need to make their cold lunch. And then it's crunch time. You worry if they've even remembered to brush their teeth as you open the fridge to see what they will be having for cold lunch. With not enough time…it's either going to have to be hot lunch again or another boring peanut butter sandwich.
Sound familiar?
This was pretty much my life for the better part of my kids growing up.  Always rushing, feeling like it was just too much hassle to do the whole "cold lunch" thing. Money was tight but so was time. I wanted my kids to have a healthy lunch but struggled with variety, time and preparation. I would usually do really well for the first few weeks of school and then get lazy. I found that if I didn't prepare the night before, it was a mad rush in the morning where I found it easier to just say, "You're getting hot lunch today!"
But now I have a method that really works. I have been making a week's worth of cold lunches all in ONE day for a few years now, and it is the best thing for busy moms! This method has totally saved me.
ALL IN ONE DAY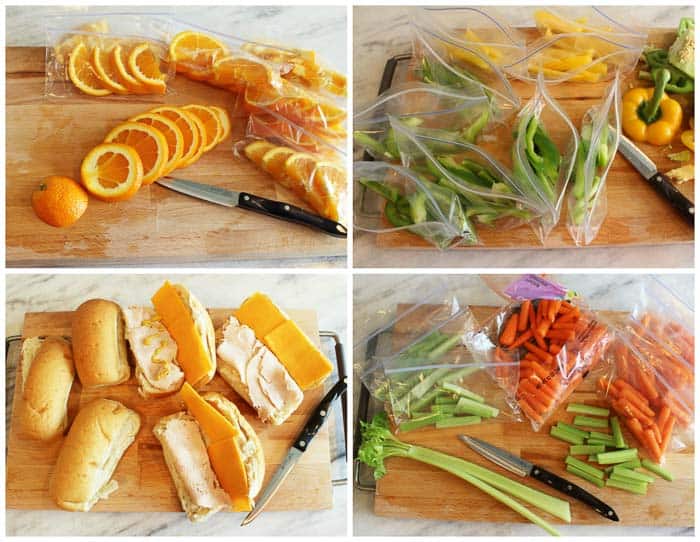 So how this works is the following: Once a week I chop and bag up all the fresh fruit, vegetables, crackers and any other lunch items all at once.  Then I add them to 3 different cold or dry lunch buckets to store in my fridge, freezer and pantry. The kids can quickly grab the items to throw in their lunches themselves in the morning or evening before and my work is done. Takes all my stress away.
THE MAKE AHEAD LUNCH BINS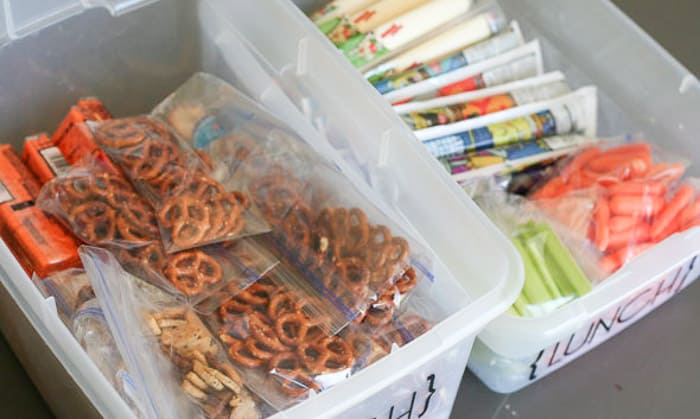 Dry Goods Lunch Bin
The dry good lunch bin currently sits in my pantry. It's simply a plastic tote bin.  It's filled with individual bags of dry lunch items such as bagged pretzels, crackers, homemade granola bars, trail mix, treats and more. Here is a list of ideas and dry lunch items we have done in our lunches:
Store-bought or homemade crackers
Pretzels
Pre-packaged Fruit Cups or applesauce
Homemade Granola or Trail Mix
Homemade Granola Bars
Popcorn
Nuts (if your school doesn't ban for allergies)
Beef Jerky
Chips
Graham Crackers
Homemade Cookies  or brownie bites (bake a big batch and individually bag them up)
Special Treats ( usually for a holiday)
Cold Refrigerator Lunch Bin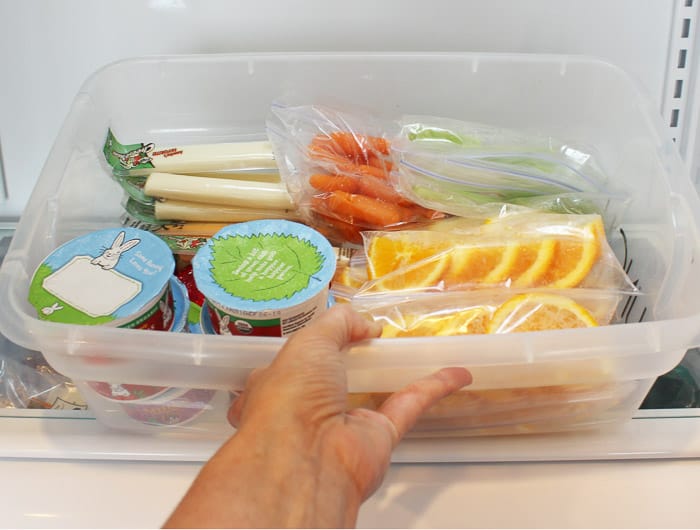 The cold lunch bin sits perfectly in my new Frigidaire Gallery® All Refrigerator. I have owned this appliance for a few months now and I LOVE how much space I have. Having this extra room in my fridge has saved my family time and money and has made it feasible to feed my kids healthy cold lunches on a regular basis. One of my favorite features is that it has an alarm on it if the kids leave the door open (which believe it or not has come in handy). And when I need to raise or lower the temperature it's as easy as pressing a single button. Seriously it's my favorite appliance in the house! And everyone that visits me comments on how cool it is and I have to agree. If you are looking to upgrade your appliances or build a new home in the future I would absolutely consider this amazing built-in set.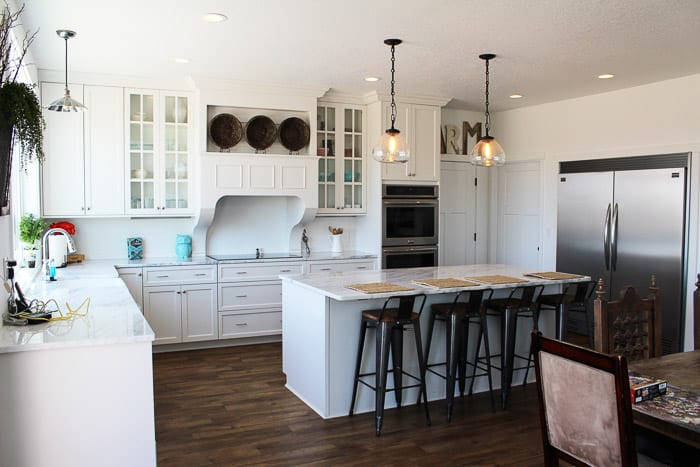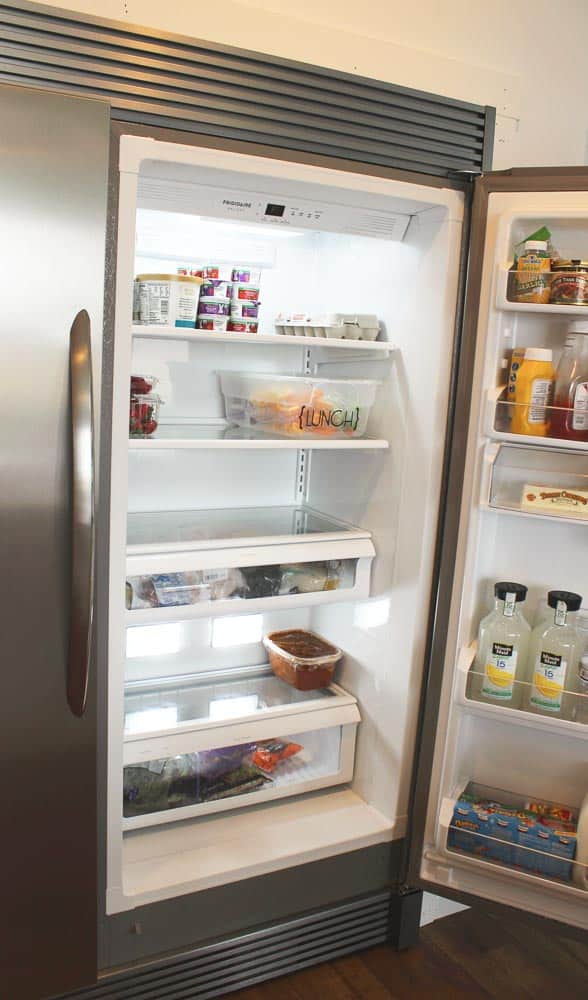 The cold lunch bin holds all the cold lunch items that need to stay refrigerated. Once a week I will separate grapes, chop oranges or apples (if I did apples I would first soak them in pineapple juice or fruit fresh so they keep longer), and chop carrot or celery sticks. Some of the items I have kept in my own personal cold lunch bucket this past year are:
String Cheese or mini Babybel cheese
Yogurt smoothies or other yogurt cups
Carrots (I found little cups with lids at Cash n Carry that I add ranch dip to)
Sliced apples (soak for 10 minutes in pineapple juice or fruit fresh so they don't go brown)
Homemade pasta salad
Sliced oranges
Mandarin oranges, whole
Green peppers, sliced thinly
Celery sticks
Grapes, cherries, cantaloupe or other seasonal fruit cut up
Green Salads
Turkey Pesto Rollups
Mini cups of hummus
Mini cinnamon streusel, blueberry, lemon poppyseed or even savory muffins
Frozen Freezer Lunch Bin
I typically just fill up my bin in the freezer with sandwiches or frozen homemade yogurt tubes.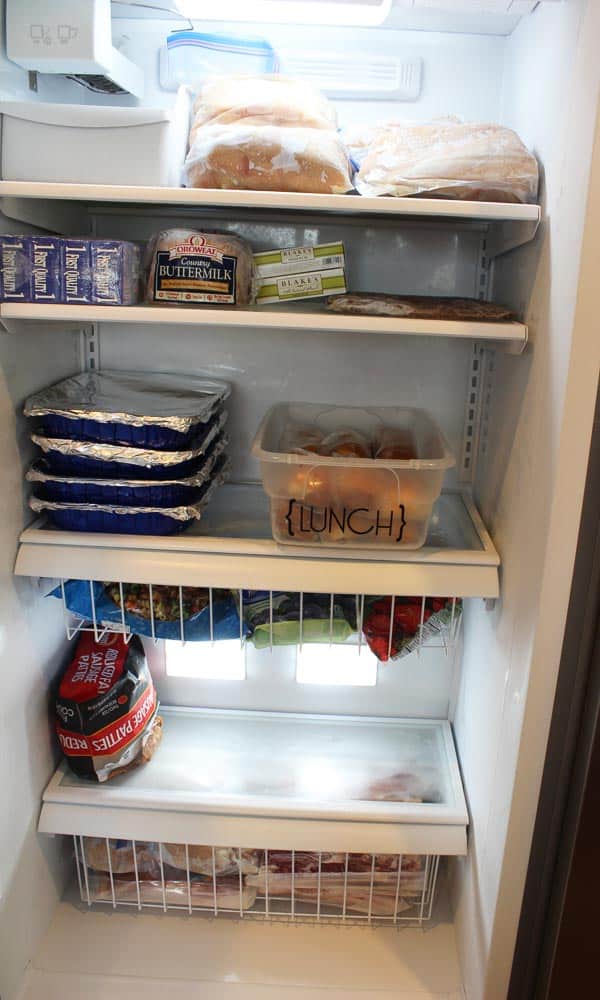 I have found that the easiest way for me to make the sandwich part is to take a large roll or sandwich bun, add in meat and cheese only, wrap and freeze individually. My children will take them out in the morning frozen, add them to their lunches and by the time it's lunch at school the sandwich has thawed. If they must have the condiments on their sandwiches, you can always add them in between the meat and cheese as it won't penetrate the bread and make it all soggy. But don't add in your lettuce or it will be a gross slimy mess. If your child likes lettuce, pickles, peppers or anything else on their sandwiches you could always make up individual bags of sandwich fixings and add it to the cold refrigerator lunch bin. Wraps and quesadillas will also freeze really well (my kids will eat them cold.)  Things to add to the freezer bin:
Meat & Cheese Sandwiches
Peanut butter & jelly sandwiches
Quesadillas
Frozen homemade yogurt tubes
Wraps with meat, cheese, pesto and/or cream cheese
Homemade hot pockets
HOW MANY TO MAKE?
To figure out how many to bag up for the week, I count out the number of days for cold lunch that week times how many children. Here is my own personal math: 4 kids x 5 days = 20.  20 bags of various chopped vegetables, 20 bags of various chopped fruit, 20 bags of chips/crackers, 20 string cheese or even treats if I feel nice that week..hee hee. 20 Sandwiches, quesadillas, or other main dish options. So I make everything all in one day then I'm all prepared.
WANT TO BE MORE "GREEN"?
One idea is to buy a bunch of re-usable sandwich bags.  They can be expensive to buy a bunch, but it is better for the environment.
Or you could use bento boxes or plastic containers. You would just prepare the lunch ingredients in advance use a few larger gallon sized bags and fill them with all the carrots, string cheese and other items. Then you can quickly fill the bento boxes or containers the morning of.
For me while I want to be green, I am also on a very tight budget. So when I look at spending $2.00 for 100 little plastic baggies versus having to spend hundreds on re-usables, well… it's tough. So I will be trying to buy a few re-usable bags or container each month and slowly reduce my waste in the world. You just do what you can! Every little bit helps.
Have you tried making your cold lunches once per week using this method?
Got any other great food ideas for kids, teens or even your husbands' lunch?