If you're looking for the best chocolate chip cookie recipe in the whole world…I have it right here!


I have made Nestle Tollhouse, Cook's Illustrated, Paula Deen's and many other chocolate chip cookie recipes in my life. And while they have all added to my weight gain over the years (ahem), none of them were the absolute perfect chocolate chip cookie recipe. Some came darn close – but never 100% perfect.
But I finally have found it.
The Master Chocolate Chip Cookie Recipe.
The recipe that out-does all other chocolate chip cookie recipes. The chocolate chip cookie recipe that meets all my tests, one that turns out perfectly for me every time. One that I can freeze into balls and that would bake up just as good as if you baked them without freezing since I love freezer cooking.
As I have been getting more into cooking more from scratch, finding a recipe that used real butter instead of shortening was a must. But it was hard to get a cookie that didn't fall flat, or turn out nice and soft in the middle using butter. That was until now. These real ingredient chocolate chip cookies are soft in the middle and a little chewy and crispy on the outside.
Basically the perfect cookie.
This one tops them all. Seriously, my search is over! It's FINALLY over.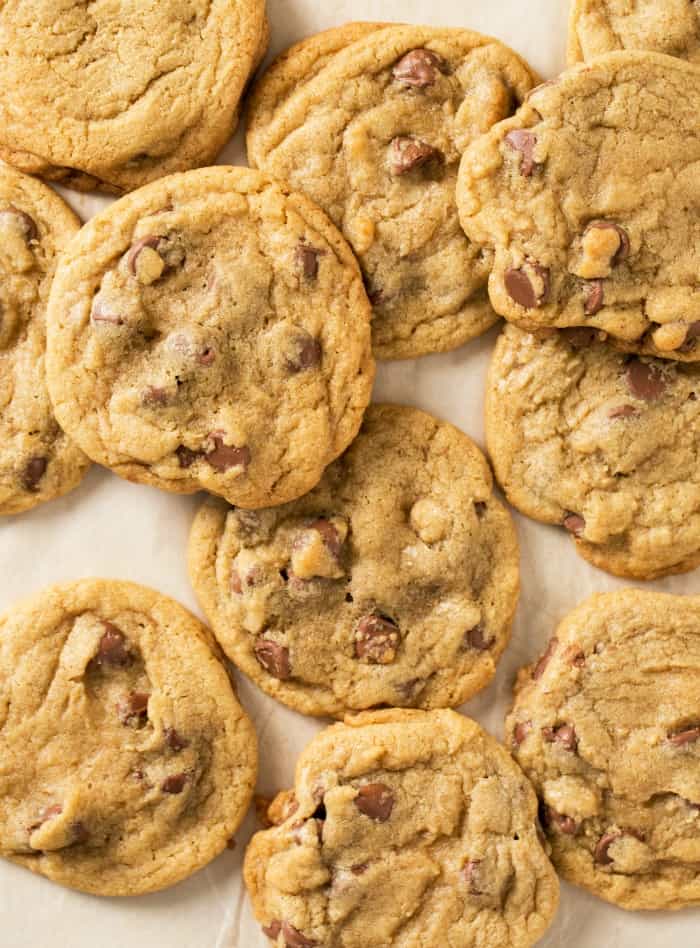 My criteria for the perfect chocolate chip cookie was:
Must use "real" butter, not shortening
Must use "real" vanilla, not imitation
Must taste amazing. Even the next day.
Needed to be soft and not flat
Needed to use quality chocolate chips (I love milk chocolate Ghirardelli)
Needed to be able to be frozen, baked later and turn out perfectly since I am a huge freezer meal gal.
This recipe met all these tests 100% perfectly.
In fact, I will let the pictures show you how good these are.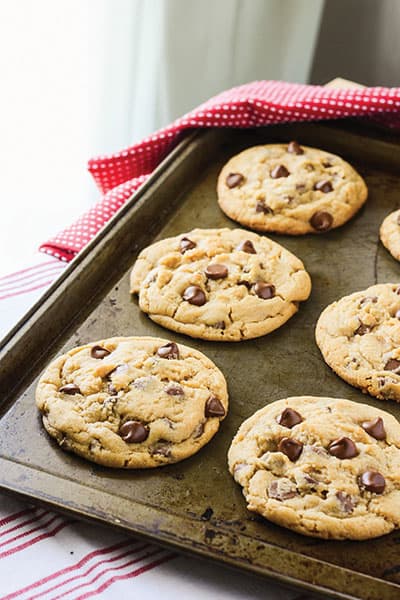 You can see how beautiful this cookie looks on the inside – a perfect blend of chewy and soft melty goodness.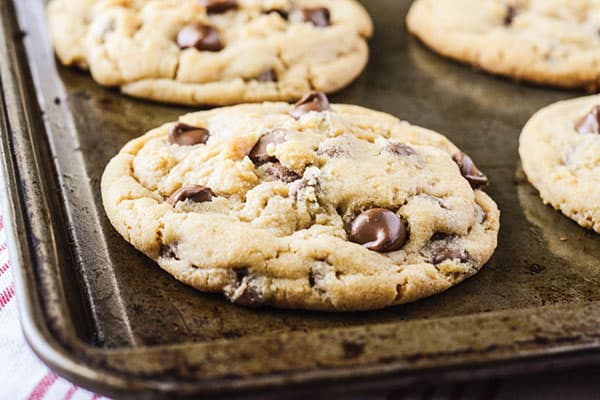 My personal secret: make sure your cookies are a nice big size. I usually roll mine into 1/4 cup or 4 Tablespoon sized balls. In fact, I use this cookie scoop which is the perfect size.
If you want that gooey center with a bit of chewy outside…make them big.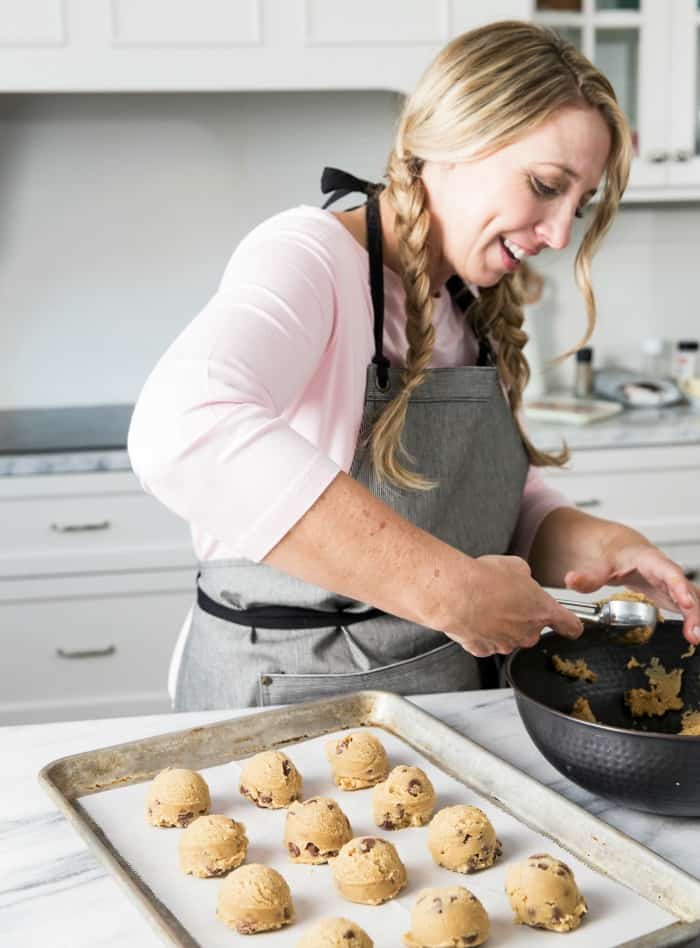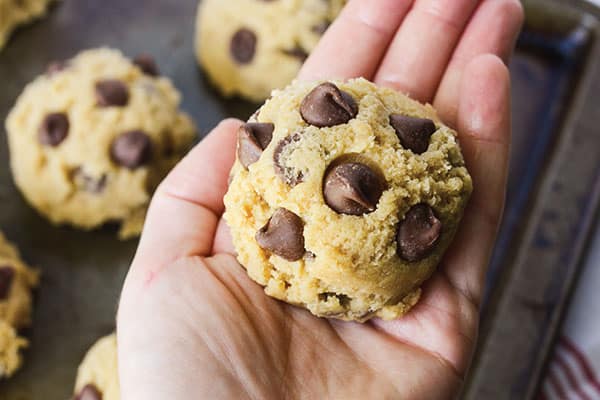 I love that this chocolate chip cookie recipe is not too flat, and the flavor is to die for. I was given this recipe by a friend who got it from hereistherecipe.com.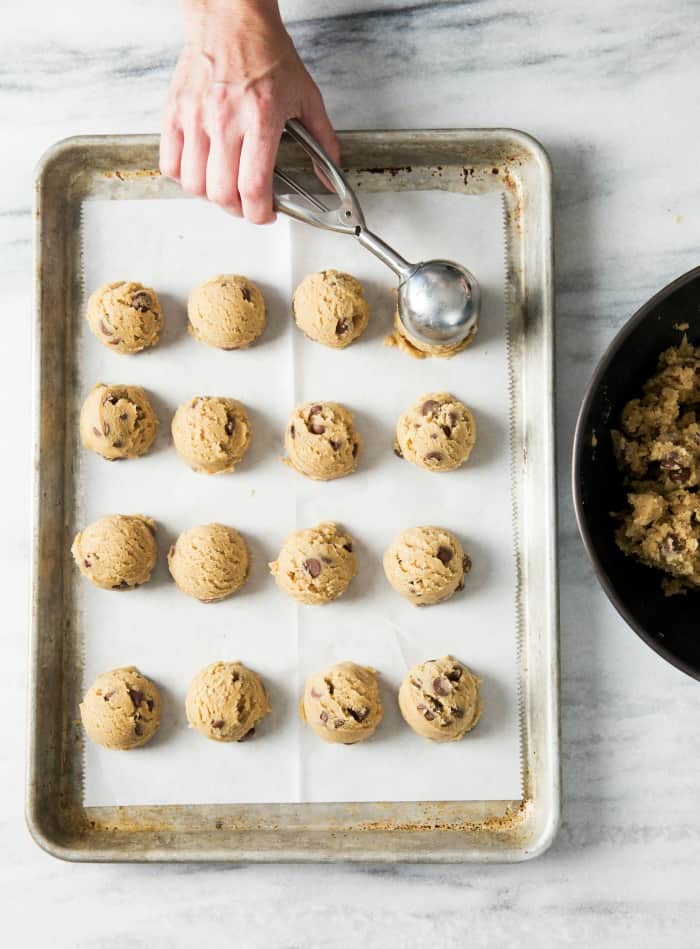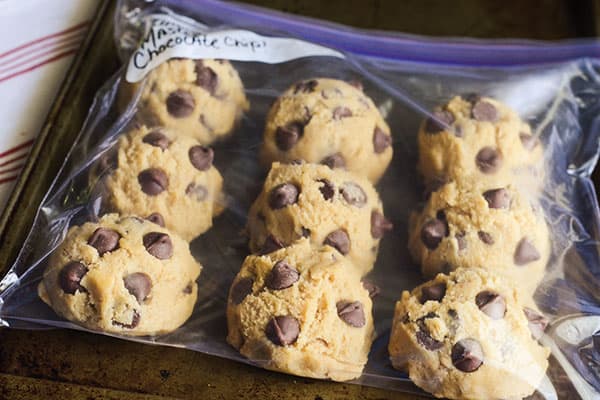 If you want to freeze this cookie dough, just form into balls and freeze individually. Then place into a ziploc freezer bag until you are ready to bake. Add a few extra minutes to your baking time and enjoy.
These cookies are pretty much the best thing ever, especially after a big freezer meal cooking marathon…. ……totally hits the spot.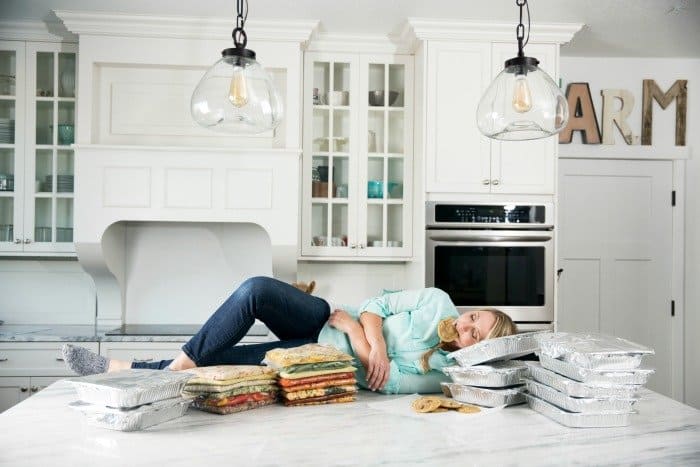 Here is the Master Chocolate Chip Cookie recipe that you can print out!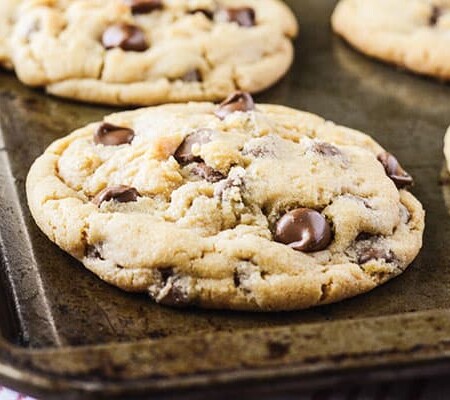 Recipe Card
love it? rate it!
Master Chocolate Chip Cookie Recipe
Servings 32 cookies
The world's perfect chocolate chip cookie recipe.
Ingredients
3 1/2 cups flour
1 1/4 tsp baking soda
1 1/2 tsp baking powder
3/4 tsp salt
1 1/4 cups real unsalted butter
1 1/4 cups dark brown sugar
1 cup plus 2 Tbsp sugar
2 large eggs
2 tsp vanilla extract
12 oz Ghiradelli milk chocolate chips or other quality chocolate chips, 11.5 .
Instructions
Preheat the oven to 350 degrees.

Combine flour, baking soda, baking powder and salt. Mix to combine and set aside.

Using paddle attachment on mixer, cream butter and sugars together just until blended.

Add eggs, one a time, mixing well after each addition.

Add the vanilla.

Put mixer on low speed, and add in dry ingredients.

Mix until just combined. Do not overmix.

Stir in chocolate chips by hand gently.

It's best to make bigger cookies for the right texture - so I would recommend using a 4 Tablespoon size scoop to form your cookies.

Place on cookie sheet and bake for 15-17 minutes. I like mine to look a little undercooked in the middle, then let them finish cooking on the cookie sheet for a few minutes while they cool. Then move them to a cookie rack or plate to keep cooling.

If you are freezing these cookies: Form into balls, and freeze on a cookie sheet. After frozen remove and add to a Ziploc freezer bag. They will last for about a month in the freezer. To bake just take out and bake as directed, adding a few extra minutes of baking time.
Nutrition
Calories: 228kcal | Carbohydrates: 32g | Protein: 2g | Fat: 10g | Saturated Fat: 6g | Cholesterol: 30mg | Sodium: 118mg | Potassium: 55mg | Sugar: 21g | Vitamin A: 260IU | Vitamin C: 0.1mg | Calcium: 35mg | Iron: 0.9mg
I want you to bake these cookies and tell me what you think!
Come back to this post and give me your honest opinions. I think it's the best chocolate chip cookie recipe ever and I hope you do, too.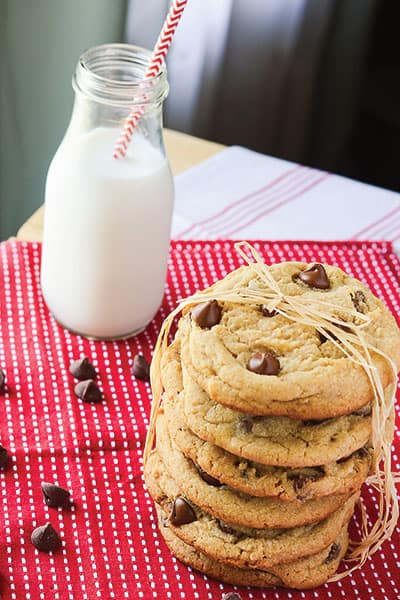 If you love to cook, try these out!