What? You want a muffin recipe that looks and tastes like it's fresh from a bakery? And it needs to be tender and moist inside with a slightly crunchy high dome top?
Well, I've got your back.
This is all that plus you can freeze the batter, then pop them straight into the oven. Minutes later you have fresh hot muffins.
You can use this basic muffin recipe to make any flavor of muffin you like such as traditional blueberry or get all crazy and make something like fig-raspberry-lavender. It's totally up to you!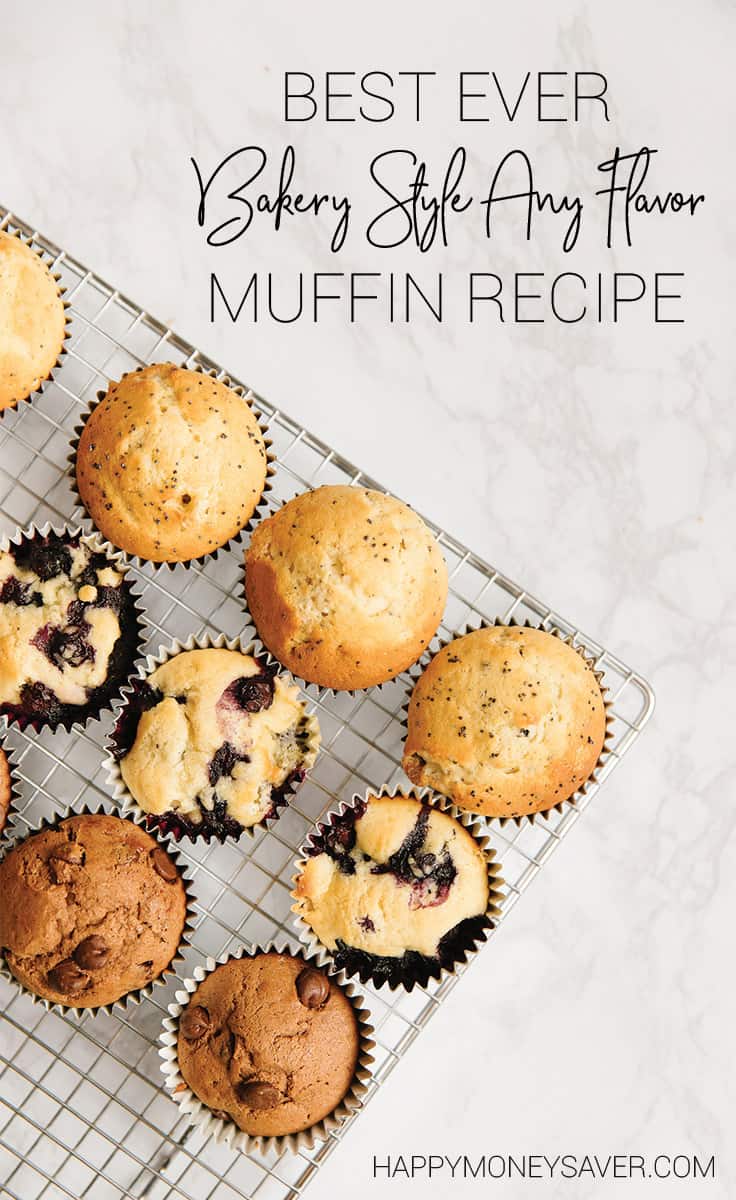 I'm a muffin girl. Wait, that sounds strange. I am totally a muffin girl. Still weird. Hmmm.
Yo, I love muffins!
Better? Oh, I give up. You get the point anyways, right? I really really really love breakfast muffins.
I've known for quite some time that you can make ahead and freeze cooked muffins. They thaw out nicely and taste great still. It can be a real time saver.
But there is something about a fresh, hot from the oven muffin that makes me even more happy. You get the sweet muffins baking smell in the air, that can wake up any sleepy teen. And since making muffins from scratch in the mornings takes some time and energy, it brings the feeling that you put a lot of love into breakfast for your family.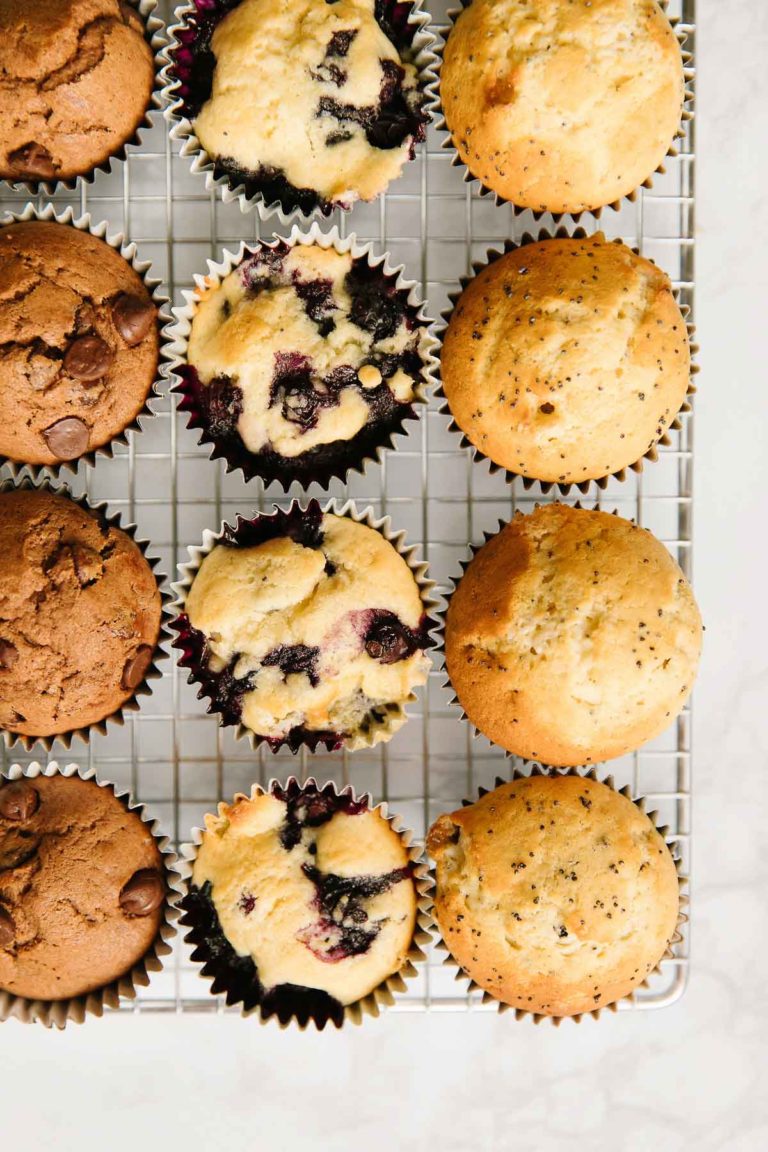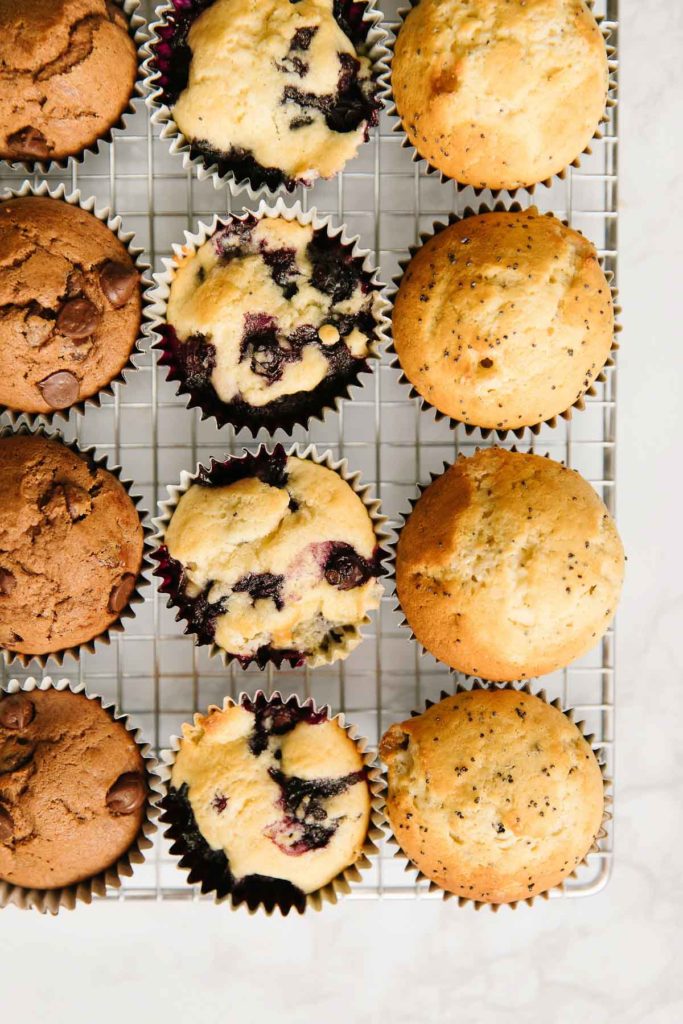 MY PERFECT BASIC MUFFIN RECIPE
When trying to figure out a perfectly freezer friendly muffin recipe, I researched recipes found in old fashioned cookbooks, newer cookbooks and even searched online. I researched about what makes a good muffin. And what kind of muffin batters can go from freezer to oven. I tested and tested and tested some more.
Who knew making the worlds perfect muffin would be so hard? These were my requirements for making the best muffin recipe ever.
Needed these easy muffins to be moist and delicious with great flavor.

I wanted to be able to add whatever ingredients like blueberries to make blueberry muffins or chocolate for chocolate muffins. Basically a perfect basic muffin recipe with variations.

These muffins could go from the freezer to oven for fresh baked muffins but also able to be baked ahead and frozen too.

Wanted these homemade muffins to have a high dome top, so they look like they came from a bakery.
And after recreating a recipe over and over again about 4 times, I finally had it. The best ever muffin recipe. And here it is in this blog post… in all its glory for you to make. I hope you enjoy it too!!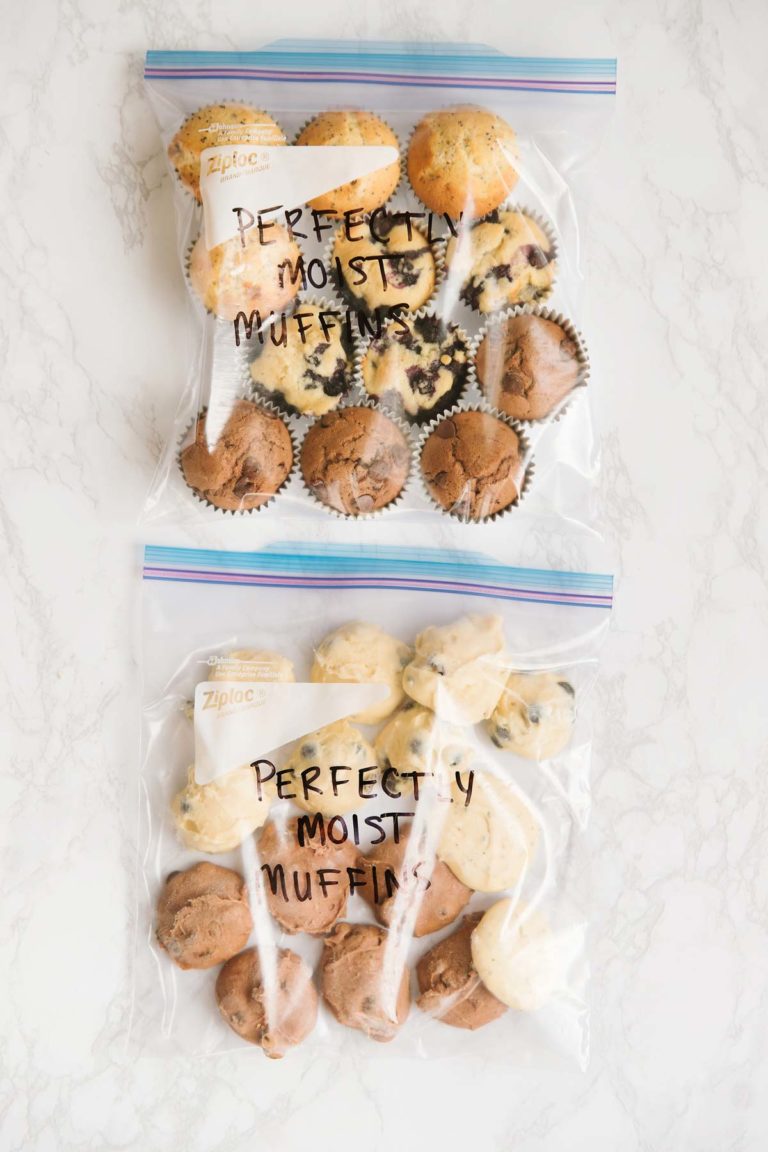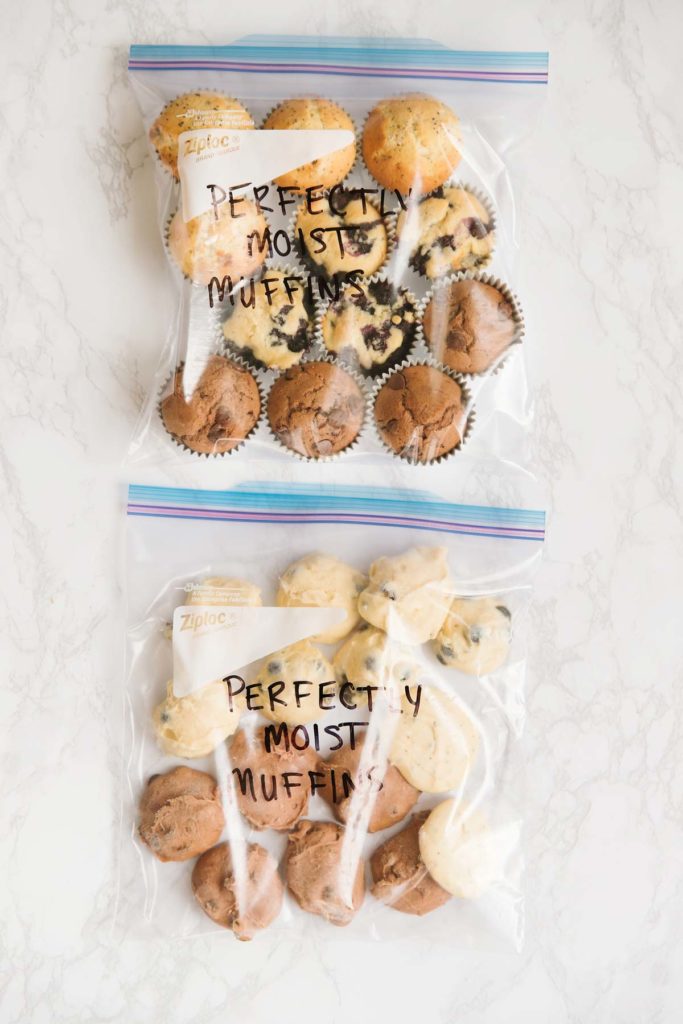 CAN THIS BASIC MUFFIN RECIPE BATTER BE FROZEN?
Yes! Muffin batter is great to freeze. The raw batter can be frozen in muffin liners and then baked fresh on the day you want your muffins. It's so versatile!
WHAT IS THE BEST WAY TO FREEZE MUFFINS?
There are three different ways you can freeze muffins:
1- You can bake the muffins and put them into freezer-safe bags so they are ready to grab and go.
2- You can scoop raw batter either into silicone liners, or onto a cookie sheet. Then freeze. After they are frozen you can transfer them to a gallon sized freezer bag to save space. You can cook from frozen by popping them into muffin liners and bake.
3- Make a batch of muffin batter and pour into a freezer bag. Freeze and thaw when you are ready to bake up a larger batch.
I love fresh baked muffins the most so I like freezing my dough raw.
But a lot of people love to freeze the muffins already cooked and ready. That way their kids can just grab a muffin out of a bag when they want. They defrost quickly and can even be popped into the microwave for 10-15 seconds for a deliciously warm treat. Just make sure to get all the air out of the bag so they don't get freezer burn.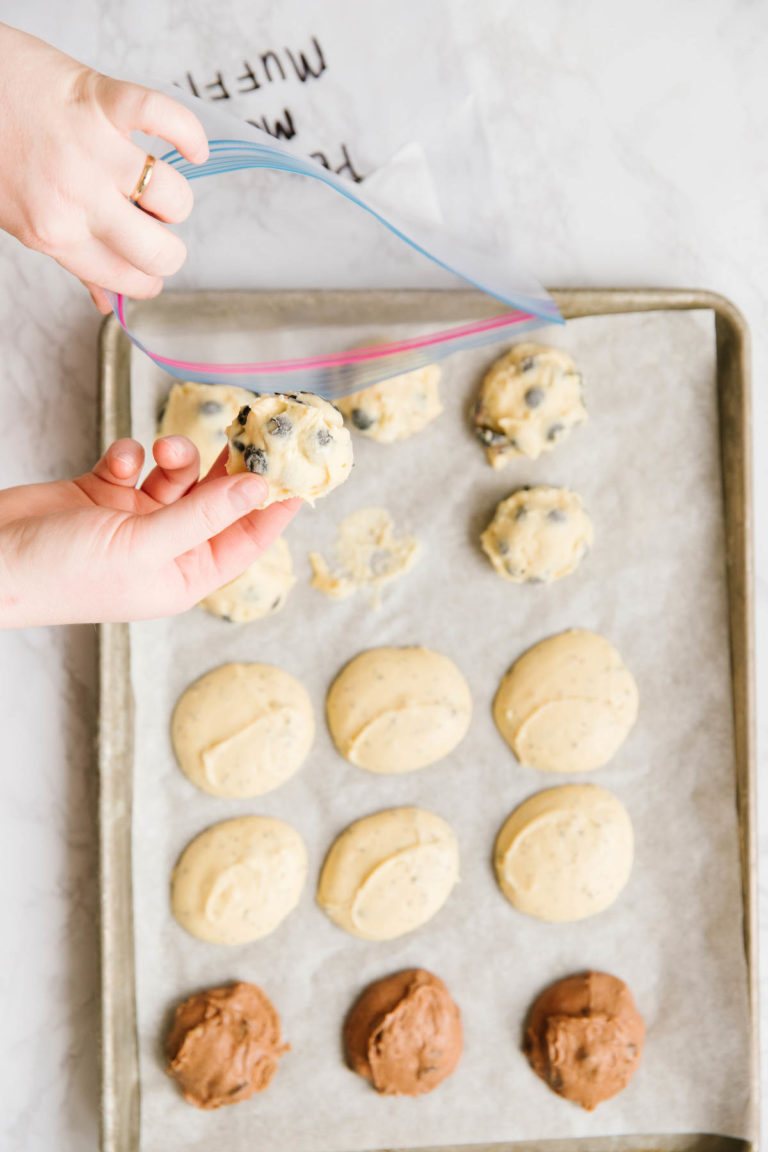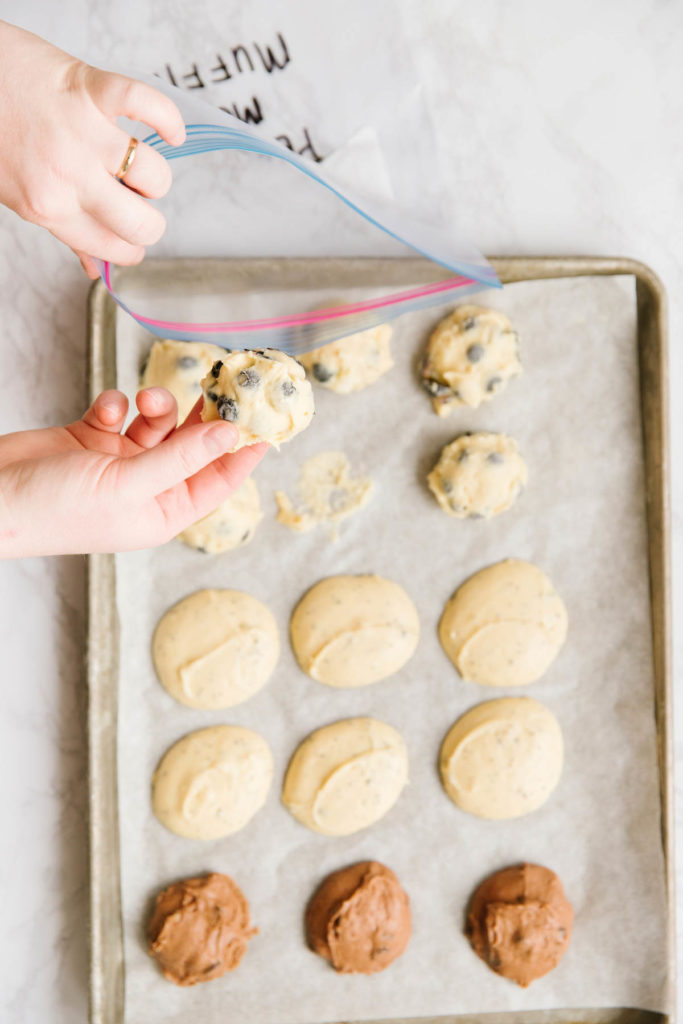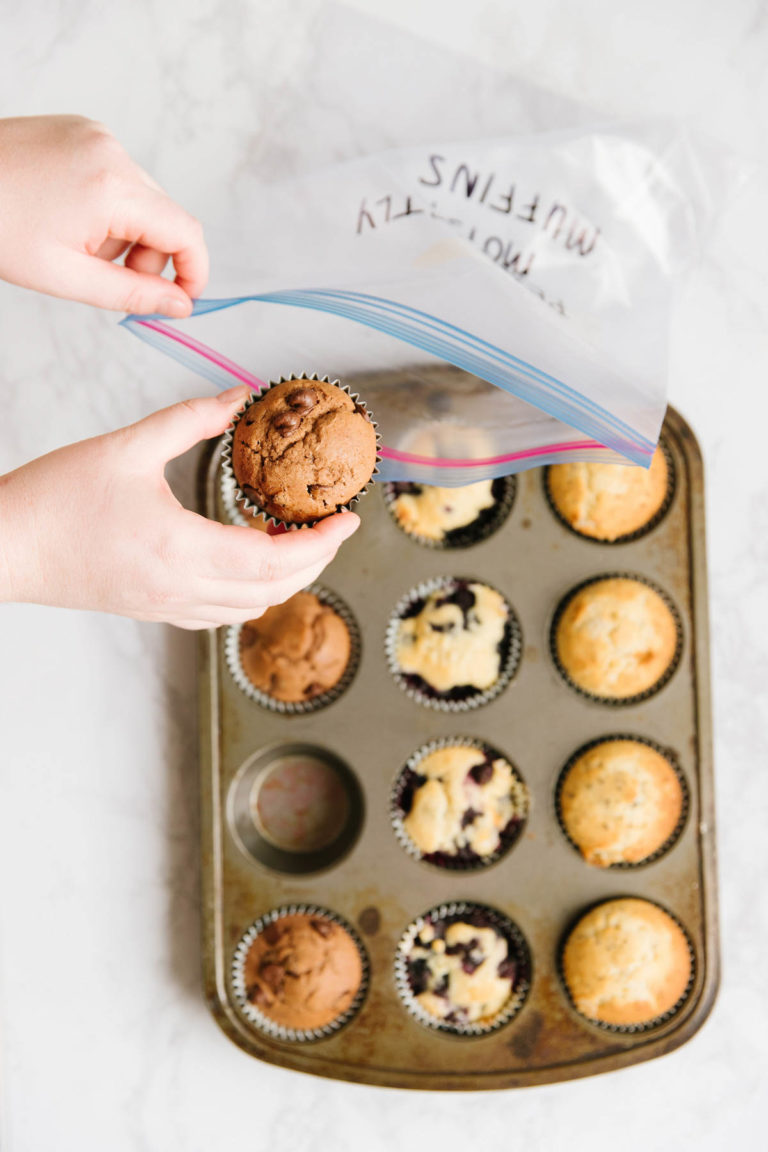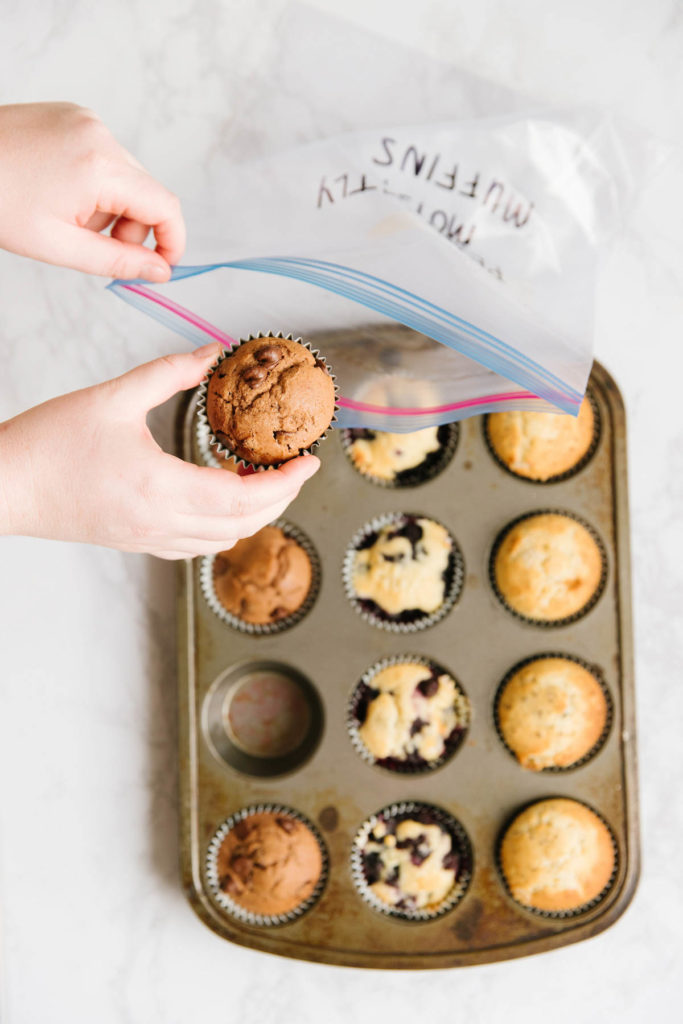 By the way, I have a few other make ahead and freeze muffin recipes you might like. I especially love my Easy Bran Muffins and these freezer friendly Double Chocolate Chip Banana Muffins. And if you love old fashioned recipes I have my Great Grandmothers recipe for popovers in a muffin tin. It's fun to see vintage recipes.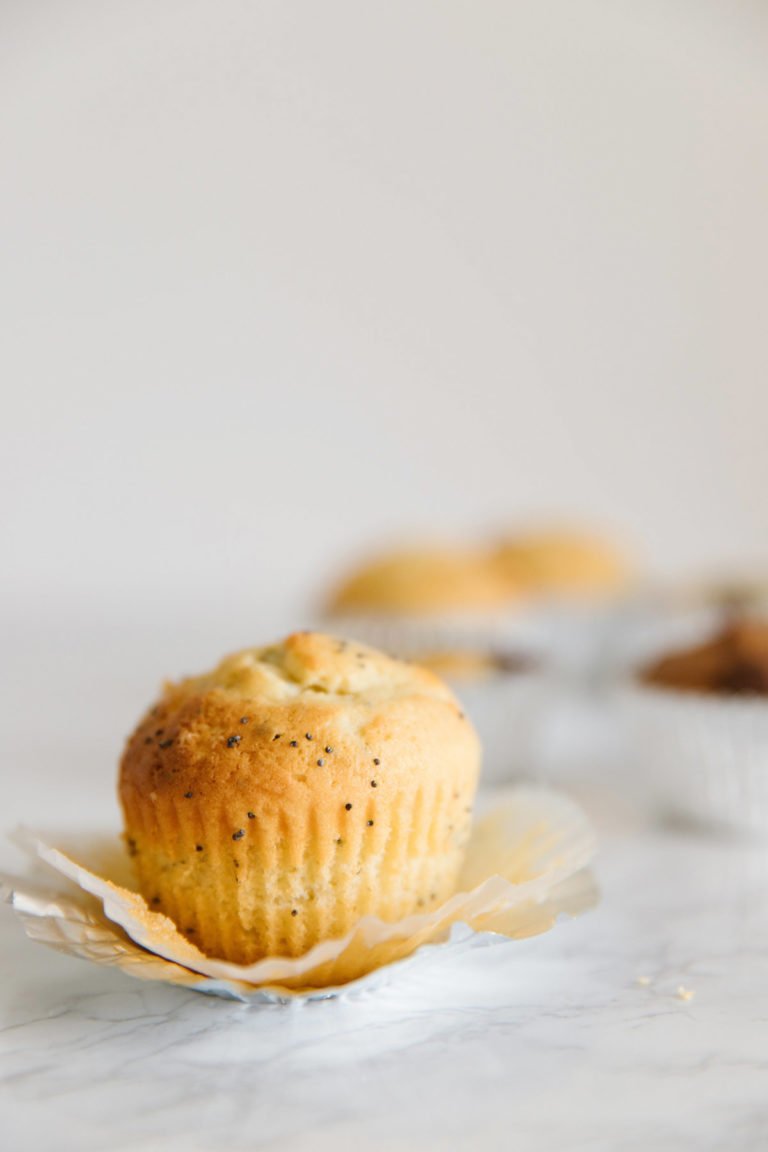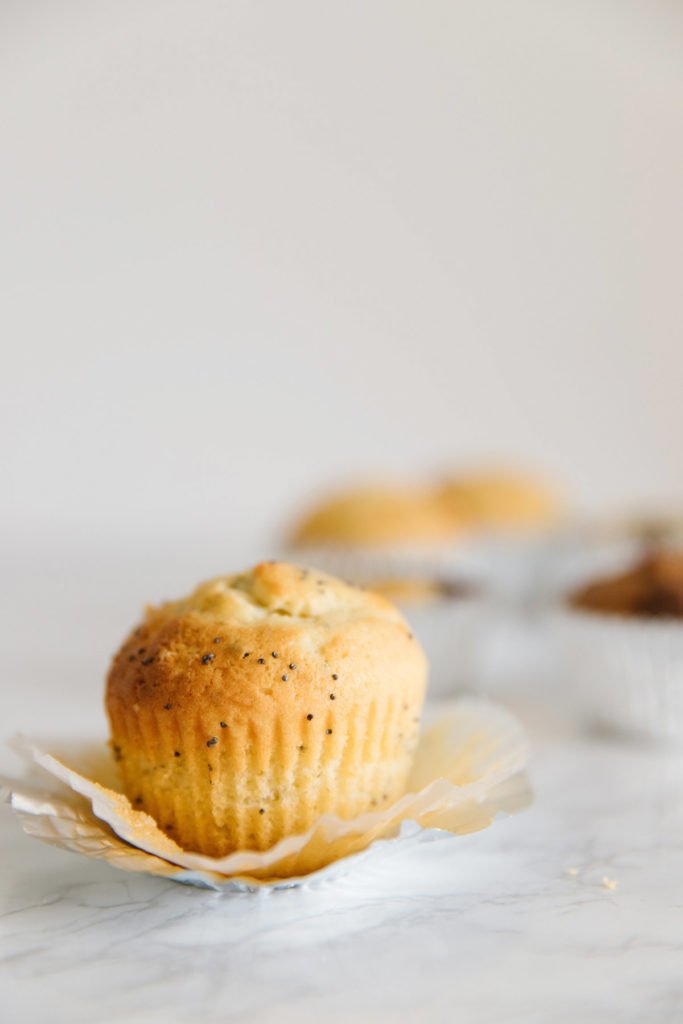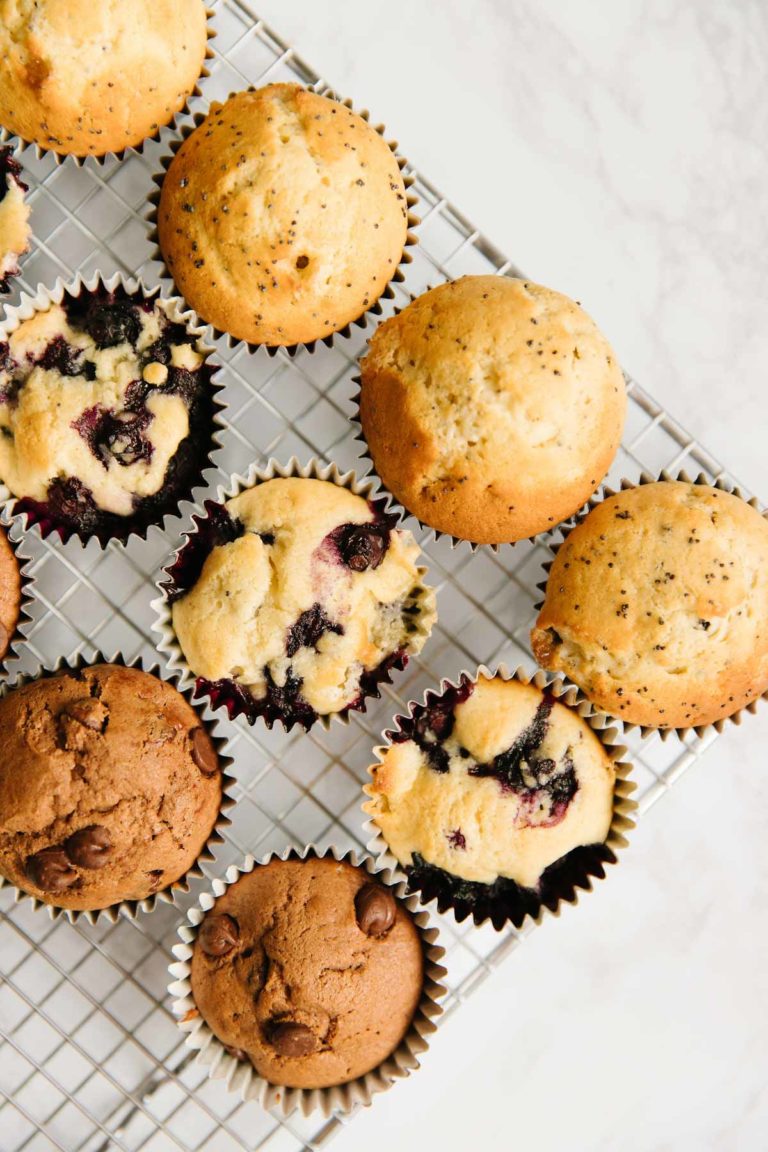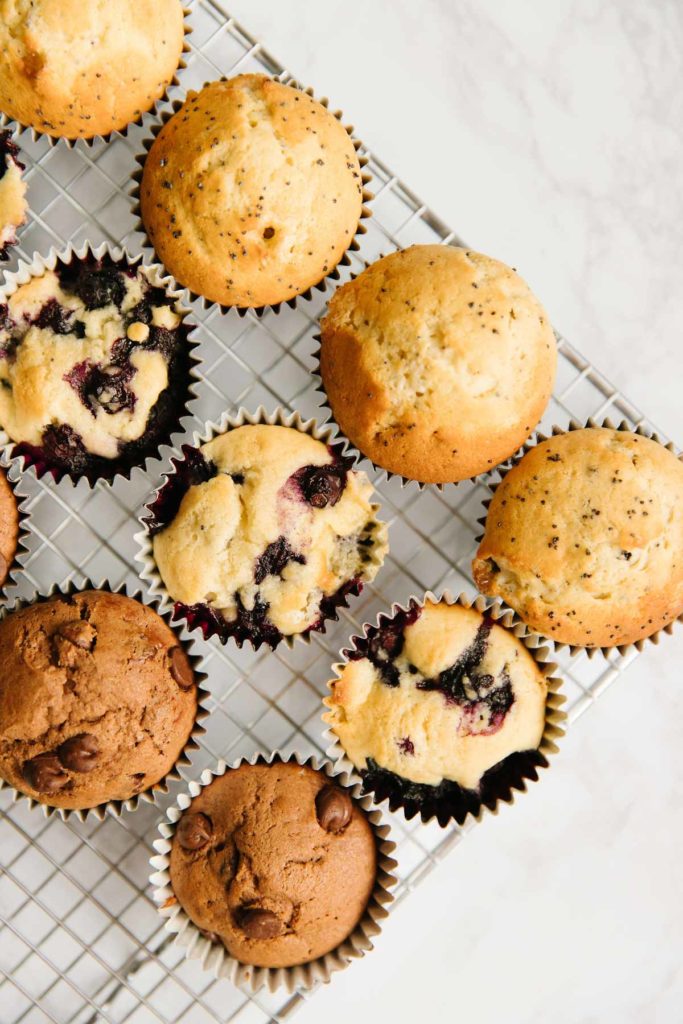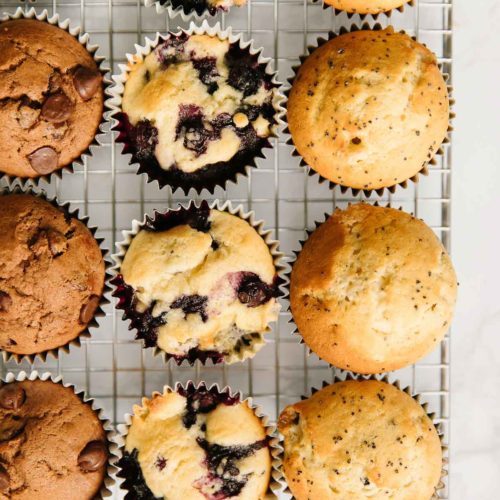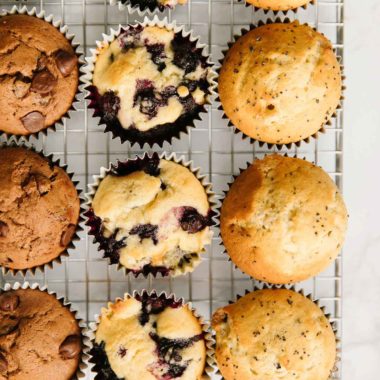 Basic Muffin Recipe (with Variations!)
My all time favorite muffin recipe. Add any kind of ingredients you like such as blueberries, apples, cinnamon or poppyseeds to create the kind of muffin you want.
Print
Pin
Rate
Ingredients
Ingredients
3 ½

cups

flour

2

tsp

baking powder

½

tsp

baking soda

½

tsp

salt

2

cups

sugar

1 ¼

cups

butter

softened

2

whole eggs

2

egg yolks

1

tbsp

vanilla

1

cup

milk

1

cup

greek yogurt or sour cream
Instructions
In a medium bowl, whisk together flour, baking powder, baking soda, and salt. Using a whisk

is a fast method of sifting so really get some air into it.

In another bowl, whisk together yogurt and milk until smooth. Then add eggs and vanilla

and whisk until smooth.

In a stand mixer, fitted with paddle attachment cream butter and sugar on medium speed

until light pale colored and fluffy, about 3-4 minutes. Scrape down sides of bowl often.

Add 1/3 milk mixture, mix on low until just combined. I usually just pulse it for a few

seconds. You do not want to overmix this or you'll end up with tough muffins.

Add 1/3 dry

ingredient mixture, mix on low until combined. Then repeat! 1/3 liquid mix,

combine, add 1/3 dry mix, combine, repeat.

Lastly

gently fold in any other flavors (see ideas

below).
Make it NOW:
Preheat oven to 400 degrees. Divide the batter into 24 muffin liners or into lightly greased muffin pan. Sprinkle sugar on top if desired. Bake in preheated oven 15 – 17 minutes until golden and tester inserted into the center comes out clean. Allow to cool for 9-10 minutes, then serve.
Make it a Freezer Meal:
Option #1 – Bake all muffins, allow to cool completely (at least one hour). Indiviually wrap in plastic wrap (optional for extra air protection) and place into freezer safe gallon bag. Freeze. To Reheat: Cook in microwave until warmed through, or thaw on counter a few hours.

Option #2 - On a parchment lined cookie sheet use a ¼ cup sized cookie scoop and scoop balls on it or into silicone cups. Flash freeze until hard. Once frozen remove from freezer and place into freezer safe bag. Seal bag, removing as much air as possible and freeze. To Cook from Frozen: Transfer frozen batter balls to a lightly greased muffin pan or place into liners. Without thawing, bake for 30-35 minutes until golden and tester inserted comes out clean. Let cool in pan on a wire rick for 9-10 minutes, then serve.

Option #3 – Place muffin batter in gallon sized freezer bag. Press flat and freeze. To use thaw in refrigerator overnight, cut a corner off bag and pipe into muffin pan. Bake as directed in make it now above.
Muffin Flavor Ideas
Blueberries, Strawberries, Peaches or other fresh fruits: Add 1 cup (250 mL) fresh or frozen fruit.

If using frozen fruit, it needs to be thawed, rinsed and dried for best results.

Almond Poppy Seed: Add 1/2 tsp almond extract to liquid mixture in step 2 and 1/4 cup

poppy seeds to dry mixture in step 1. Top each muffin batter with 1/2 tsp

granulated sugar or sliced almonds for a delicious gourmet look.

Chocolate Chocolate Chip: Add 1/4 cup cocoa powder to dry mix in step 1. Add 1 tbsp

additional milk to wet mix in step 2. Then fold 2 cups chocolate chips into the

batter.

Banana Pecan: Gently fold in 1 cup mashed bananas and 1/2 cup pecans,

toasted and finely chopped to

batter

.

Apple Cinnamon: Add 2 cups finely chopped fresh apples, 1 teaspoon cinnamon and dash of nutmeg

Fig Raspberry Lavender: Gently fold in 2 cups diced fresh or dried figs, 2 cups

fresh raspberries and 2 tsp dried lavender buds to

batter

.
Nutrition
Serving:
1
muffin
|
Calories:
252
kcal
|
Carbohydrates:
31
g
|
Protein:
3
g
|
Fat:
12
g
|
Saturated Fat:
7
g
|
Cholesterol:
61
mg
|
Sodium:
178
mg
|
Potassium:
98
mg
|
Sugar:
17
g
|
Vitamin A:
415
IU
|
Vitamin C:
0.1
mg
|
Calcium:
50
mg
|
Iron:
1
mg
OTHER FREEZER BREAKFAST RECIPES
If you're a make ahead and freeze breakfast fan, I've got a few other fantastic ones you may like too.
I can't wait for you to try out this recipe! Please leave a comment below and share what kinds of filling you come up with! And please share your pics on Instagram tagging me @happymoneysaver!