I love me some freezer meal cooking, it is a lifeline for me in many ways. Keeps me sane. Usually when thinking of freezer meals, we think of dinners, but today I am sharing  my  Freezer Meal Breakfast Sandwiches. These Sausage, Egg and Cheese Biscuits are made ahead of time, wrapped in plastic wrap and placed in a freezer safe Ziploc bag. For a nice quick morning, just grab a sandwich, remove plastic wrap and place in the microwave for 60-90 seconds. It has been so nice for my husband to have a hearty breakfast that he can grab and heat up as he is heading out the door for work in the morning. My kids love them too and think it is a special treat when they get one. "Anything's better than cereal…" they whine.
Sausage Egg and Cheese Biscuits Freezer Meal Breakfast Sandwiches
These sandwiches are very simple to make. First you will want to make a batch of your favorite biscuits. You can make a batch of my great grandmothers vintage buttermilk biscuits that are perfectly soft and flaky or I have found a really wonderful biscuit recipe that turns out every time over at orgasmic chef.  Oh dear, I think I'm blushing.
Next pull out some of my homemade sausage patties and cook em' up.
I used a little ramekin dish for my eggs. I sprayed the dish, cracked one egg and scrambled it up adding salt and pepper.
Cooked that in the microwave for about 45 seconds and I had the perfect little egg patties.
I used cheddar cheese and cut each slice in half diagonally.
Lastly, cut the biscuit in half and stack the sausage, egg and cheese and top it with the other half of the biscuit to form the breakfast sandwich. Ooooo! Ahhh! Is your mouth watering yet? Mine is.
Let the sandwiches cool to room temperature before wrapping in plastic wrap and placing in a freezer safe bag.
Place bag in freezer, removing as much air as you can. When ready to eat, pop in the microwave for 60-90 seconds or until heated through.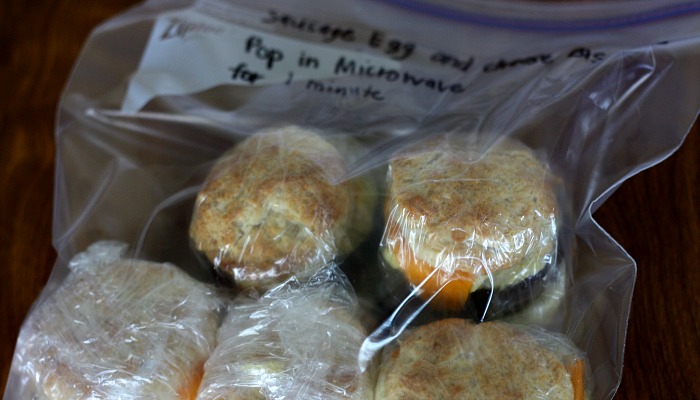 If you are interested in more recipes like this, check out more of my freezer meal recipes here.