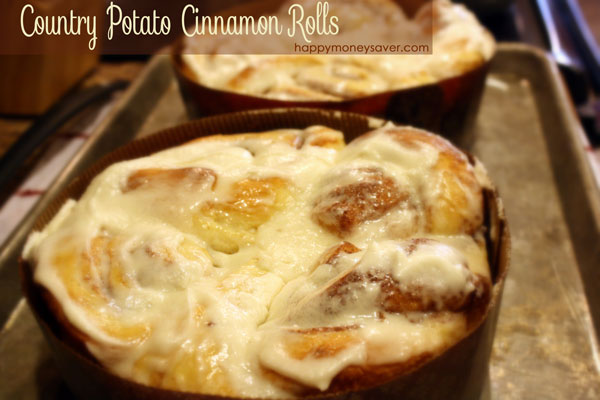 [pinit]
I LOVE cinnamon rolls. Always have, always will. The cinnamony goodness, the gooey center, and the mouth watering icing. I've tried many a cinnamon roll in my day and have become quite picky. I can't help but to compare them all to the beloved Cinnabon. I have even tried copy cat recipes and the like, and although I think they are good (I have no problem finishing off a pan of them babies), I always felt like something was missing. That is until now.
A good friend of mine recently shared her Country Potato Cinnamon Rolls recipe with me. It intrigued me because the recipe called for 1 cup of mashed potatoes. I have never heard of anything like this. With me being an Idaho girl, and Idaho being famous for potatoes… I had to give them a try. I was not disappointed. The cinnamon rolls were rich in flavor, and the dough was softer than any cinnamon roll I have ever had. I believe that it has something to do with the potatoes?? Be prepared though, everyone you make these for will beg you for the recipe. They are that good. They were rockin' delicious. They were perfect in every way. I knew I just had to share this recipe with you.
Country Potato Cinnamon Roll Recipe
Ingredients To make the dough:
2 Cups Milk, scalded
1/2 Cup Butter
2 pkgs Yeast
1/2 Cup Warm Water
2 Eggs, slightly beaten
1 Cup Sugar
2 tsp. Salt
1 Cup Mashed Potatoes
9-10 Cups Flour, divided (I've always only needed 9)
After scalding that milk pour it over the butter and allow to cool until lukewarm. Soften yeast in warm water then add to milk mixture. Add eggs, sugar, salt, mashed potatoes, and 4 C. flour. Beat with a mixer until smooth and well blended. Slowly mix in remaining flour to make a soft dough. Cover and allow to rise until double. Divide dough in half and roll into two large rectangles. ( To make extra big cinnamon rolls like the ones pictured, instead of dividing the dough in half, roll it into one large rectangle).
Next make the Cinnamon Filling:
1/2 Cup Butter, softened (I usually use closer to 3/4 Cup – 1 Cup between the two rectangles)
1/2 Cup Brown Sugar
1/2 Cup Sugar
4 Tbsp. Cinnamon
Spread dough rectangles with butter. Combine sugars and cinnamon, then sprinkle over butter. Roll up each rectangle.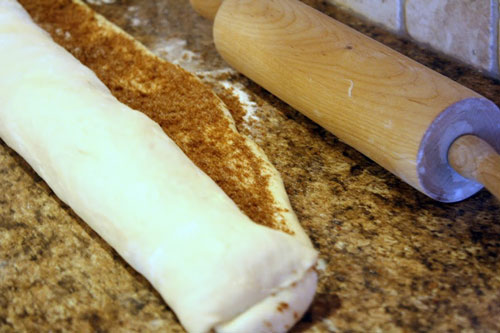 Then cut into slices. You can really vary the width, but I usually cut them into 1-1 1/2 inch slices.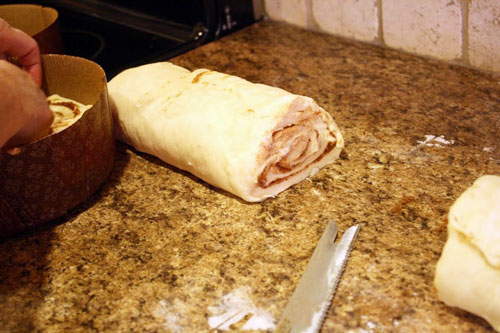 Place in greased baking rounds, 9×13 pan or cookie sheet and cover. Let rise until double.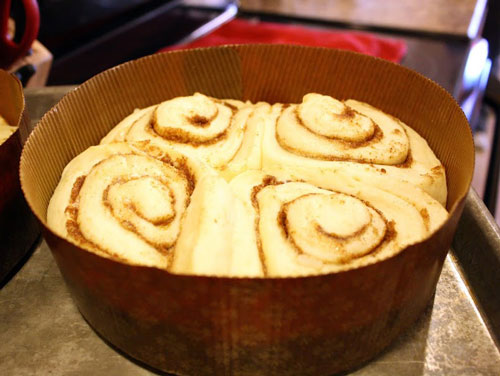 Bake at 350F for 20 minutes or untill they start to brown. They should come out looking like this…mmmmmm.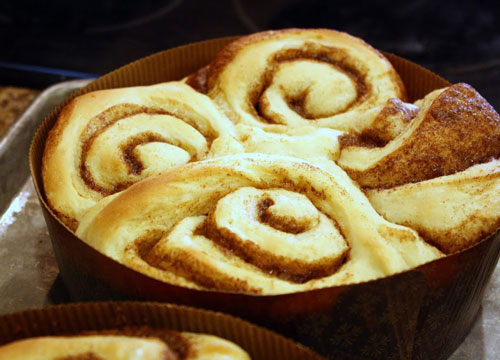 Then it's time to make your icing!!

Icing ingredients:
2 Cups Powdered Sugar
4 Tbsp Butter, softened
1 Tbsp Shortening
1 tsp Vanilla
dash Salt
Milk, to consistency
Combine all icing ingredients and spread over warm rolls. (The shortening in the icing makes it remain soft.)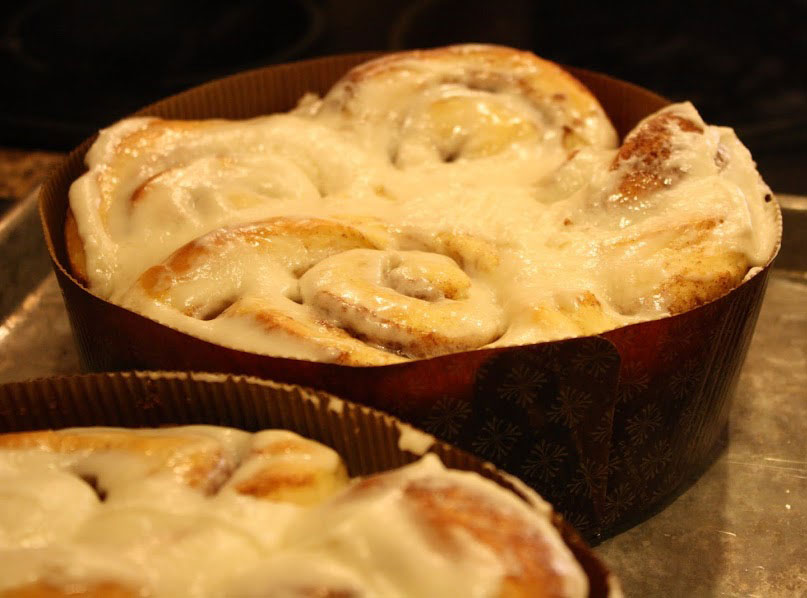 Enjoy a little slice of heaven!
GIFTING IDEAS
These cinnamon rolls were so yummy that I decided to deliver some to a few of my dearest friends. I have a friend in my life right now who has always been there for me. Sometimes I feel like I can't be as good of a friend that I should be to her because lately I have been very busy with life. She deserves better, but hasn't given up on me and I love her for it. So I gave her a little note telling her how much I love her and how thankful I am for her friendship. I have to say, she called me the next day and the first thing she said was, " Did you make those cinnamon rolls?" 🙂 This was followed by telling me how much her husband and family loved them and how she has to have the recipe.
Since this is one of my Happy Thought series posts I wanted to give you a couple of ways you could package and gift these Country Potato Cinnamon Rolls.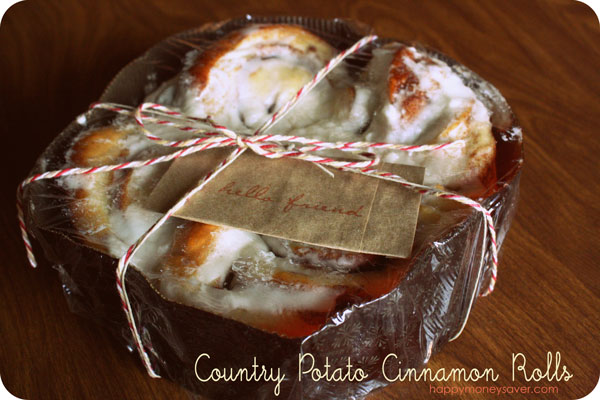 First things first, I know what you are all wondering..where did you get those paper baking liners??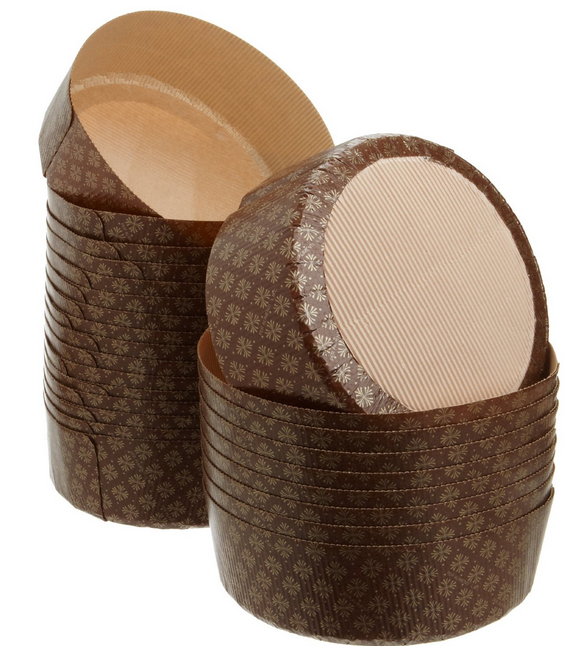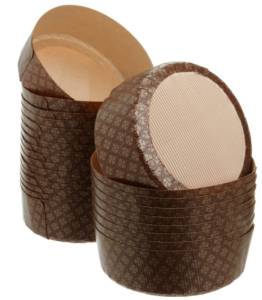 I found these on Amazon.com – you can get Kitchen Supply 8-inch Round Paper Cake Pans (25 pack) for $24.95 + free shipping with Amazon Prime or on $25+ orders with super saver shipping.You can also get them in a 6-pack or different sizes as well.
Of course you could also go to the dollar store and use the little aluminum round pans there as well to save money. Then all you have to do is bake your Country Potato Cinnamon rolls, wrap in saran wrap, tie it up with some cute decorative bakers twine and add a little note. I made a homemade envelope from a brown paper lunch sack, and sent it through my printer with the words "hello friend." Then add a note inside.
PS – if you LOVED my Cinnamon Glazed Pumpkin Spice Bread recipe I shared last week…they also have Kitchen Supply Paper Loaf Pans on Amazon, and the bread looks so beautiful baked in them! Great for gifting this time of year.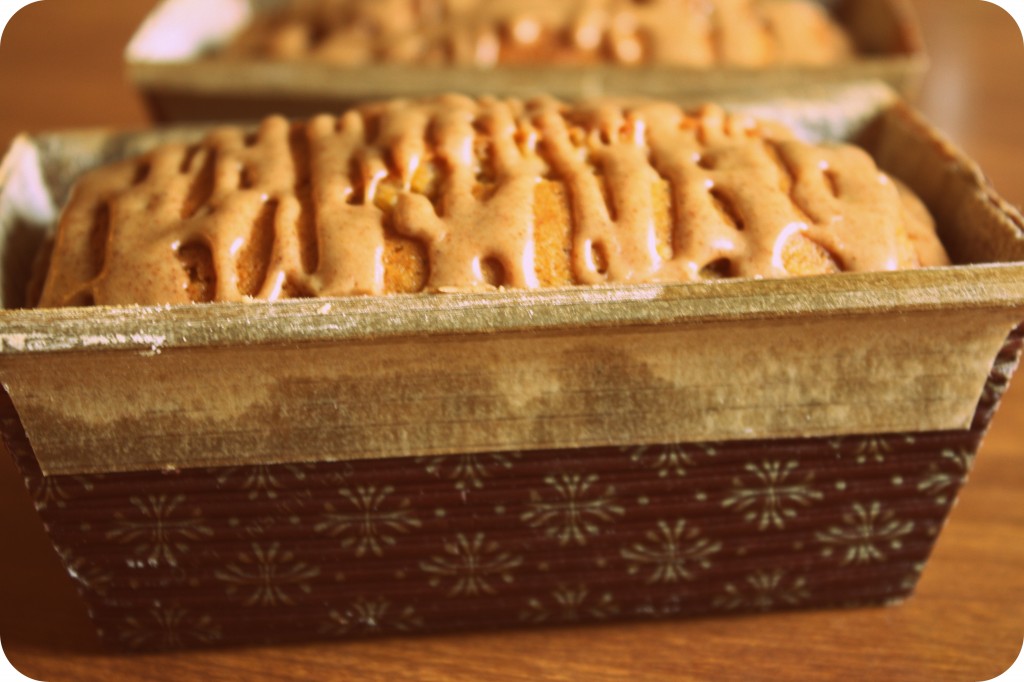 If you wanted another option for gifting you could also use cellophane wrap and a nice ribbon. This would be a nice gift for a boss or co-worker!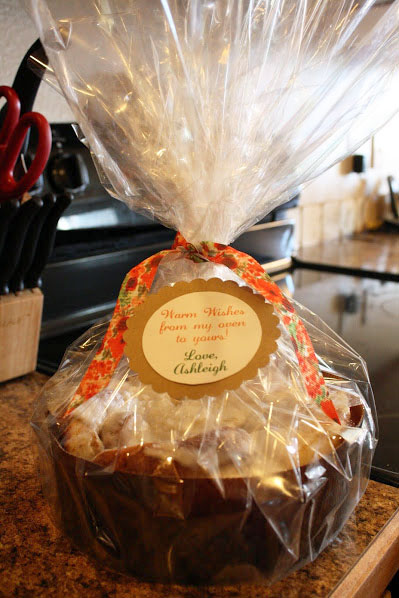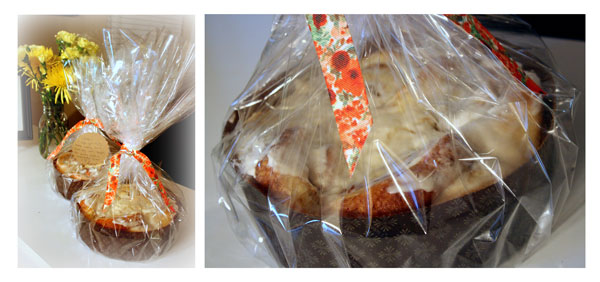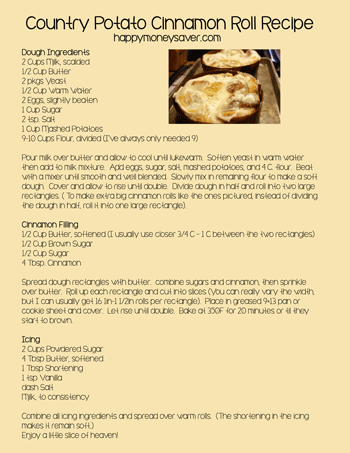 Print off this Country Potato Cinnnamon Rolls Recipe here.
Then go on over and pin it on pinterest too!
Hope you enjoyed this weeks Happy Thought! See more fun thoughtful ideas from this series here.