This Maple Glazed French Toast Casserole is easily one of the world's best breakfast foods. You get all the flavor and warm gooey goodness of French toast in a make-ahead meal that freezes beautifully!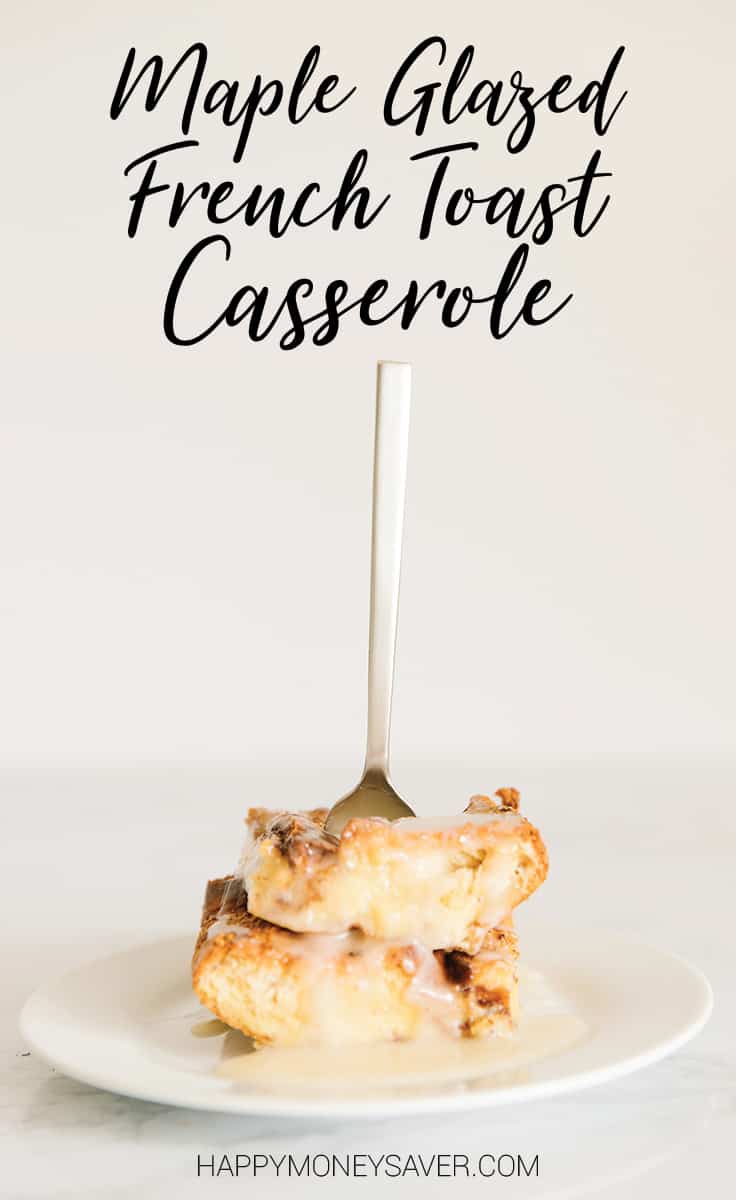 The best kind of breakfast in my opinion is a breakfast that can be made in advance.
My kids already love my Gluten Free Breakfast Sandwiches and Easy Sausage Breakfast Burritos for how easy they are to eat on the go, but sometimes it's nice to have mornings where we can slow down, fill our home with the yummy aroma of breakfast cooking in the oven, and eat together as a family.
I love this Maple French Toast Casserole recipe for many reasons.
You're able to freeze it and cook it on demand.

It is super quick to put together.

It's a great way to feed a crowd without much effort.
It is so seriously delicious.
Plus, the bread is nice and thick and has a great chew, so it fills and satisfies your belly. It isn't often that I have an excuse to drizzle a yummy glaze over my breakfast.
WHAT IS THE BEST BREAD TO USE FOR FRENCH TOAST CASSEROLE?
You can make French toast casserole with whatever white sandwich bread you have on hand, but for the most flavorful baked French toast casserole, I'm a fan of thick-cut brioche bread.
This dense, semi-sweet bread soaks up the French toast mix like a sponge, so you won't ever end up with a mouthful of unflavored bread.
HOW TO MAKE MAPLE GLAZED FRENCH TOAST CASSEROLE
Assembling this baked French toast casserole is a piece of … toast? Nah, it's a piece of cake!
All you need to do is grease the pan, lay the buttered brioche in it and pour the filling over the top. Make sure all the bread is evenly coated.
Once it's assembled, you've got two options. First, you can leave it in the fridge overnight and bake it the next morning. You want to make sure your brioche has plenty of time to soak up that custard mix.
Second, if you're not planning on eating French toast in the morning, or you're just doing your meal prep for the week, wrap it tightly in plastic wrap, cover it with foil and stash it in the freezer. When you're ready for a French toast treat, you can bake it right out of the freezer at 350°F for 55 to 60 minutes.
The glaze is relatively similar to the brown sugar glaze I use on my homemade poptarts, although I added a bit of corn syrup and butter to make it flow more evenly — and, of course, the maple flavor extract!
Once it comes out of the oven and the tester inserted into the center comes out clean, let it cool for five minutes, drizzle the glaze over the top and serve!
MILK VS. HALF-N-HALF
You may notice that in the ingredients, we've swapped out the milk you'd normally soak the bread in for half-and-half. When whipped together with the eggs, the fat and sugar in half-and-half help to make a richer custard than even whole milk can manage.
And of course, if you've got dairy allergies in the household, you can always swap out the half-and-half and butter with non-dairy alternatives.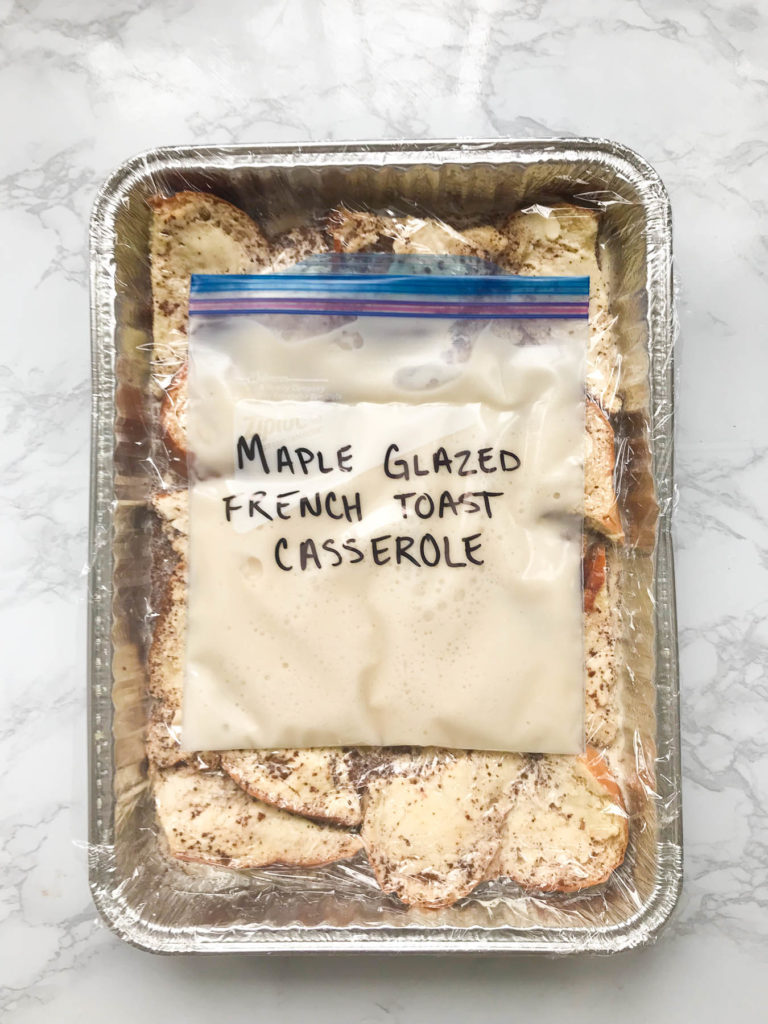 CAN I COOK THIS THE DAY I MAKE IT?
Yes! Just make sure that has had time to sit in the fridge for a couple hours before you cook it. You want to make sure the bread soaks up all the egg mixture.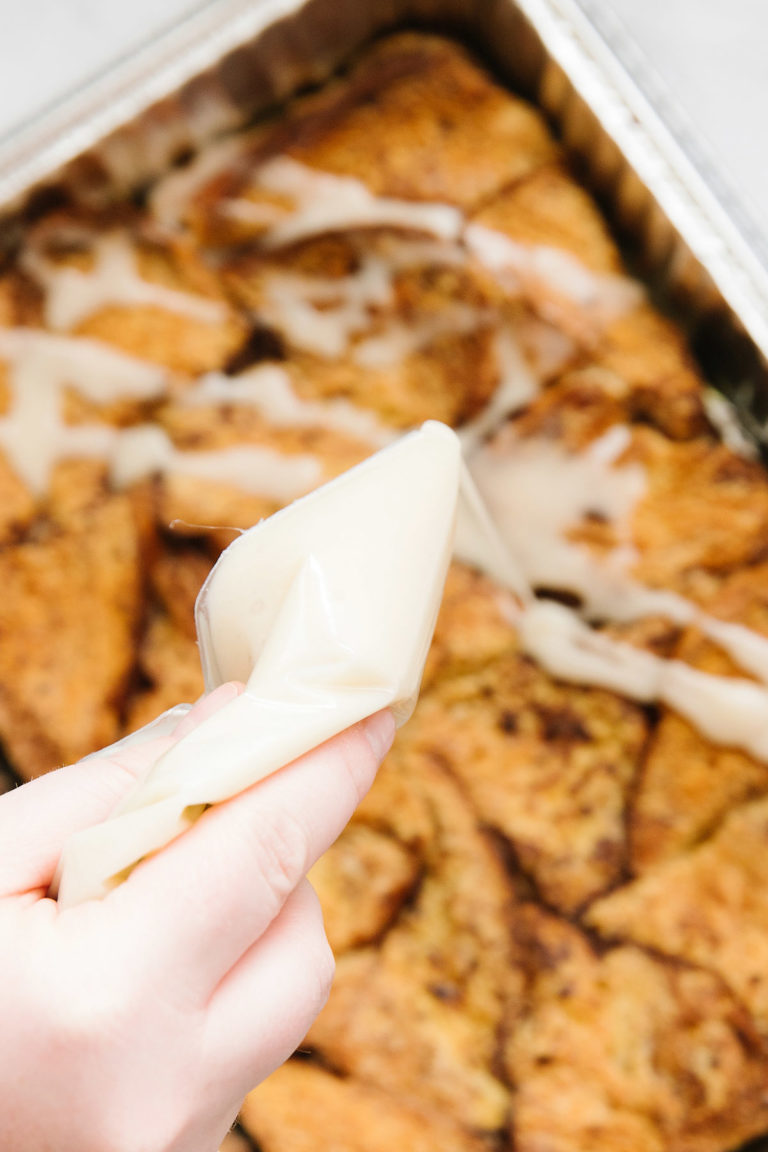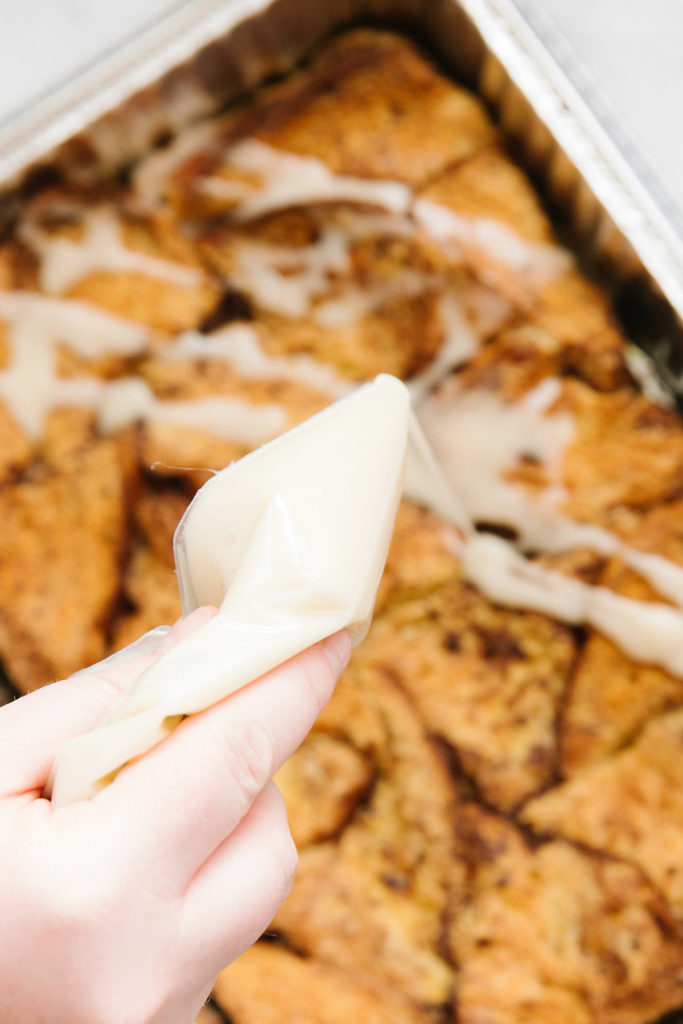 CAN I ONLY EAT THIS MAPLE GLAZED FRENCH TOAST CASSEROLE FOR BREAKFAST?
This is delicious for any meal. My family LOVES Brupper (our version of eating breakfast for supper) and this is one of our go-to meals. My kids LOVE it.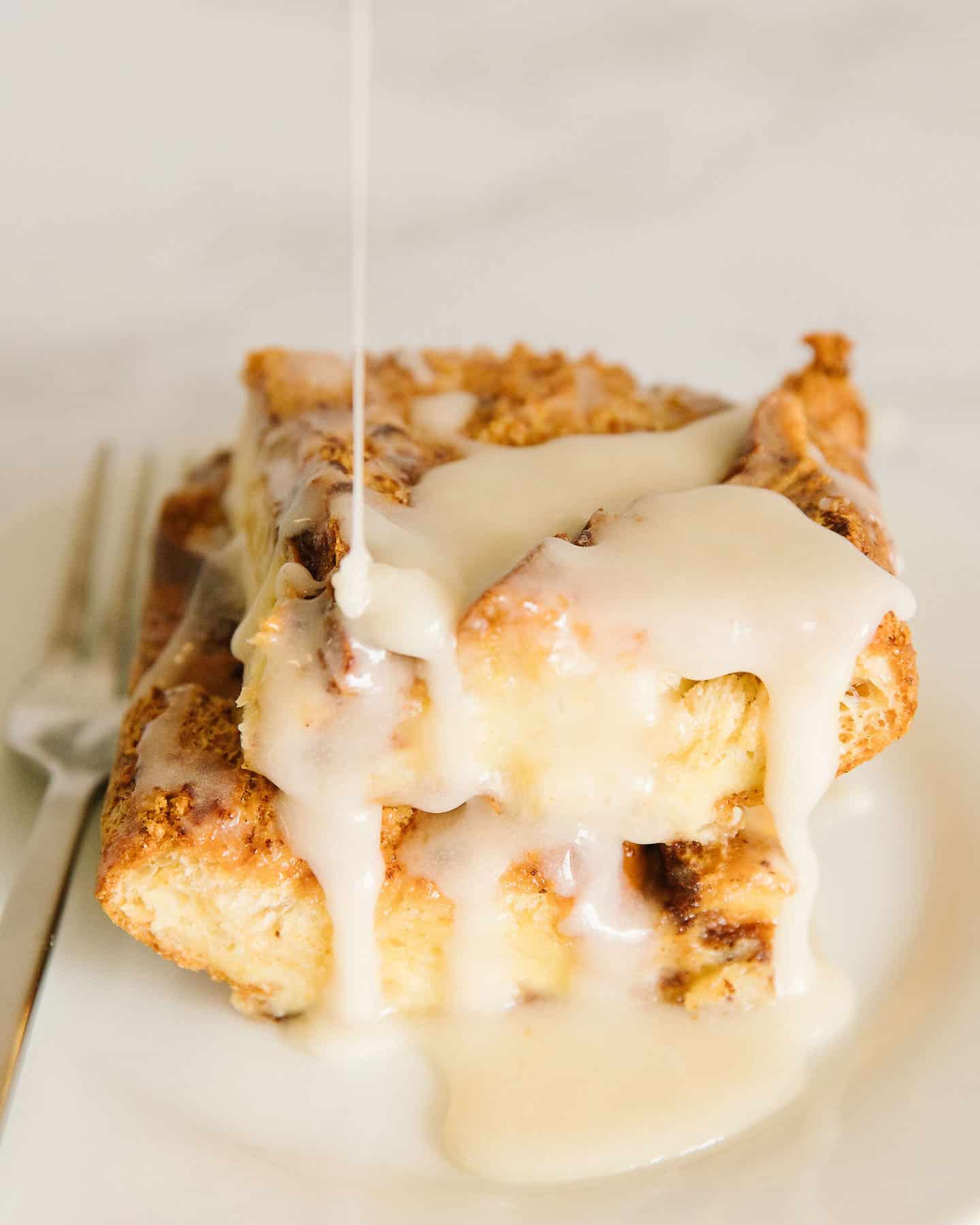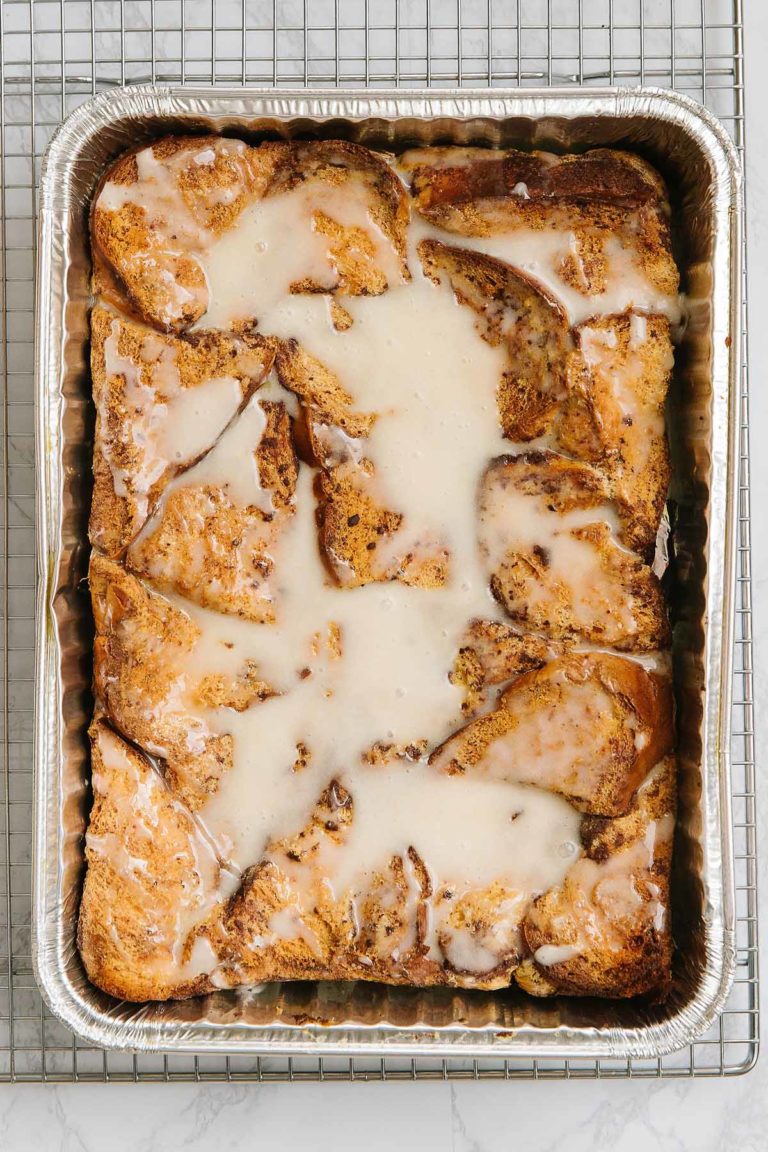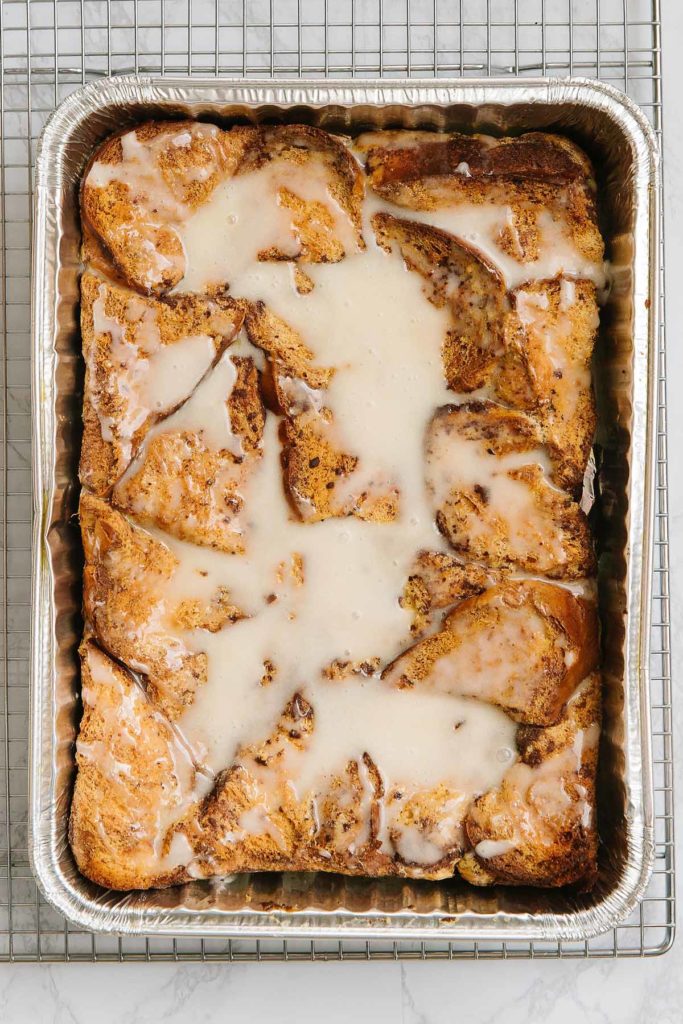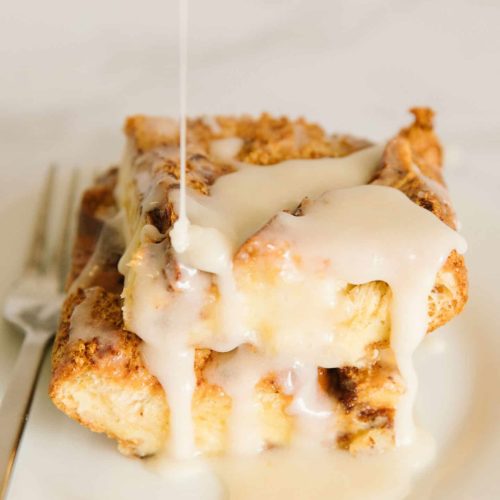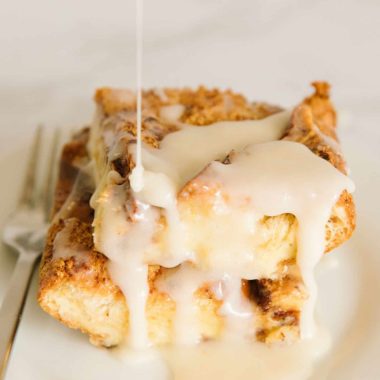 Ingredients
9

thick slices brioche bread

¼

cup

unsalted butter

softened
Filling
3

cups

half and half

5

eggs

1

tbsp

vanilla extract

2

tsp

cinnamon

½

tsp

nutmeg
Glaze
1

cup

powdered sugar

2

tbsp

milk

1

tbsp

melted butter

1

tsp

corn syrup

½

tsp

maple flavor extract

Dash of salt
Instructions
Lightly grease a 9x13 baking dish and set aside.

Cut each slice of the brioche bread diagonally creating 18 triangles. Butter one side of each piece and place butter side up in the 9x13 baking dish.
Filling:
In a medium bowl, whisk together half and half, eggs, vanilla cinnamon, and nutmeg. Pour evenly over the bread. Cover with plastic wrap.
Glaze:
In a small bowl whisk together all of the ingredients of the glaze. Pour glaze into a labeled quart-size freezer bag, remove as much air as possible and seal.
MAKE IT NOW
Place baking dish in refrigerator for at least 6 hours or overnight. Preheat oven to 350F (180C). Remove plastic wrap. Bake for 40 minutes or until a tested inserted in the center comes out clean. Remove from oven and let cool for 5 minutes. Drizzle glaze evenly over the top.
MAKE IT A FREEZER MEAL
Wrap the pan tightly with plastic wrap, pressing down gently to remove air. Place glaze bag on top of pan and cover both with foil. Label and place in freezer.
COOK FROM FROZEN
Preheat oven to 350F (180C). Remove foil, glaze packet, and plastic wrap. Place frozen pan directly into oven and bake for 55-60 minutes, until a tester inserted into the center comes out clean. Remove from oven and let cool for 5 minutes. Drizzle glaze evenly over the top.
Nutrition
Serving:
1
g
|
Calories:
296
kcal
|
Carbohydrates:
21
g
|
Protein:
6
g
|
Fat:
21
g
|
Saturated Fat:
12
g
|
Cholesterol:
157
mg
|
Sodium:
98
mg
|
Potassium:
161
mg
|
Fiber:
1
g
|
Sugar:
16
g
|
Vitamin A:
700
IU
|
Vitamin C:
1
mg
|
Calcium:
122
mg
|
Iron:
1
mg
This is my go-to recipe for a Christmas morning French toast casserole. No one wants to cook breakfast first thing on Christmas morning, but everyone wants to eat.
I can toss this casserole into the oven while the kids are opening presents and it's ready to go by the time they're done.
If you're not a French toast fan — though I don't know why you wouldn't be! — you can whip up some tasty pancakes or sausage egg and cheese biscuits for your Christmas morning breakfast instead.
Whatever you make, the goal is to have something easy, tasty and filling ready in the morning without a ton of hassle. Baked French toast casserole meets that requirement to a tee!
OTHER FREEZER FRIENDLY BREAKFAST IDEAS