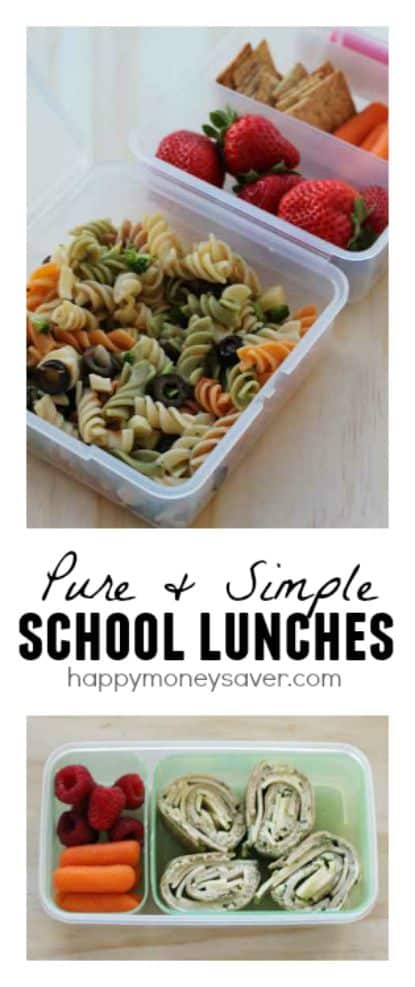 This week my kids will be going back to school! Summer fun is now over, and it's time to answer the call of school bells, school lunches, and that dreaded homework. Like a lot of parents I've let healthy eating slack a little during the summer holidays. Bedtimes were a little later than usual, and meals and snacks sometimes suffered. With school and new schedules to follow, time management is now essential for all parents. Recognizing that I could do a little better I made some dietary changes at the end of the summer and want to continue through the school year. As a family we have begun eating a little healthier by switching some of our regular food choices to organic foods. I can tell you why I made these choices, the organic line I chose, and even give you some simple, but delicious and nutritious ideas for kids school lunches, so you can make them for your children as well. Sorry lunch lady… your services will not be required this year.
Many traditional food manufacturers often use food preservatives and other potentially dangerous chemicals to prolong the shelf life of their foods; as well as food enhancers such as msg, sodium, and others. I decided to break the habit of buying fruits and vegetables that were not organic, simply because I wanted to see if these changes could improve the well-being of myself, my husband and our four kids. I chose to modify the diet of my children to food that is more natural or processed without the use of chemicals as a preservative or flavor enhancer. To me, healthier snack choices equal healthier kids.
On one of my trips to my local Albertsons I came across an organic line of products called O Organics. This product line is sold nationally at Albertsons and Safeway. The O Organics line contains over 400 organic food products for you to select from, so there is plenty of food choices available to those who choose to use and eat organically grown food. Plus I find that the prices are very reasonable compared to other organic products which makes this thrifty mom happy! O Organics have a focus on healthy lunch box solutions: yogurt, lunch meat, string cheese, pre-cut apples, pita chips, deli dips and deli roasted chicken. Perfect for back to school lunches.
As many of you know I have a routine of making cold lunches in one day to last a whole week. I add a whole bunch of items to a bin in my fridge, freezer and pantry where my kids can take out the lunch items every morning themselves and add it to their lunch box. It's been a real time saver. Making school lunches this way with organic choices now has never been easier and Albertsons even has simple recipes right on their website that are made with the O Organics product line, so we never run out of ideas for kids school lunches.
The recipe that intrigued me the most from Albertsons was their Turkey Pesto Pinwheels.
I decided to make them for my kids for their first day of school! Which happened to be yesterday, and they all had a wonderful day.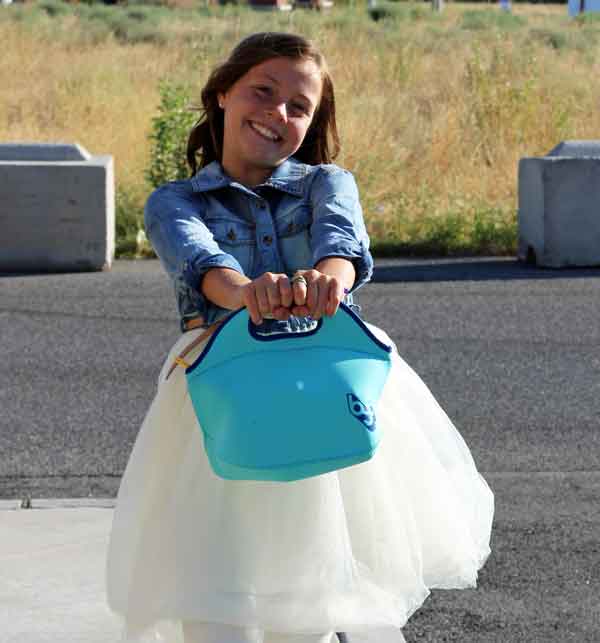 I did modify the recipe a bit by adding cream cheese.. because you know, cream cheese just makes everything even better, right? This is what the lunch looked like.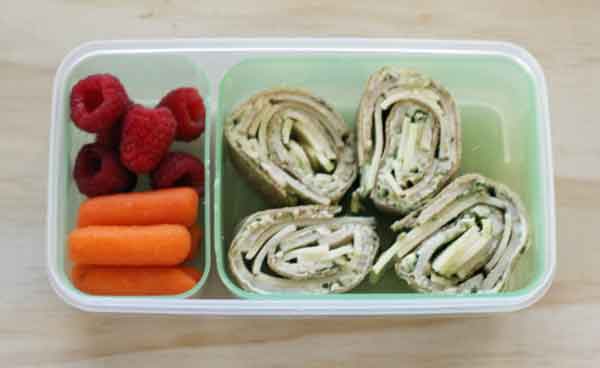 When I made these lunches I couldn't help but try a few of those turkey pesto pinwheels..and oh boy were they delicious. So flavorful and just the right size for putting into a lunch box.
You can find the recipe for these Turkey Pesto Pinwheels here on the Albertsons website. Next week I want to try to make their recipe for the Strawberry Lemonade fruit leather – doesn't that look so fun to try?
Making my own school lunch recipe using O Organics products
I wanted to create a school lunch that was healthy, delicious and that had vegetables in it. Using the O Organics products I came up with a pure and simple pasta salad. I will add the pasta salad into the kids lunches along with other items like crackers and fruit for fun. Bento styled lunches are the best – they are small, convenient and often contain healthy foods and snacks for busy children. Finger-sized foods not only mean less waste, you can really get creative when making a lunch box for your school aged children.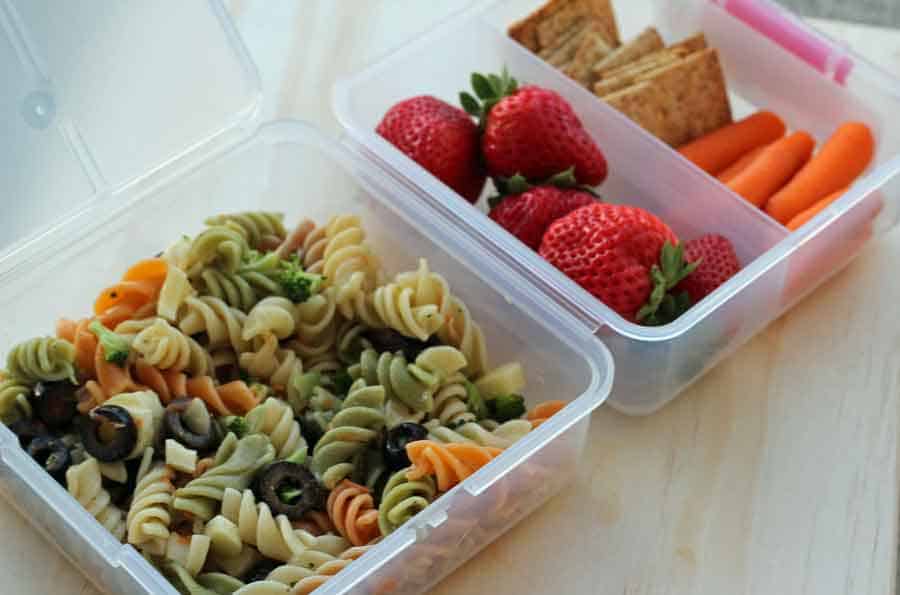 Here is my recipe for my Simple School Pasta Salad just in case you want to make the same for your kids. What I love most about it is that the carrots and broccoli in this recipe are super fine, so it's kind of like sneaking in the veggies. Yeah, I 'm a ninja like that..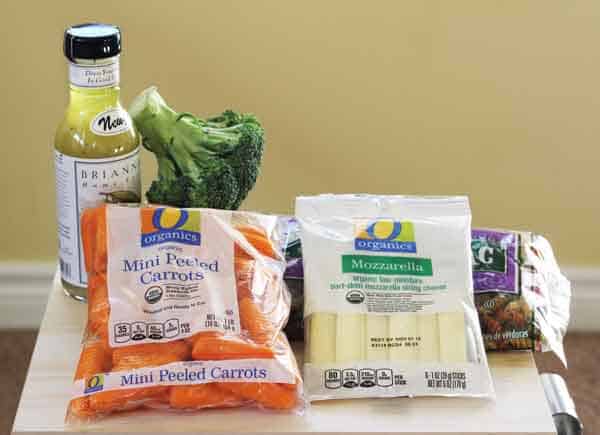 You will need O Organics mini carrots, mozzarella string cheese, spiral noodles, Italian dressing, broccoli and diced olives.
Make sure and dice the broccoli and carrots up super fine. Boil, then cool the noodles and toss all the ingredients together. It's really easy and super healthy! Printable recipe form is below.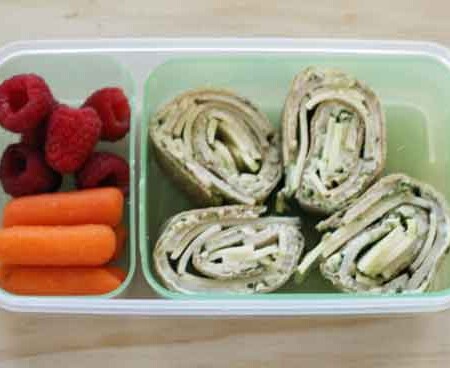 Recipe Card
love it? rate it!
Simple School Pasta Salad
Servings 1
Pasta Salad are delicious and nutritious ideas for kids school lunches!
Ingredients
1 lb spiral noodles
6 O Organics mozzarella string cheese diced
5-6 O Organics baby carrots shredded finely
1 small head fresh broccoli diced super fine
1 6 oz can diced olives
1/2 bottle Italian dressing
salt and pepper to taste
Instructions
Boil spiral noodles according to package directions. Drain and rinse with cold water until noodles are cold. Add in all ingredients to a large bowl and mix well. Cover and chill for 2 hours and then serve. Will last up to a week in the refrigerator.
Nutrition
Serving: 170g | Calories: 196kcal | Carbohydrates: 10.7g | Protein: 1.4g | Fat: 18.2g | Saturated Fat: 2.4g | Sodium: 1483mg | Potassium: 15mg | Fiber: 5.5g | Vitamin A: 700IU | Vitamin C: 2.5mg | Calcium: 150mg | Iron: 5.6mg
Making healthy organic school lunches are no longer as scary or time consuming as I thought. I can't wait to get creative making their school lunches for the upcoming weeks. Oh, before I go, don't forget to head on over to Albertson's to have a look at their wonderful collection of recipe ideas for kids school lunches using the O Organics product line. There are so many great ones to make.
If you would like to see visuals of what the people at Albertsons have created using the O Organics product line, check out the Albertson's Pinterest Board. And re-PIN these awesome recipes while you are there:

APPLE FRIES WITH CINNAMON DIPPING SAUCE
DIY STRAWBERRY LEMONADE FRUIT LEATHER
CHICKEN SALAD WRAP
TURKEY PESTO PINWHEELS
This is a sponsored conversation written by me on behalf of O Organics. The opinions and text are all mine.