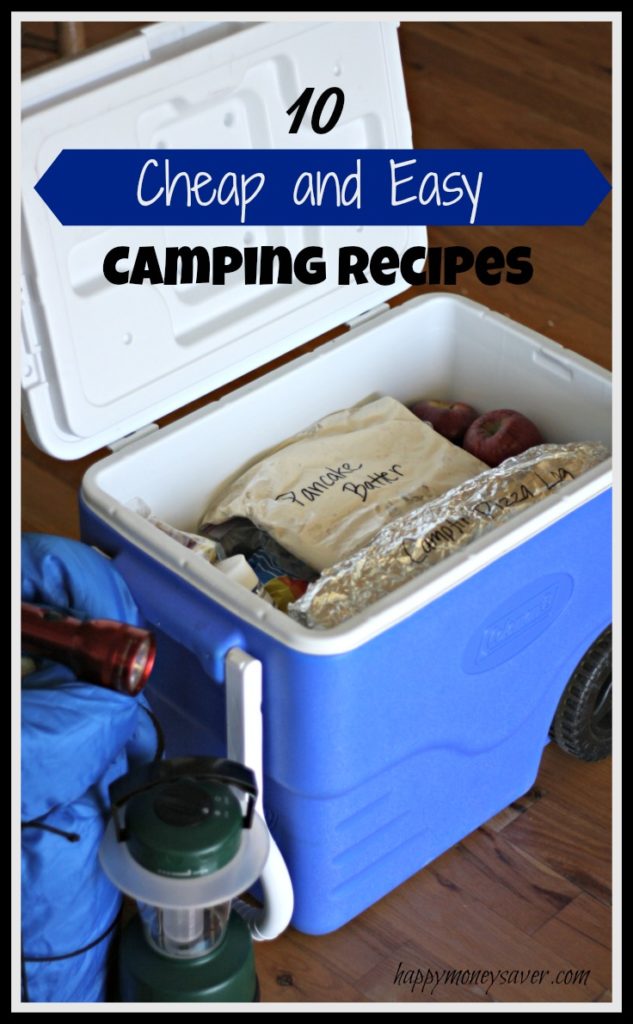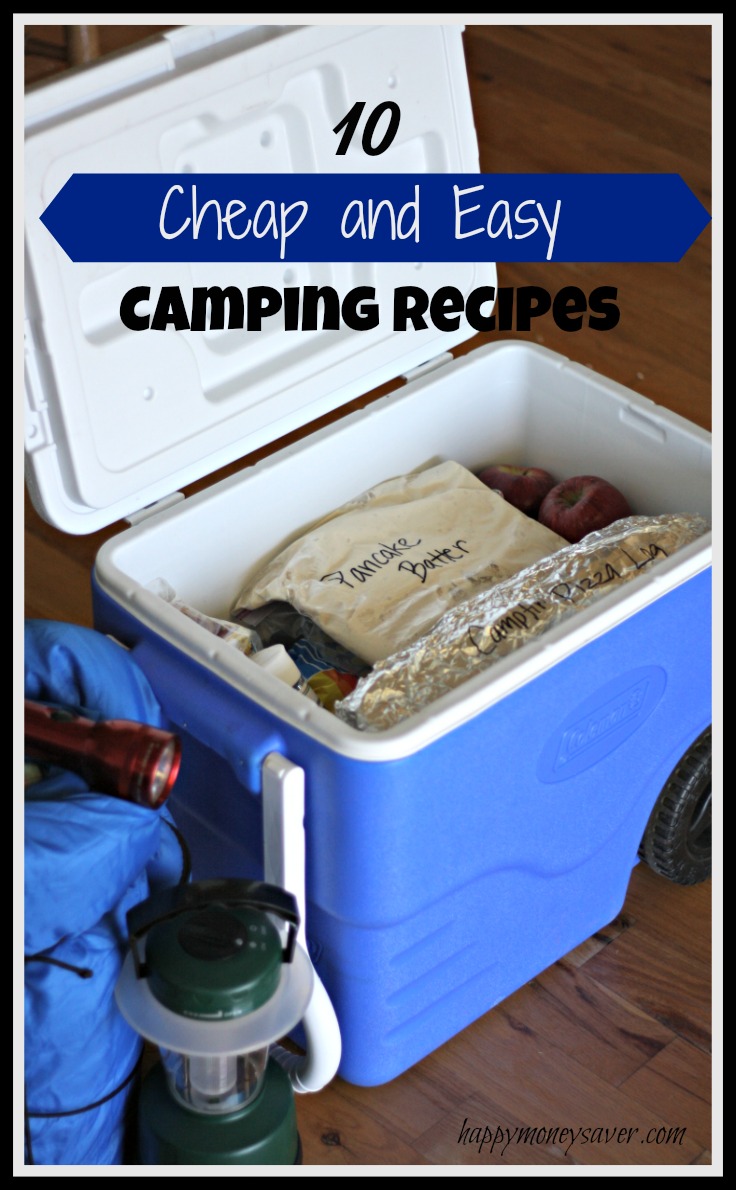 Camping is one of the best parts of summer. I love being with my family, communing with the outdoors and just living the good life without all the distractions. You would think going camping would be a very thrifty activity, but costs can add up quickly if you are not careful especially when food is concerned. So I decided to share my family's favorite cheap camping meals and yes, dessert is considered a meal in my book!
Here are 10 Easy and Cheap Camping Meals.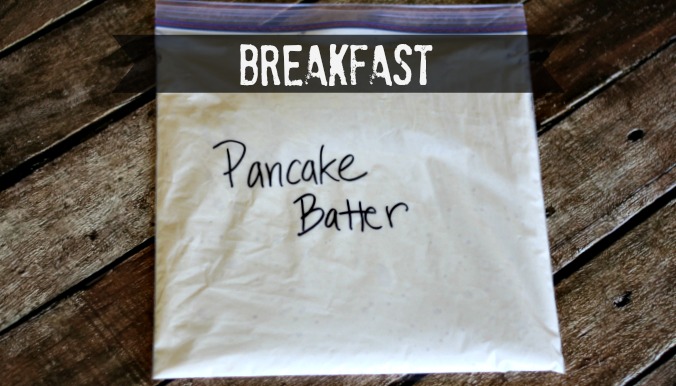 1 – Pancakes – I love hot pancakes in the morning but I have found they taste even better when the work is done for me. Before I leave I whip up a recipe of my homemade buttermilk pancakes and put it in a gallon-size Ziploc bag to freeze overnight. I like to freeze it flat so I can pack it easily in my cooler. By the time you need it, the batter is thawed and ready to use. Bunch the batter in the corner, cut the pointed end and you have a dispenser for perfectly formed pancakes, too! Throw some syrup on those pancakes and the meal is done for you!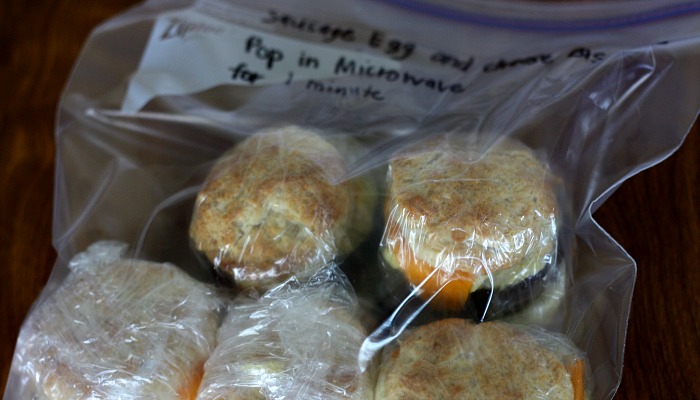 2 – Egg sandwiches – These egg sandwiches are not just for your everyday home use! They are amazing when they are warmed in the fire, too! Just make them and freeze as normal except wrap them in foil instead of plastic wrap. Add them into your cooler and in the morning warm them on a grill or on the coals. Make sure you don't walk away because they don't take long to get warm and ready for you to eat! I like the individual portions so everyone gets a good breakfast even if they get up at different times.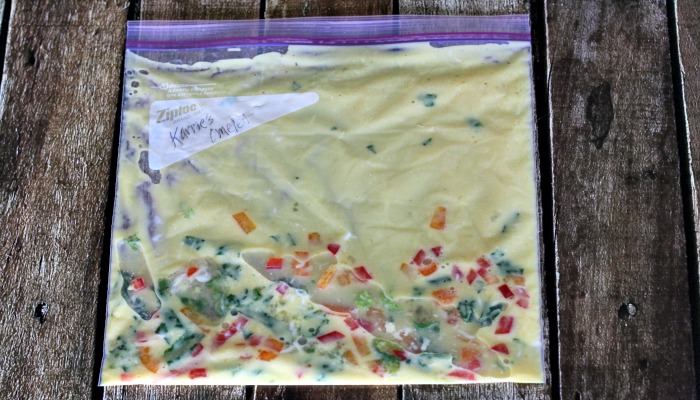 3 – Omelets in a bag – Using gallon-size Ziploc bags and boiling water you can make homemade omelets for your whole family. Crack the eggs into each individual bag–I like to use 2 eggs per person. Then add in what I like to call the "cleaning out the fridge" toppings–peppers, onions, cheese, ham, sausage, spinach–whatever you have on hand. Add them to the cooler and in the morning boil a large pot of water. Drop each bag into the boiling water and cook them for about 12-13 minutes. After the allotted time, carefully pull out the bags, slide the omelet on to your plate and enjoy!

4 – Campfire Pizza log – This recipe is a crowd pleaser every time I make it. Roll out your pizza dough into a rectangle. You can make your own or use the refrigerated pizza dough. Add in 1/2 cup of tomato sauce, 8 ounces mozzarella cheese and any toppings your family likes. I also take the opportunity to use up those veggies and meats from my fridge! Starting at one end roll the dough up like you are making cinnamon rolls and pinch all ends to create a seamless log of pizza goodness. I also like to throw a little parsley on the top for a pop of color! Wrap it in foil and freeze it. It will help keep things cool and will thaw and be ready to cook by dinnertime. You can cook it on a grill or just put it in the logs for a total of 25 minutes, flipping often. Once it is done, cut or pull it apart and serve. Fresh pizza is a rare commodity while camping and will be gobbled up in seconds!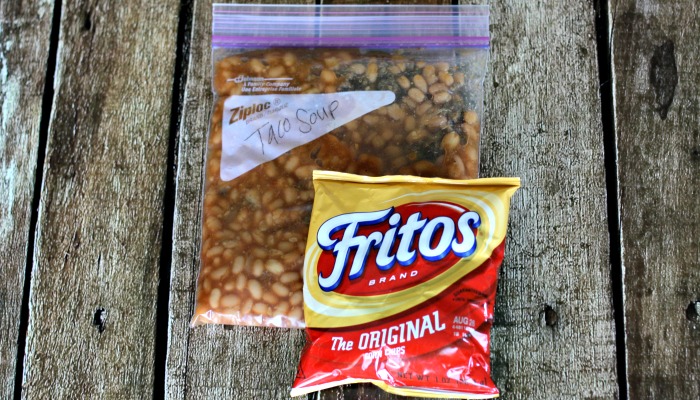 5 – Taco soup – Easy taco soup is made by using 2 cans of stewed tomatoes, 1 cup frozen or canned corn, 2 cups of homemade beans or canned beans, 1 packet taco seasoning, and 1 lb cooked ground beef. Throw it all into a pot and cook it together. Cool it and freeze it into resealable freezer bags. When it's frozen add it to your cooler. When you are ready for your meal, dump the contents into a pot and bring it to a simmer. Bring along a small bag of Fritos to add on top and dinner is ready!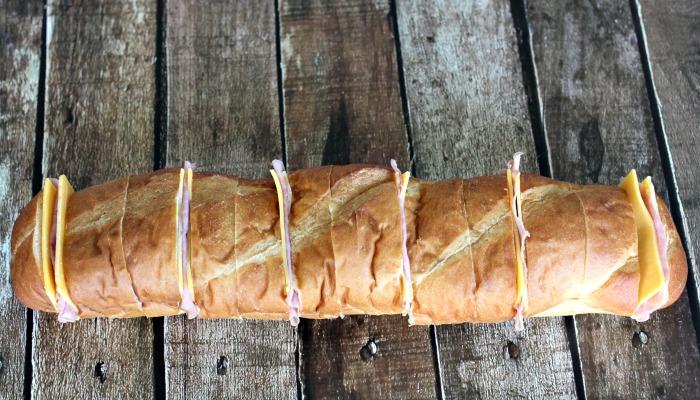 6 – Campfire Sandwiches – This is great for lunch or dinner and uses a loaf of French bread, ham, cheese slices, butter, mustard. You could substitute different meats and cheeses, too. Without cutting all the way through the loaf of bread, cut 12 slices about 3/4 inches thick to create 6 sandwiches. You should cut it to about an 1/4 inch from the bottom of the loaf. Stir together 3 TBS of butter and 1 TBS mustard and spread the mixture on every other slice of bread. Fold the cheese slice in half and add the ham in the middle. Stick the ham and cheese into the slots. Wrap the sandwich in foil. You can freeze this or just add it to the cooler. Place on a grill or in the coals where you will turn it frequently. Cook the sandwiches about 20 minutes or until the cheese is melted and the loaf is nice and hot! Remove foil from the loaf and pull apart the sandwiches.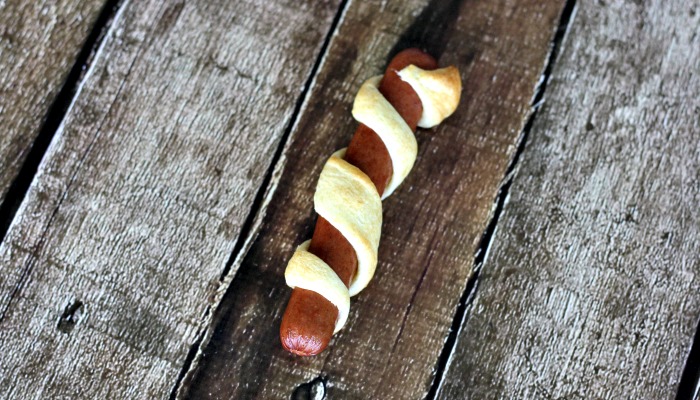 7 – Curly dogs – This is a great way to change up the regular hot dog dinner. All you need is hot dogs and a package of crescent rolls. Wrap the crescent roll around the hot dog and roast it until the dough is cooked and the hot dog is warm! It takes about 10 minutes for the dough to cook all the way but it is definitely worth it!

8 – Campfire roasted apples – This is an easy and yummy dessert with just 4 ingredients–apples, cinnamon, sugar and butter. Core and slice your apples so that they can still fold up to the apple shape. I used an apple slicer but a sharp paring knife does the trick, too. Transfer the apple to the foil and use the foil to help keep the apple shape. Sprinkle sugar and cinnamon an all the apple slices and then add about 1 TBS of cut butter slices into the center of the apple. Wrap the foil around the apple so it forms a secure package. Add the apples to the coals, turning sides about every 5 minutes. Roll it out of the fire and let it cool for a couple minutes and then dig in and enjoy!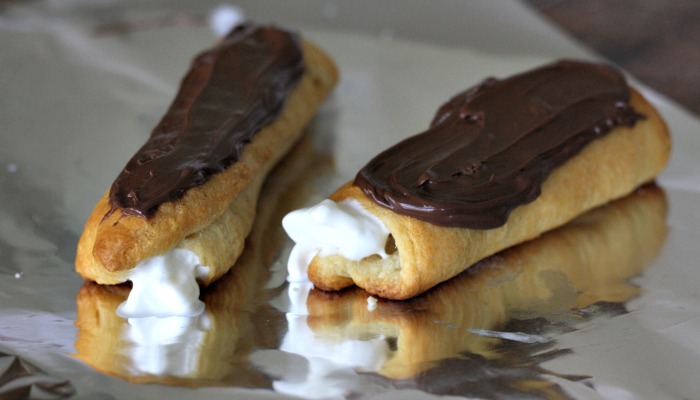 9 – Campfire eclairs – This is a new dessert that my kids have enjoyed making and I love that it only has three ingredients — a package of crescent rolls, cool whip and chocolate frosting. Wrap your crescent rolls around your hot dog sticks making sure that it is closed around the end of the stick. Hold over very hot coals, constantly turning so it doesn't burn. It takes about 10 minutes to cook all the way through and will come off the stick easily when it is done. Fill with the cool whip and frost the top. You can switch up the variations of the filling with different flavors of pudding, too!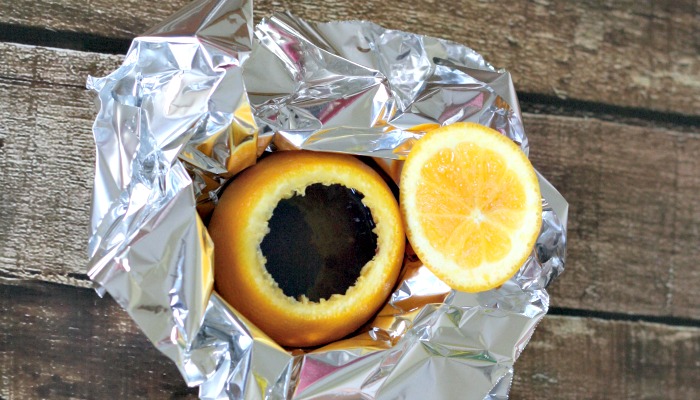 10 – Cake in an orange – This cake is cooked in an orange! Cut the top of the orange off and scoop out the flesh. Take your time with this part because you want to be able to put the orange back together again without the orange flesh. Fill the orange with prepared cake mix or your own homemade cake batter leaving room for it to rise. I fill it a little over halfway full and it has worked every time. Put the top of the orange back on and wrap it in foil. Tuck it around the hot coals for about 20 minutes turning about every 5 minutes. Even though it smells delicious let it cool for about 5 minutes and dig in!
Do you have any favorite recipes we can add to these cheap camping meals?
If you like camping recipes try out these great recipes.