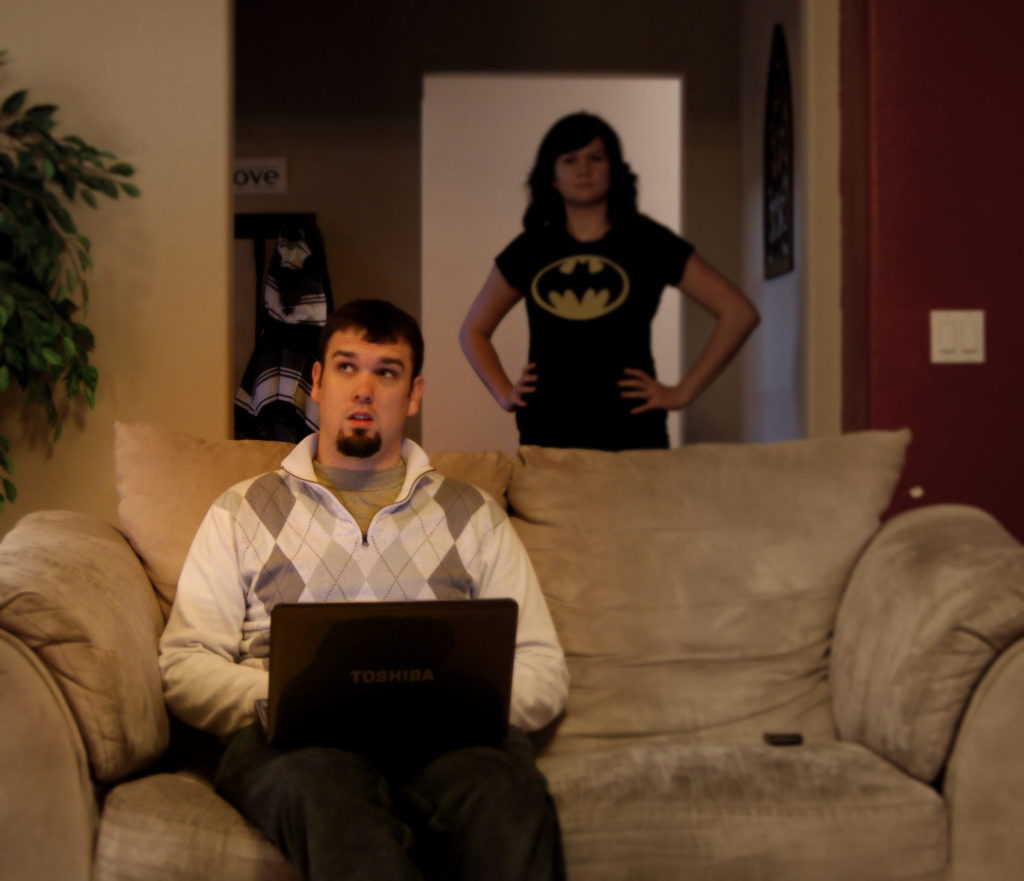 Chapter 7: I Think My Wife Is Batman

I wonder if there is a medical term (couponis extremitis) for the transformation that happens to normal people when they become extreme couponers.  I've seen a lot of changes in my wife in the way she thinks and acts thanks to couponing, but I'm starting to thing she may be going through a physical change also.  I think she is starting to become an unholy creature of the night!
My wife used to be like everyone else dragging their kids to the grocery store during the daylight hours, struggling to buy groceries with one hand and pulling back the kids leashes with the other.  She would arrive home from these trips look at me and tell me (order me) to bring in the groceries cause she was done and sit down on the couch. I tried to suggest the kids could help if she tied the kid leashes to the cart and yell "mush" but she didn't think it was funny.  Instead she came home miserable after every shopping trip.
I knew this shopping dance of doom needed to end eventually so one evening I gave her an idea from the "what was I thinking?" part of my brain. Trying to be a good husband I suggested she leave the kids with me one evening and go shopping at night.
Little did I know the shopping ecstasy she would feel that one lone night!  Never again would she shop in the daylight like those other sunshine shopping losers. When the moon was full it meant only one thing; time to do some couponing damage. At first she left right after the kids went to bed, then after her favorite show, then after the late news, until finally I began to wake up in the middle of the night alone staring out the window knowing my wife had turned into the coupon version of Batman.
When confronted about her late night excursions she only explained that it's so much easier at night. Less lines, no annoying customers giving you the stink eye as you buy 20 packages of mustard, and the checkers were much more relaxed.  Soon she found a Robin to her Batman and then eventually added a Green Lantern and a Thor. Now I think there's a whole Justice League of Couponing hitting the 24 hours stores a few nights a week.  I guess most people would think it's weird to have their spouse missing in the middle of the night each week, but they're not married to an extreme couponer.
Next Chapter #8: My Wife can do the Triple Lindy

*****************************************************
So I Married a Couponer is a fun series about an average man trying to deal with being married to an extreme coupon shopper. His story must be told.  
To read the past chapters from So I Married a Couponer click HERE.

A big thanks to Naoma May Photography for taking such wonderful photos for this series. Please do not copy or use these images without expressed consent.