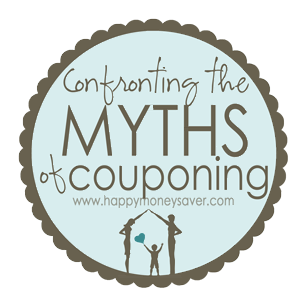 On average each month I spend around $250.00 for everything my family of 6 needs and uses, including food, toiletries etc.   I on average save around $500 per month. Couponing is a part of me these days… some days I eat, drink and even dream of couponing and all the deals I will score.
But I do get kind of tired of hearing the same old myths from other ladies that do not coupon shop. You know the types – always tryin to put a damper on your happy shopping.  My friend Bonnie also shared the same frustrations that I do, and we were chatting about it recently. So  she decided to write up a nice little series of guest posts for us all to confront these coupon myths (isn't she the sweetest?) Enjoy!
Guest Series Post: by Bonnie H.
Coupon Myth #1 : "It's a Waste of Time" or "It Takes Too much Time"
I once heard someone say, "You never see someone rushing around pant-less, saying, "I just ran out of time today and wasn't able to put any pants on."  Why is this? You find time for what you think is important.  I am willing to venture that a lot of people who are "too busy" to find time for coupons would never think to miss an episode of Lost.  Or House.  Or 24.  Or Modern Family.  Or the Office.  Or The Bachelor.  Or The Biggest Loser.  Why is that?  I am going to go out on a limb and assume that it's because they LIKE watching their shows! It's fun to them, and a good way to kick back and relax.  And I don't think there is anything wrong with that (heaven knows my quality of life would suffer if not for "The Office")!  My point?  I don't watch television (except for the Office), but I don't go around putting down people who do enjoy their shows, and it irks me when people put down those of us who coupon.  I like saving money, but the real reason I am driven to do it is because I like it.  It is fun to me.  It is one of my priorities.  Everyone is entitled to their own priorities, and just because our priorities are different, it doesn't mean one of us is wrong.
What do you think? Has anyone told you they think couponing is a waste of time?