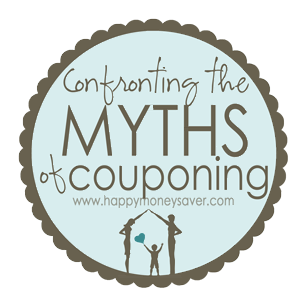 This series is for all those myths, questions and comments many of us couponers get from the non-coupon users out there. If you missed the first posts in this series I have great news — you can still read them:
Coupon Myth #5: "The word "coupon" is a noun, not a verb."
It can be either. Noun usage: "This is a coupon." Verb usage: "I am going couponing tonight!"
Coupon Myth #6: "Couponing requires me going to 5 different stores across town, and I would spend $4 in gas in order to save .40 cents at the register."
Guest series of posts by Bonnie H.
Let me be so bold as to say, if you are driving all over town and you're only saving 40 cents, then it is not couponing that is stupid. It is you. OK seriously though, here is how I look at it: I drive a small car that get about 32 miles per gallon. A gallon of gas here costs $3.21. Even if I do end up driving, I only go maybe 15 miles, which is not even $1.60 worth of gas. And you can bet that I will be saving a lot more than that on my groceries!
It is rare that every single store in town is going to have deals that are good enough, all for things we want, all during the same week. Yes, every store has sales each week, but that doesn't mean that you have to go to them. On a recent week, Rite Aid had some killer deals, but they weren't for things I wanted or needed, so I didn't go. Again, it is about priorities. You can stick with one store, or, if you don't mind going to several, then go to more than one. But you can save a lot more money than the gas it takes to get there.
Karrie's commentary on this: I used to live out in the country where it took me about 20 minutes to get to town. So when I planned to go couponing I would make sure it was worth the drive before I decided to go. Often times I would hit up 3-4 stores so I could get my moneys worth for the long drive. So if you do live far away from your store just make sure the couponing deals are worth it! (Thanks Bonnie for your guest post series!)
What are your thoughts on this myth?