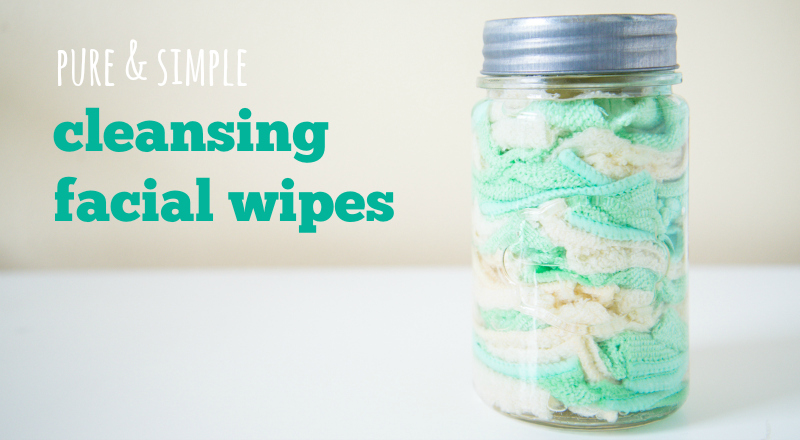 Raise your right hand if you're guilty of sleeping with your makeup on. Yes, I'm looking at you.
Don't lie to me. Remember that one time you were out with that one guy and you didn't get home until that one hour and you were so utterly exhausted that you collapsed into bed without a thought of cleansing that mug of yours? Or maybe it crossed your mind, but you couldn't bring yourself to wipe off something that those outrageously sweet lips had just kissed? See? You're totally guilty.
But don't worry, I'm guilty too. And for me, that one guy is my husband. Thankfully, our hours of sleep have grown since the days of late night pre-marriage dating, so my excuses for lacking in the facial washing department have dwindled. I think mostly I'm just lazy now.
I've always loved the idea and ease of facial cleansing wipes, but the cost has been a major damper. $8 for a months worth of wipes? Ain't no room for that in this grocery budget.
Enter my recent discovery of a fabulous homemade version.
This cleansing recipe is soothing and invigorating and gentle and cleansing all at the same time. I'm seriously in love.
Ingredients for Homemade Cleansing Facial Wipes
2 cups distilled water*
1 tablespoon melted coconut oil or fractionated coconut oil
5 drops Malealuca essential oil
5 drops Grapefruit essential oil
Optional: Few drops of vitamin e or aloe*
Old, clean t shirt or towel
*Note: It is important to use distilled water to prevent bacteria growth. I did not use any optional add-ins because I didn't have them at the time, so they are not included in my cost breakdown.
Directions for Making Homemade Cleansing Facial Wipes
Cut up an old clean t shirt or towel into small squares. I cut mine to be a bout 2"x 2". Set aside. Pour the melted or fractionated coconut oil in a large bowl. Add essential oils and vitamin e/aloe if using, and stir to combine. Add distilled water and mix again.
Lay your cut squares in the bowl to soak up the solution and then transfer to a jar of choice to store. Pour any remaining solution over towels. Store at room temperature or in the refrigerator if you'd like a nice and cool little experience removing your makeup. Use like any other regular facial cleansing wipes.
Here are my cut towels soaking up the solution in the bowl, before putting them in my jar:
I really love the choice of essential oils in this recipe. The grapefruit oil fights acne and helps infuse aging skin with all sorts of anti-aging goodness, and the tea tree oil cleanses and soothes.
It's super easy to throw the used wipes in a pillow case or other washable bag and wash like you would any other normal towels. That way, they're easy to keep track of in the washer/dryer.
Cost Breakdown for Homemade Cleansing Facial Wipes:
Distilled Water: $0.11 (A gallon of distilled water at my local grocery store is $0.88.)
Coconut Oil: $0.14 (I buy my large container of coconut oil at Costco for about $22.)
Maleluca Oil: $0.38
Grapefruit Oil: $0.30
Total Cost: $1.23
My local Target sells Neutrogena Cleansing Pink Grapefruit Facial Wipes for $6.99, so that's an 82% savings!!! Homemade for the win again!