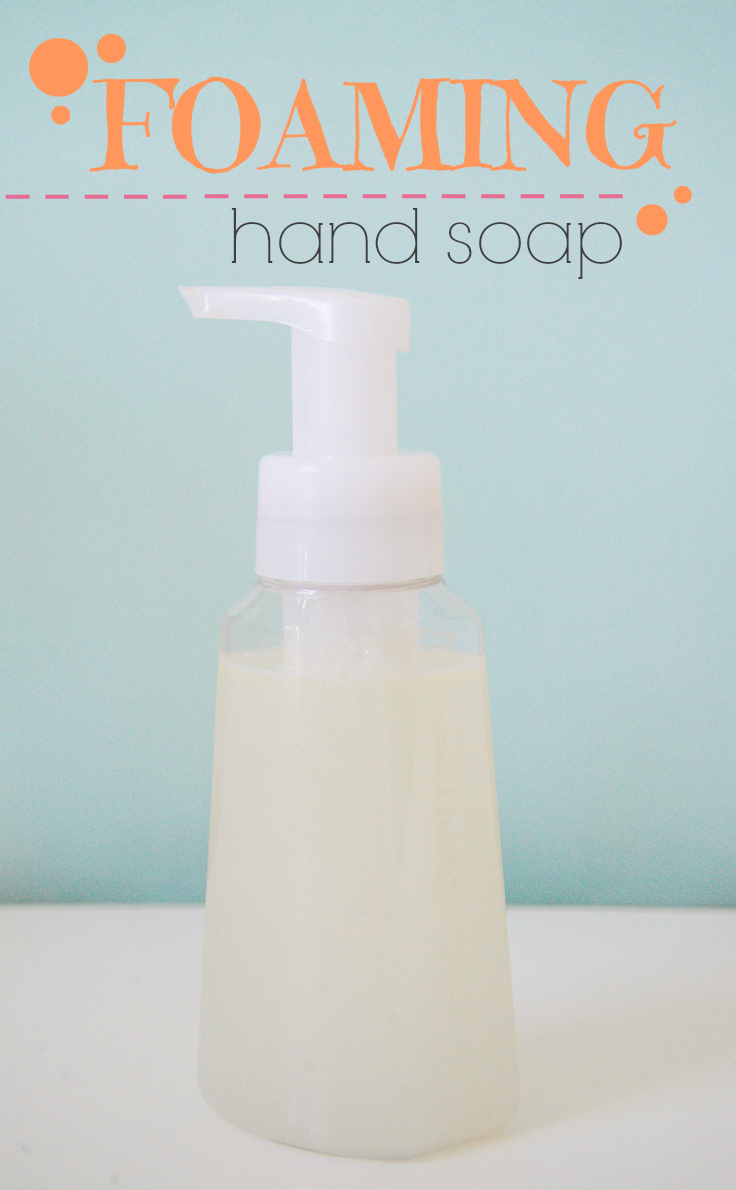 Fun Fact: Making your own homemade foaming hand soap is frugal, fast, and insanely easy! And you can feel good about the fact that you're taking an easy step to protect your family from toxic chemicals.
How many times do you wash your hands in a day? Between cleaning chicken coops, diaper changes, potty helping, preparing food, running errands, etc.. etc.. I feel like I'm washing my hands aaaaaaaall day long. Think how many times you expose yourself to those nasty chemicals! Umm… No thanks. And especially no thanks for my kids.
We love foaming hand soap around here, so I was excited to find this super easy recipe to make your own. Foaming? Check. Kills bacteria and germs gently? Check Toxic level? Zero. Homemade for the win! MAKE YOUR OWN HOMEMADE FOAMING HAND SOAP people. Trust me, you're gonna love it.
Recipe for Homemade Foaming Hand Soap
2 T Castille Soap
2 t Coconut Oil, Fractionated 
5 drops Maleluca essential oil 
5-10 drops other essential oil for fragrance (optional)
water
foaming hand soap dispenser
Directions for making Homemade Foaming Hand Soap
Add castile soap, coconut oil and essential oils to a foaming hand soap dispenser. It's important to use a foaming dispenser, since the dispenser is what creates the actual foam. They're kind of pricy online, so just use an old empty one, or ask your neighbor for their used ones. I guess you could always go dumpster diving, but that's probably not first choice. Gently swirl ingredients together. You can see below how far the non-water ingredients come up on the bottle I used.
Add water to the top of the bottle and twist on the lid. Gently swirl ingredients together again. I pulled the label sticker off of my empty dispenser. It came off really easily. Someday I dream of accessorizing my naked bottle for my guest bathroom and making it all cute and stuff, but today is not that day. Mommy-hood calls.
And that's it. Push the dispenser a few times and just like magic, homemade foaming hand soap appears! Bam.
The fractionated coconut oil provides some moisturizing benefit and the melaleuca oil is great too. I chose Citrus Bliss essential blend as my fragrance because I love citrusy scents for my hand soaps.
Honestly, you could even bag the essential oils and coconut oil and go with just the castile soap and water. It would still foam just fine and come out even cheaper. You can even buy already scented castile soap. My hands get super dry and I love to shake up the scent of mine every once in a while, so that's why I use the coconut and essential oils.
Also, sometimes I find my ingredients have separated, so a quick swish around and it's good to go again.
So, how does our homemade foaming hand soap cost compare to what you would find in a store?
Castille Soap: $0.60
Fractionated Coconut Oil: $0.35
Melaluca Essential Oil: $0.38
Citrus Bliss Essential Oil: $0.30
Water: Free
Empty Foaming Dispenser: Free
Total Cost: $1.63
Bath and Body Works sells their foaming hand soap for about $6.50, so our version is 75% cheaper!! And the best part, our version comes toxin free.
Homemade for the win again!
If you'd like to get your hands on some pure essential oils you can order some here!