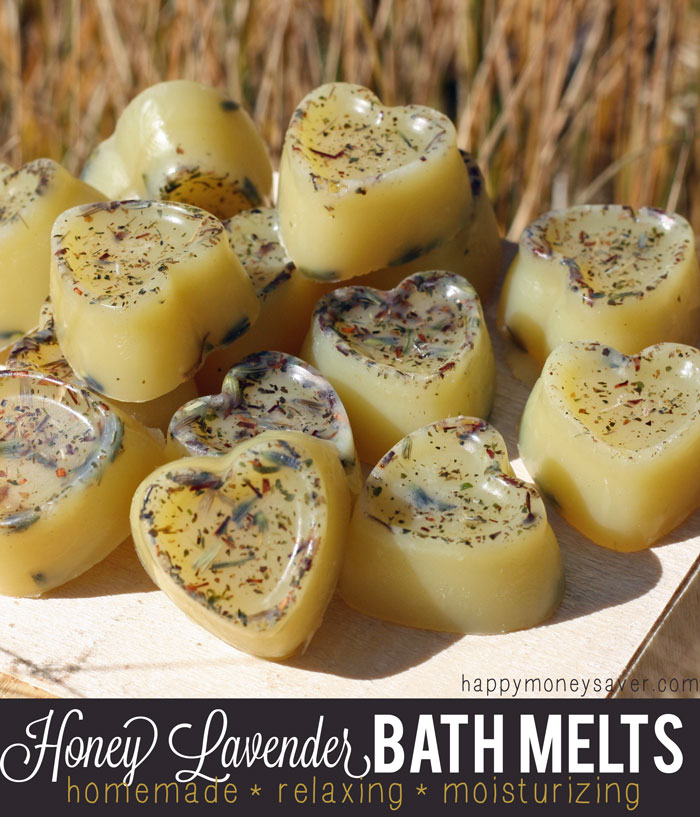 There are two things that have recently turned me into a bath person.
The first being my big tub. The second being these homemade Honey Lavendar Stress relief bath melts.
I am finding that I absolutely love to put my hair up into a messy bun, fill my tub with super hot water, close the door, put on my favorite Pandora relaxation station, set a candle, add in a glorious bath melt and relax my troubles away.
I usually am more of a quick shower girl..since I am constantly running, taking care of my kids, worrying about meals and my to-do list. But ever since I started making my own melts my baths have now increased to once per week. And they are glorious.
Because I am on a homemade beauty product kick, I thought it would be fun to make my own bath melts. Not only would I save money making my own (store bought melts and bath bombs run around $6-$10 a piece) but I would also be able to make a big batch at once. This way I could store them in a jar by my tub and so they would be ready for the random evening when I need some time to decompress, relieve super sore muscles and enjoy some quiet relaxation.  Plus these would make a nice gift too.
Here are my ingredients:
— 50 grams Shea Butter
— 50 grams Cocoa Butter
— 1/4 teaspoon Yogi brand Honey Lavendar Stress Relief Herbal Organic Tea
— 1 teaspoon lavendar flowers (you can also find this at your local craft store possibly.. or dry your own to use)
— 30 drops Lavender essential oil (my favorite brand)
To make these just weigh out the 50 grams of the shea butter and cocoa butter on a scale. If you don't have a scale you can measure out around 1/4 cup of each instead. Using a double boiler or your microwave, melt the butters together until melted.  Break open a tea bag and measure out 1/4 teaspoon of the herbs inside. Add the tea and lavender to the melted shea/cocoa butter mixture. Stir to combine.
Put your silicone mold on a cookie sheet. Take your essential oils and drop 2 drops into each heart in the mold. Then pour your melted mixture into the mold.
Allow to cool (I stuck mine into the freezer for 20 minutes) and then pop your melts right out of the silicone tray. Makes 15 melts in this batch. That is 15 gloriously relaxing bath nights.
I know how you all love the price break down on my projects so here it is:
If you have none of the ingredients it would cost you around $60 to get all the supplies, but you will have lots of extra cocoa butter and shea butter to use for other projects like chapstick or lotions. Plus a mold to use again and again.
Actual price breakdown per batch of 15 melts:
Shea butter:  $1.54 for the batch
cocoa Butter: about $1.30 for the batch
Tea: around $3.00 for a 16 pack, you use 1/10 of 1  tea bag. = $0.30
Lavender: Found $3.00 bag at Hobby Lobby – used 1/10 of bag = $0.30
Essential oil: 250 drops in a 15mL bottle/$21.00 = $0.08 per drop. You use 30 drops in this batch = $2.40
Final price: $5.84 for 15 melts.  That means they are each only $.39 per melt!
What a great price. And they would make for a thrifty gift too. Just add a batch to a little jar and you have a lovely homemade thoughtful gift.
Hope you love them!!
By the way, are you a shower person or a bath person?
xoxo
Karrie