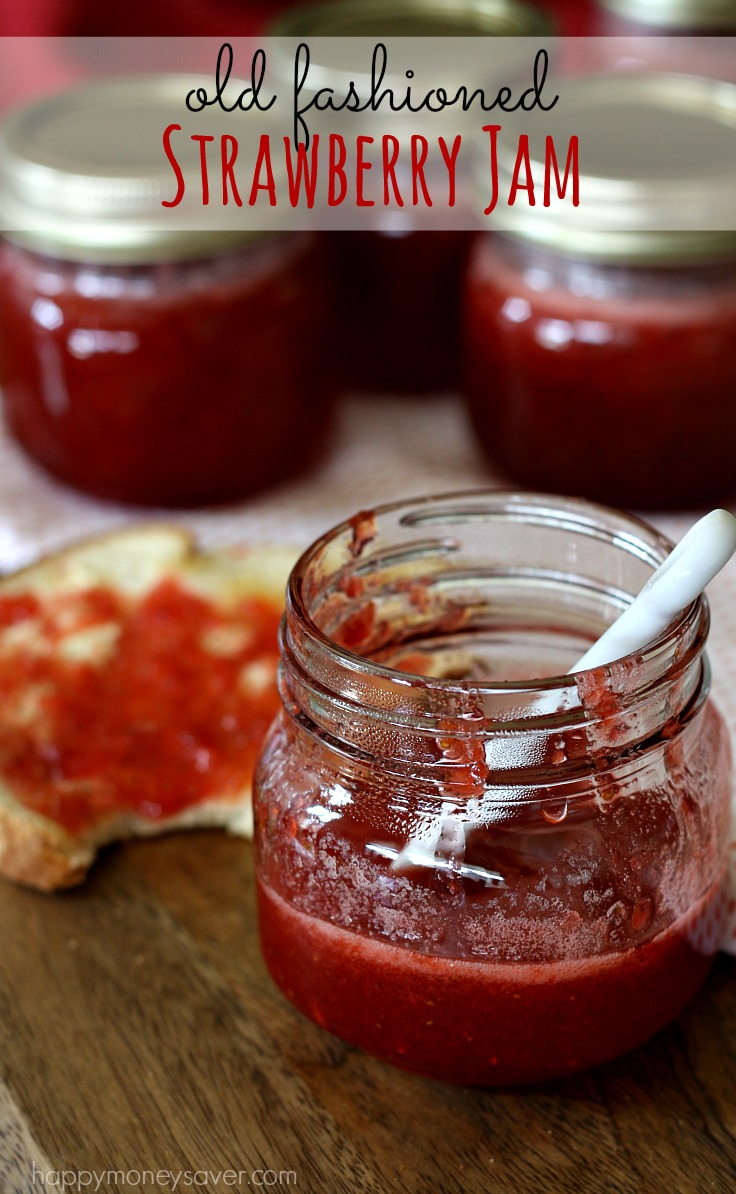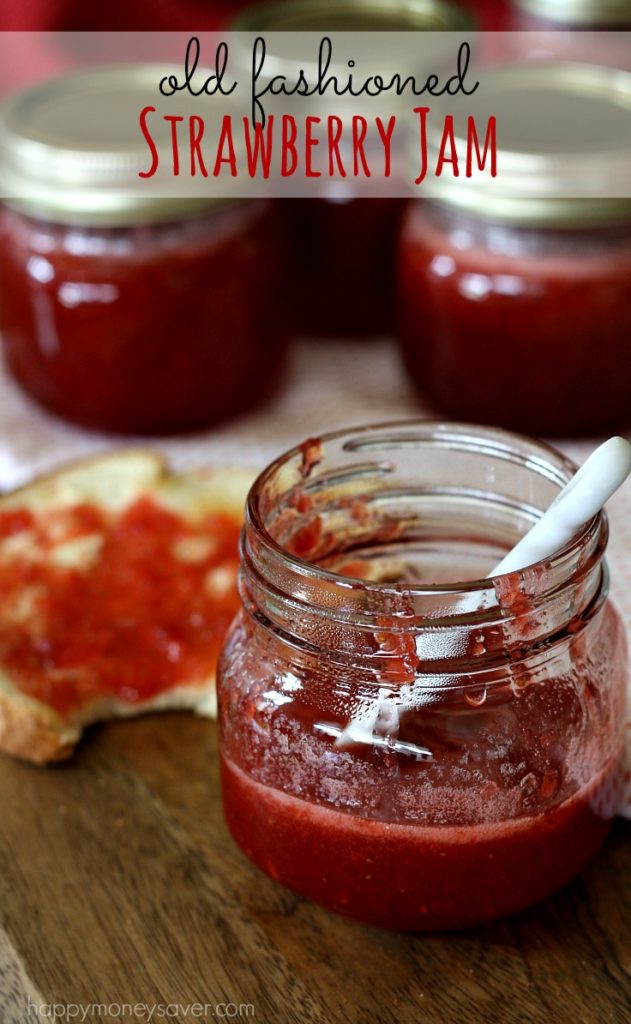 Ah, strawberry season. The best time of the year! Time for strawberry shortcakes, strawberries in my Greek yogurt and homemade old fashioned strawberry jam. Last time I was thumbing through my Great Grandmother's old recipe box I noticed her hand-written strawberry jam recipe and just knew I needed to give it a try. And so I did. And now I will never go back to any other recipe…this one is the "berry" best out there!
This old fashioned strawberry jam recipe was amazing. It was so easy to make, and had a perfect texture. Plus it doesn't use Pectin!! Did you know you don't need to use pectin in homemade jam making? Neither did I until now. Pectin isn't necessarily bad for you but I would way rather make it the old fashioned way and let the natural pectin in the fruit do the work. Plus I prefer a softer jam to a more gelatinous one.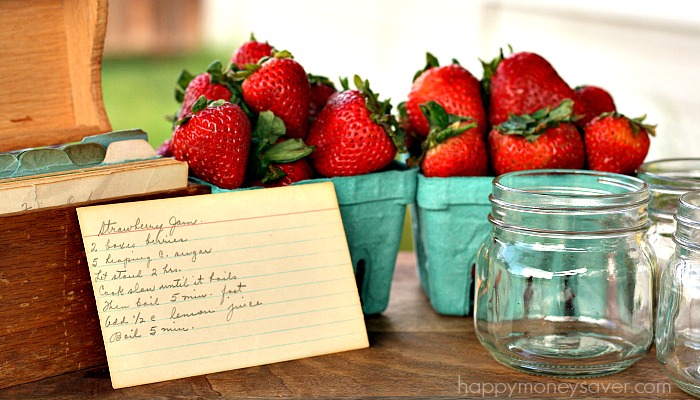 Have you noticed that all jam recipes always call for an insane amount of sugar? I'll admit that is shocks me every time. This recipe does have all that sugar too, but the ending result is worth every sugary spoonful. I love the 3 simple ingredients – fresh strawberries, sugar and lemon juice. Doesn't get much simpler that that.
This recipe is my new favorite strawberry jam recipe. Why? Because I am a huge fan of freezer jam, and this tastes just about the same, like fresh strawberries. It has the same consistency of freezer jam but I don't have to store it in my freezer. I need all the freezer space I can get for my freezer meals. This strawberry jam is canned using the hot water bath canning method, so I can store it in my pantry.
Old Fashioned Strawberry Jam Without Pectin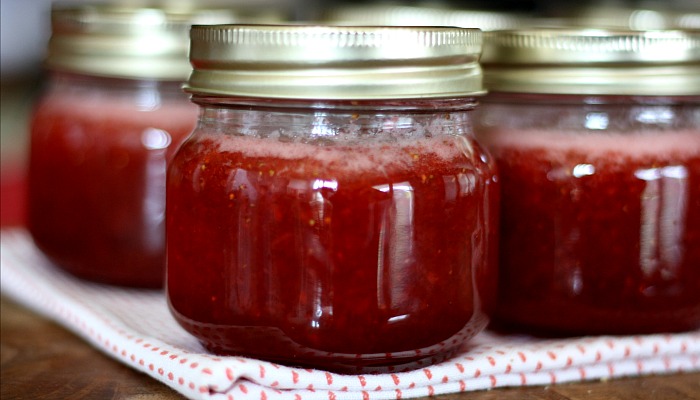 First you will want to wash your jars and lids in some hot soapy water. Place the center lids of your jars in a small saucepan and cover with water, bringing it to a simmer without boiling.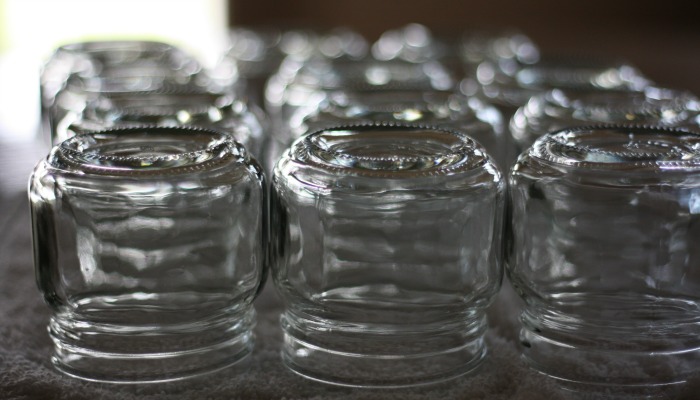 Next wash and remove stems from strawberries and puree them or mash the up depending on the consistency of jam you like. I went ahead and pureed mine. Stir in sugar and let sit for 2 hours.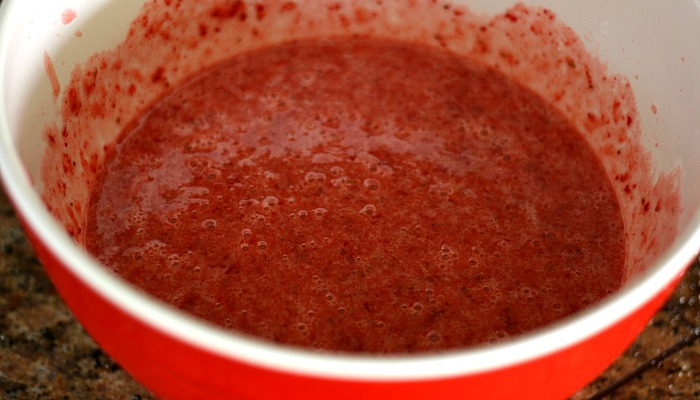 Add strawberry mixture to a large pot and bring to a slow boil over medium heat, stirring often. Turn heat up to medium high and let strawberries boil rapidly for 5 more minutes.
Update: Some of you have mentioned in the comments about the jam being runny. Gene, a happymoneysaver reader emailed me and said that if you take the boil to 220 degrees F using a candy thermometer it comes out perfectly set. Haven't tried this myself…but wanted to let you know this may be a great thing to try.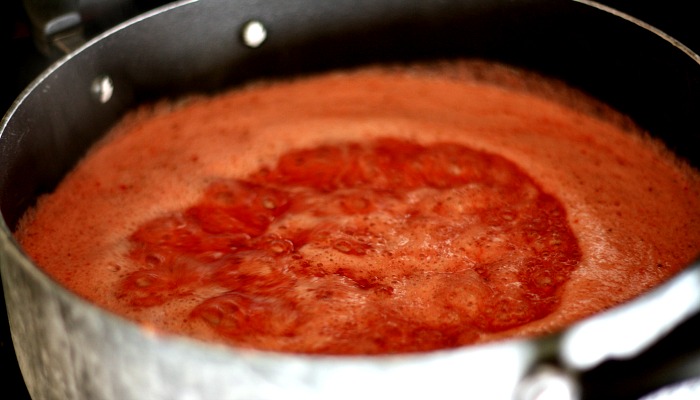 Add in lemon juice and stir. Boil for 5 more minutes and remove from heat.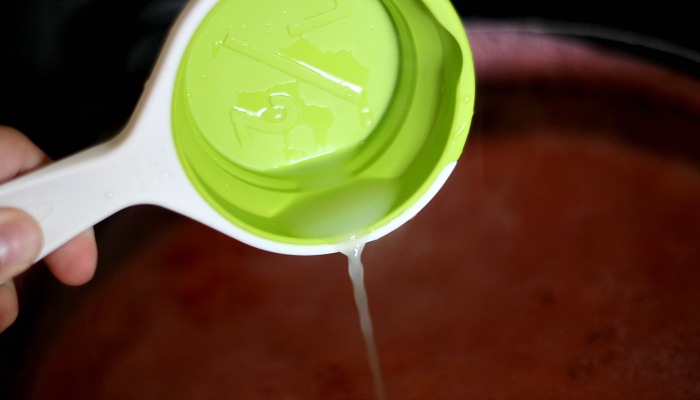 Pour the delicious strawberry jam into the clean jars, making sure to wipe the rim with a wet washcloth to remove any jam that may prevent the lid from sealing. Or just grab a spoon and start digging in…it is so very tempting. 🙂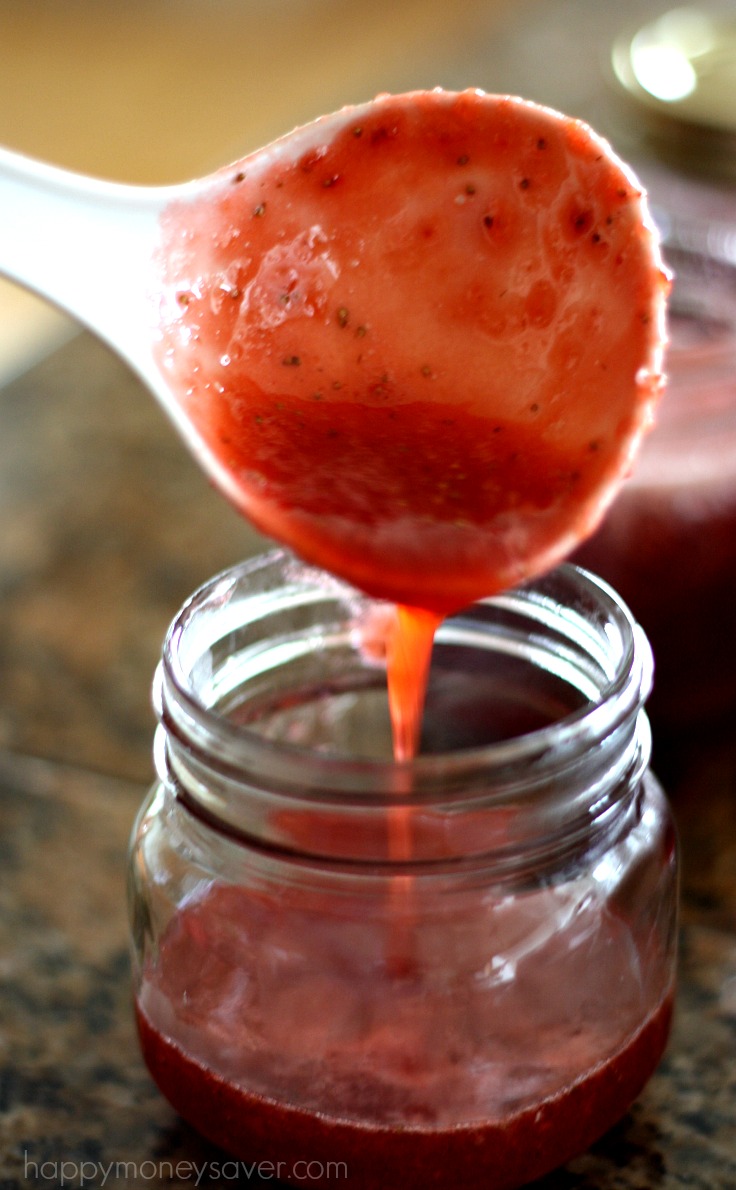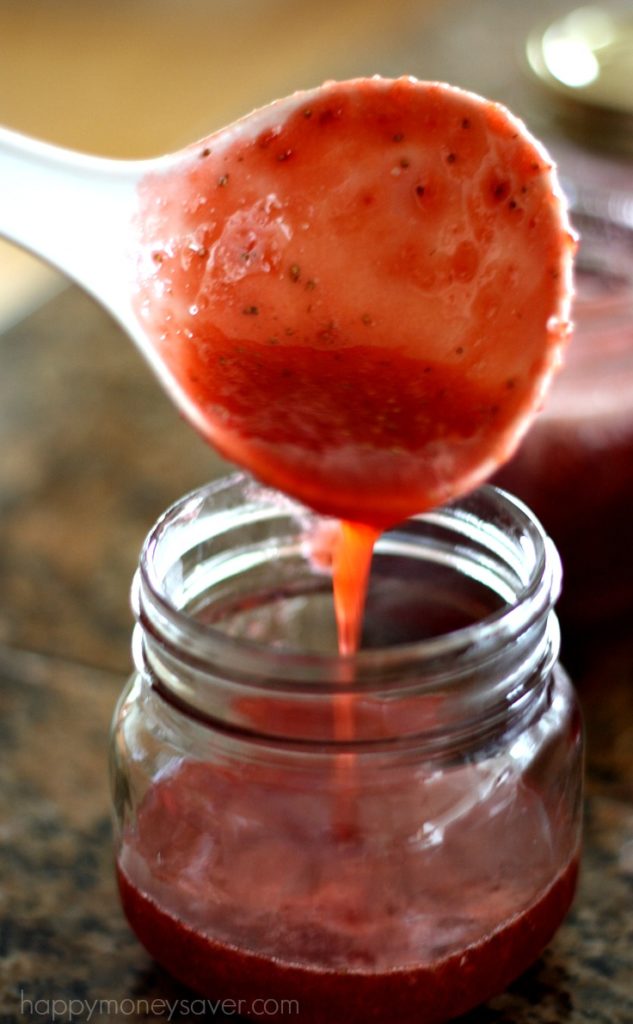 Remove center lids from simmering water and add to the tops of the jars then place on lid rings and set aside. At this point you can add jars to a large water bath canner and boil for 10 minutes.
For small batch canning like salsa, syrups and jams, etc. I prefer to use my Ball® Home Canning Discovery Kit. This little contraption is so nice because I can use a large pot instead of pulling out my gigantic canner. The little basket that it comes with it can only do 3 jars at a time but for small batches it's perfect. It is especially perfect for the beginner canner. I have been very happy with it.
Just place jars in the basket, lower basket into a pot of boiling water, put the lid on the pot and boil for 10 minutes.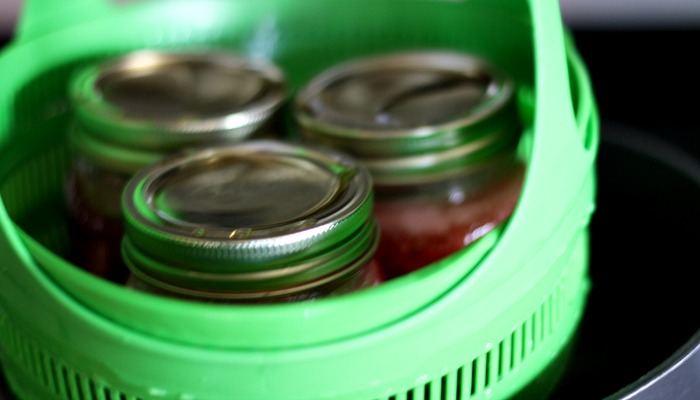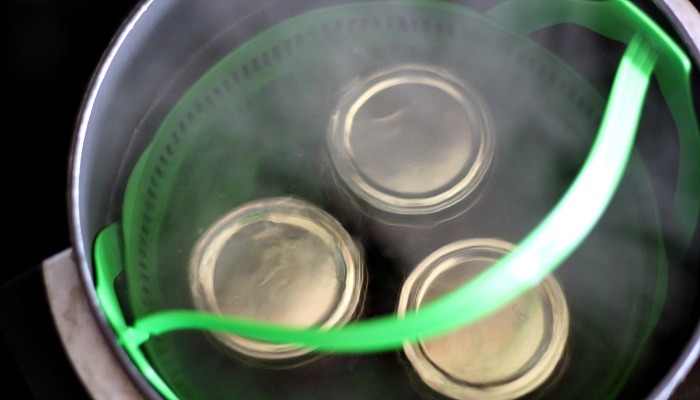 After 10 minutes is up, using the handle of the Ball® Home Canning Discovery Kit, pull basket out of water, place jars on a counter away from small hands, and let cool.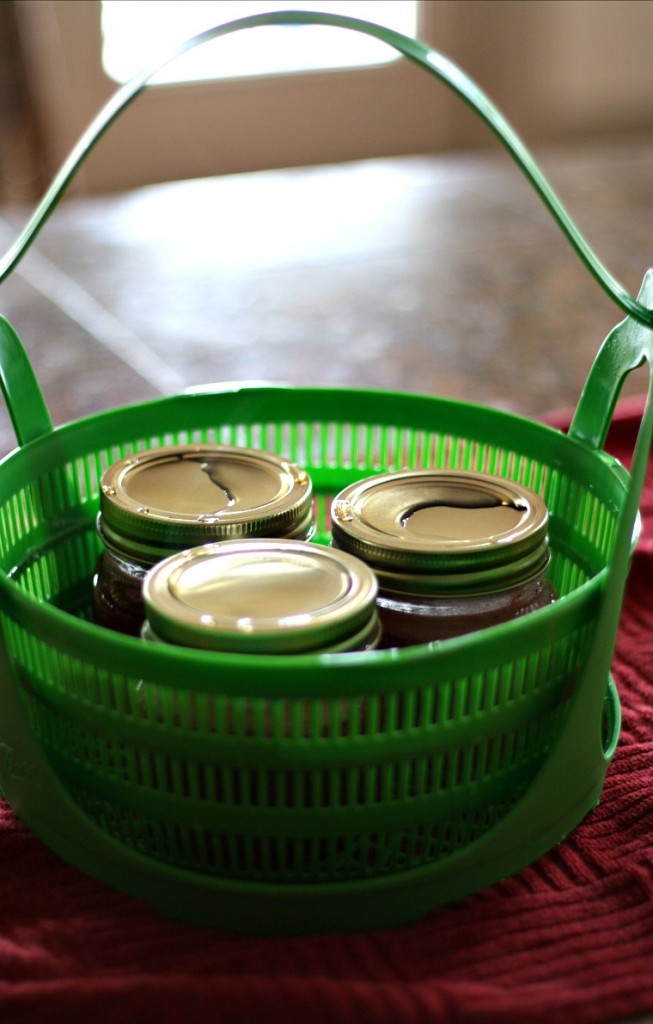 If jars seal, you will hear a loud popping sound. It's pretty much my favorite part about canning. I don't know why. All you canners out there, you understand don't you? If a jar does not seal, put it in your fridge and eat it up in the next couple weeks. This recipe made about 10 half pint jars for me.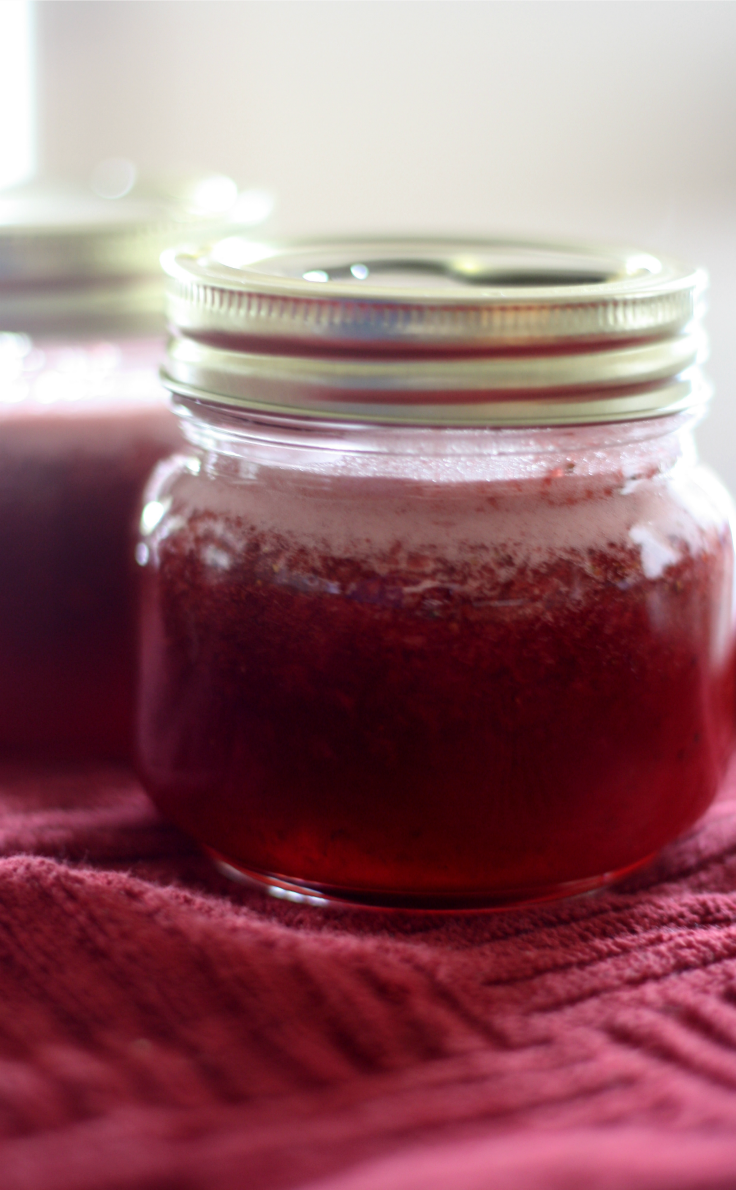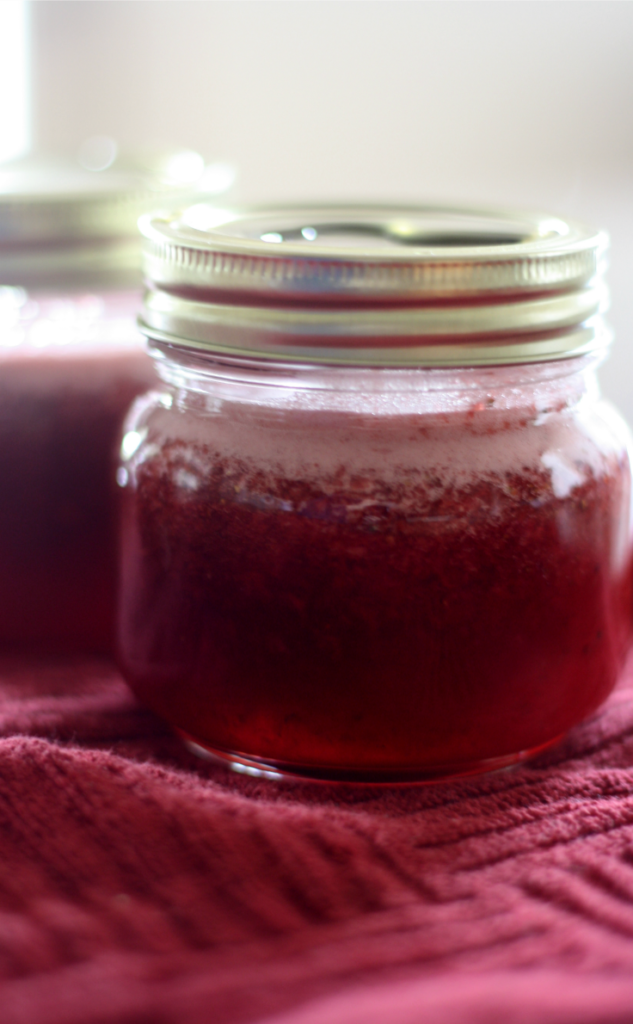 Thank you Great Grandma Munn for this wonderful recipe. I will be making this one for many years to come.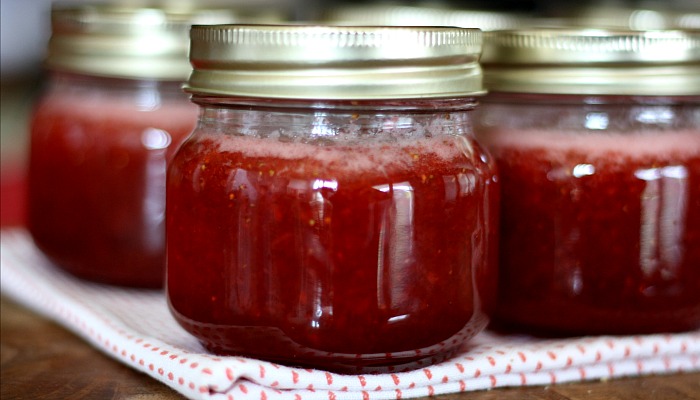 Below is the printable version of this recipe for you!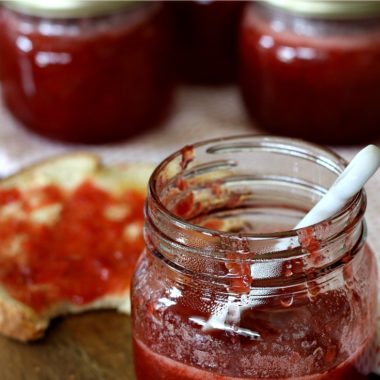 Old Fashioned Strawberry Jam
Old Fashioned Strawberry Jam is wonderful for ever!
Print
Pin
Rate
Ingredients
2

quarts

strawberries

5

cups

sugar

heaping

1/2

cup

lemon juice
Instructions
Wash strawberries and remove the stems.

Chop, mash or puree strawberries and stir in the sugar. Let sit for 2 hours.

Add strawberry mixture to a large pot and cook slow over medium heat until it boils, stirring often. Then turn up the heat to med-high and boil fast for 5 more minutes or until candy thermometer says 220 degrees F.

Add in lemon juice and stir. Boil 5 minutes longer.

Pour jam into clean jars and add lids. Place in a hot water bath canner and boil for 10 minutes. Remove from water and let cool to room temperature. Store in a cool dry place for up to 1 year.
Notes
Jars that don't seal correctly can be placed in the fridge to be eaten within the next couple of weeks.
Makes about 10 half pint jars of jam.
Nutrition
Serving:
227
g
|
Calories:
450
kcal
|
Carbohydrates:
115
g
|
Protein:
1
g
|
Sodium:
3
mg
|
Potassium:
302
mg
|
Fiber:
3
g
|
Sugar:
109
g
|
Vitamin A:
25
IU
|
Vitamin C:
116
mg
|
Calcium:
30
mg
|
Iron:
0.8
mg