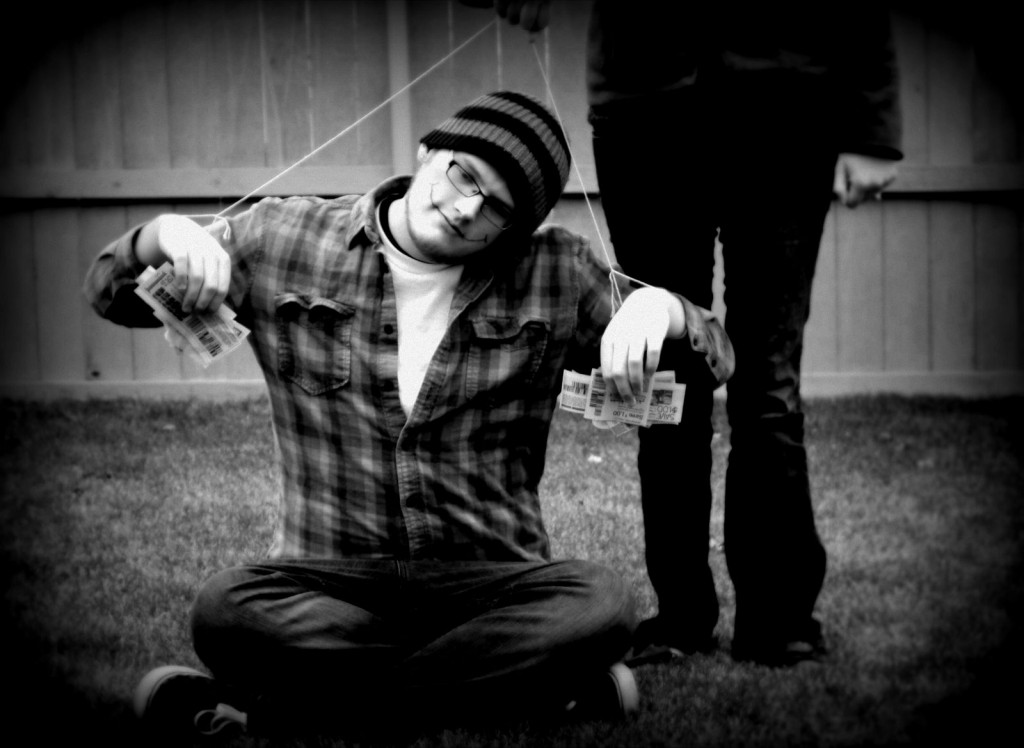 Photos created for this series by Naoma May Photography
Chapter 3: Coupon Puppet or Hero

A hard core couponer goes through many metamorphoses. Shopping trips get longer and carts get fuller.  Before you know it you're enlisting the help of box boys to push your grocery train to the check-out line at 12:30 at night to avoid the crowds.  As the supporting spouse I have my own role to play although I still haven't decided whether I'm a Coupon Puppet or Hero.
At first I thought I was the hero. While my wife considered my role a simple job, to me it was sort of awkward.  My job was to be the guy who stayed at the back of the carts while my wife chatted up the checker as they rung up 200 bottles of Gatorade.  Note:  my kids soccer team hasn't been thirsty all season! My wife also holds all the coupons while I just have to push the carts forward and try to smile nicely at the gawking onlookers as they whisper and point.  I then provide the muscle as I load and unload these items into the house. You know it's serious stuff when your couponer wife buys you a back brace and dolly.
Sometimes I'm called off the bench by my wife to get into the game.  When I was a kid playing sports they didn't have all this equal playing time, everyone gets a trophy, juice and cookie time after every game. Sometimes you sat on the bench until you were called. When you were called you ran into the game looking all wide eyed and ready to go.  After get out there only then do you realize the only reason you are playing is because someone got hurt or fouled out. My wife does the same thing to me on couponing trips. To take full advantage of some coupons and deals you need to do more than one transaction.  When this happens I get to move from the back of the carts to the checker. Lets be very clear here, I'm never ever left alone during this process.  I'm effectively 6 years old again because my wife now speaks to me in very short soft sentences saying, "Hold the coupons, now give them the coupons, No not now- wait till the end," and so on. Once the transaction is done I get shooed back to my place (a.k.a back to the bench).
My wife tells me I am her hero, but I don't know if I believe her. She also tells me I'm just as handsome as when she married me and after 10 years of marriage we all know that ain't  true. Sometimes I think I'm just a coupon puppet, but at least I'm her coupon puppet and that's good enough for me.
Read the next Chapter #4: The Paper Boy Hates Me!

*****************************************************
So I Married a Couponer is a fun series about an average man trying to deal with being married to an extreme coupon shopper. His story must be told.

A big thanks to Naoma May Photography for taking such amazing photos for this series. Please do not copy or use these images without expressed consent.