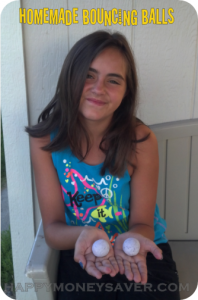 Balls have been toys forever! Men, women, children, dogs, seals, dolphins…pretty much everything and everyone enjoys playing with an object that rolls and bounces! I thought this would be a fun activity and science experiment that the kids would enjoy. I found this great activity HERE.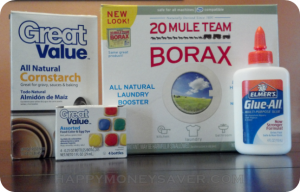 Ingredients:
Borax
Corn Starch
Elmer's Glue-All
Warm Water
Food Coloring (optional)
Measuring Spoons
2 Small Bowls for Mixing
Mixing Spoon or Stick
I LOVE activities and crafts when I have everything on hand and we don't have to make a trip to the store! I hope this is the case for you too!
In a bowl, add 2 tablespoons warm water with 1/2 teaspoon of Borax until the Borax is mostly dissolved. Add food coloring to the mixture if desired and set aside to work on bowl #2.
Pour 1 Tablespoon of Elmer's Glue-All into bowl #2.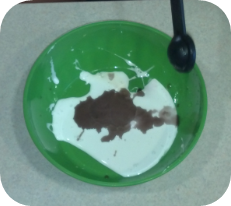 Add 1/2 teaspoon of the Borax mixture (from bowl #1) and 1 tablespoon on corn starch. DO NOT MIX, I repeat, do not mix. I know its tempting….. Let mixture stand for about 15 seconds.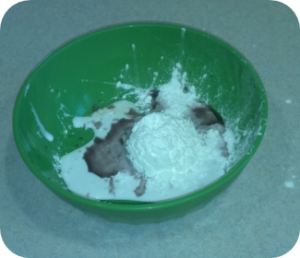 Then mix the ingredients until it becomes impossible to do so. You'll know once its reached the clumpy, slimy and lumped consistency.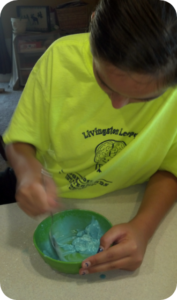 Now pick up the clumpy goodness and start molding/rolling it quickly into a ball. I found that it formed together the best when squeezed into a ball (like a stress ball) while also trying to roll it just like play dough. It will feel sticky at first but will turn dry and compound together quickly so roll, baby roll!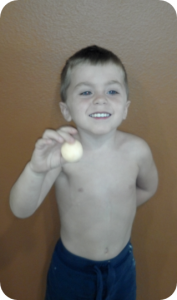 Once the ball is no longer sticky and taken shape go head and bounce it, but not too hard.
These homemade bouncing balls wont bounce like rubber balls from the store but it is fun for the kids to roll, bounce and play with!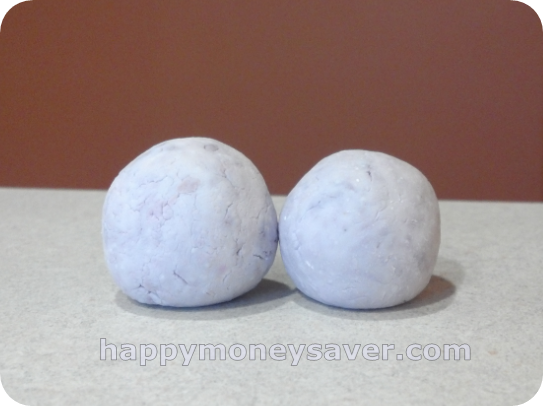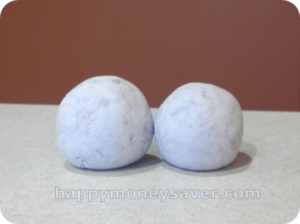 Helpful Tips-
Form ball quickly otherwise it wont work
Put a dab of warm water on the ball if it isn't forming correctly
Don't get discouraged, if it fails try it again!
You can store your balls in an air tight, sealed plastic bag.
Don't eat the balls, they are not edible 🙂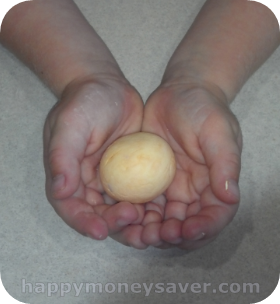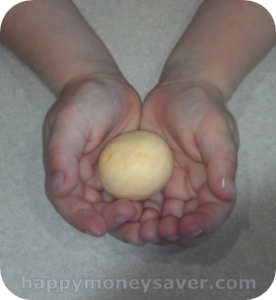 Drake was successful on his attempt to make the bouncing ball, Linzey on the other hand took 3 times before her ball formed correctly. The first 2 times her ball crumbled into pieces before it formed into shape.
There you have it! Hope you have fun making homemade bouncing balls!
This post is part our Summer Fun Activities on a Budget for Kids series. See more of these fun ideas and posts here.