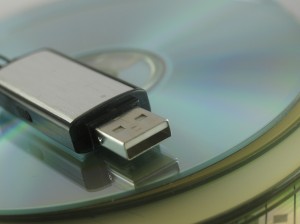 This week's Thrifty Tip is both a tip and a reminder; One that will not only save you money on costly hard drive data retrieval, but will also spare you years of heartache and regret. Wanna know what it is? (Like the title didn't give it away, right?)
Back up your photos!
Let's face it: Hard drives crash all the time. In fact, they're "guaranteed to fail" eventually! (Yikes)
Rather than taking your awesome computer's word for it, take a few moments each month to back up your photos.
Several free online options are available, including Picasa, Photobucket, Flickr and Kodak Gallery just to name a few. These make sharing photos simple but they're limited as far as space is concerned. There are other paid online resources for this, but I'm a bit wary of them. Why? Because they too may "fail" or eventually go out of business.
The best option by far – ? Back up your photos onto DVD's.
Yes, you'll have to spend a little money on these (and if you're a shutterbug like me, you'll require several stacks of DVD's just to make it through last year's photos…ahem!). However, this is a rather small investment when compared to the hundreds of dollars you could spend at a computer repair shop in an effort to retrieve precious photos of your child's first steps, last year's vacation or Grandma's 80th birthday celebration.
My husband (Denise speaking) is a computer technician, and I recall several clients of his who were literally in tears over their lost photos. 🙁 Sometimes he was able to resurrect them…other times, he wasn't.
So take the time to back up what matters most…your lifetime of memories! 😉