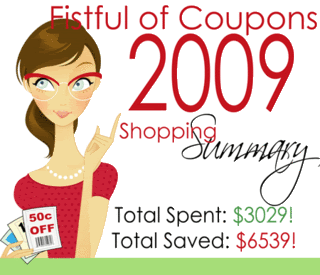 Yeay…Here are the official numbers! I am so glad that I have kept track of how much I was spending and saving all year just for the fact to see my SAVINGS!! I have saved $6500 this year with smart shopping and a Fistful of Coupons!
For my family of 6 I am averaging around $250 per month for all my familys food and toiletry needs. Before couponing I was easily spending between $400-$500 plus every month and with couponing I have cut that in half.
In 2010 I will still post my best shopping trips and will try to track my spending amounts as well. Stay tuned!
Oh P.S. My December Totals were Spent: $353.12 Saved: $192.34 {did a lot more shopping at Winco, Yokes, Walmart this month..not a whole lot of great sales at Albertsons. Plus had family in that last few weeks..}